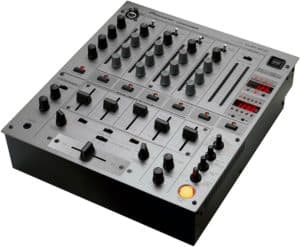 DJ equipment is a very competitive market that doesn't forgive bad performance. If you want to get to the top, you simply need to offer only the best.
Fortunately for Pioneer, being the best is something they are quite used to. Needless to say, Pioneer is a huge authority when it comes to anything audio.
They have been in the business for long enough to know what the next big thing is going to be, allowing them to develop the best versions of new products.
This is pretty much what led to the creation of Pioneer DJM 600. They wanted to give the professionals the best possible platform they could, and the they have succeeded. At one point almost every big name performer had a Pioneer DJM 600 in the center of their setup.
>> Check Out Price & Customer Reviews <<
When you are dealing with top tier devices, you are naturally going to get all the bells and whistles that were available at the time. Speaking of which, it's been more than a decade since this model was released.
We are going to take a closer look at the DJM 600, and show you why this mixer is still relevant today.
A Top Device
A solid four channel mixer is the foundation of every respectable DJ setup. There are models which have more channels, but for a long time four were considered to be the industry standard.
One side effect of limiting the number of channels to four was the ability to create a more compact device. Real estate is in high demand in DJ business, especially with all the devices which are used today. A four channel mixer like the Pioneer DJM 600 was the perfect size for any situation.

Features
The case Pioneer designed for this model was made of durable metal. Just picking it up and feeling all the weight inspired confidence. Aside from being able to take abnormal amounts of abuse, the build quality on these is also impressive.
Every knob feels good under the fingers along with giving you clear tactile information as you go from the lowest to the highest possible setting.
Same thing with the faders. Very accurate but smooth operation with just enough feedback. Quality of minor details like these ensured precise adjustments on the fly and in low light conditions.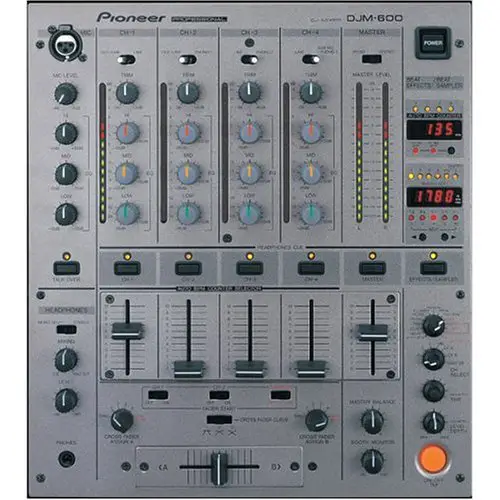 The layout of the control panel is pretty much your standard stuff, although it's much cleaner than what is offered today on mixers of similar or same category. Each channel has its own fader followed by the bypass button and a three band EQ.
On the far left is the microphone control cluster with an XLR input on top, while the far right is where your master volume, BPM controls, and effects are. The bottom of the panel features a crossfader with several options.

Performance
Pioneer DJM 600 is not only easy to use, but the performance you get is top tier stuff. Even today when there are much more advanced mixers available, only a handful of models can compete with this incredible mixer. Auto BPM counter and Auto Beat Sampler made mixing tracks a breeze, while track trim enabled you to use various sound sources.
[su_youtube url="https://www.youtube.com/watch?v=SA7hvVBfpsk"][su_youtube][/su_youtube]
In all essence, the only thing that's holding Pioneer DJM 600 back is the lack of features compared to contemporary mixers. But some find it to be one of its best qualities. There are DJs who respect a clean layout and more rustic controls. That's why this beast is still pretty popular with pros.

What we like
Built like a tank, this Pioneer mixer offers top tier performance. There is something about it that you just can't find in new mixers of this level.

What we don't like
It's hard to criticize a decade old device because it doesn't have modern features. When put in context, Pioneer DJM 600 is still one of the best professional four channel mixers on the market.
>> Check Out Price & Customer Reviews <<
On the whole
Even though it's pretty old by now, Pioneer DJM 600 still comes with a decent price tag. Pioneer apparently built a timeless design, which is still one of the favorites of many professional DJs.
If it's not broken, don't fix it is the current motto of Pioneer DJM 600. We have a strong feeling that we'll be seeing this model in use for a long time to come.