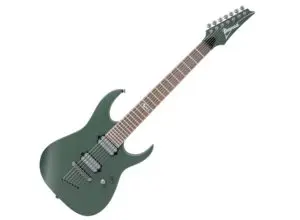 When it comes to signature model guitars and Ibanez, first names people think of are either Joe Satriani or John Petrucci. However, there are less known artists who gave us pretty great Ibanez guitars.
James Shaffer from Korn got in touch with Ibanez back in 2007, and worked with them on a seven string guitar that could deliver the kind of low, bone crushing tone Korn was known for.
Ibanez sprung into action, and the two created what is now known as Ibanez APEX 1. Since that guitar was the flagship model and cost a pretty penny, another model was designed for the affordable segment of the market, the Ibanez APEX 2.
The guitar was in production from 2007 to 2013, and became pretty popular with guitar players who wanted to experience a seven string guitar, but didn't want to commit too much money. Today we are going to take a closer look at this thing, and see just good it actually was.
Overview
One of the first things you want to see on a seven string guitar is a longer neck scale. The fact that you are essentially introducing a much thicker B string into the equation means that the neck is going to be under a different kind of tension compared to your standard six string guitar's neck.
Longer scale is necessary to keep everything in check. Ibanez APEX 2 came with a somewhat standard 25.5 inch scale, which was fine for the standard tuning, or even a half step lower one. However, if you wanted to go any lower than that, you would run into trouble.

  Features
The body of the guitar comes in that standard Ibanez RG shape, or as some like to call it, the Super Strat. It was made of solid mahogany, and came in Green Shadow Flat finish which was basically olive drab. The neck on these guitars is a five-piece maple/walnut design, and it is absolutely beautiful.
Fretboard is standard rosewood with a nice binding and a single APEX inlay on the 12th fret. Overall, the appearance of this guitar was great. It has that simple look which is appealing to many.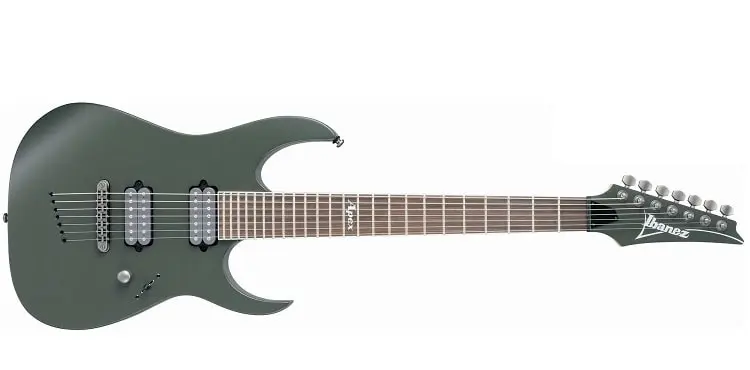 Hardware was interesting to say the least. An RG body almost always comes with a standard fixed bridge, or a tremolo design, but rarely does it include a tune-o-matic bridge. That is a very nice feature for those who prefer this type of a bridge.
The guitar came with two DiMarzio pickups, namely a pair of PAF7s. These were controlled by only one volume knob and a three way select switch. From everything we have seen so far, it's obvious that simplicity was the name of the game when they designed the Ibanez APEX 2.

  Performance
The tone you would get from Ibanez APEX 2 is very dynamic. DiMarzio PAF7 humbuckers are capable of handling a wide range of distortions with ease, while preserving clarity when you start working on the B string.
If you are a fan of Korn, you probably have an idea of what kind of experience you can expect. With that said, there is a lot of flexibility in this electronics set. You could dial in some pretty warm clean tones, and play more subtle genres of music.
[su_youtube url="https://www.youtube.com/watch?v=5uOTvVo2O38″][su_youtube][/su_youtube]
In terms of playability, you are looking at a very nice action straight out of the box, with a smooth neck that allows for a lot of speed. The neck is a bit wider to accommodate the additional string, however it is still pretty comfortable.

  What we like
The variety of tone is impressive on Ibanez APEX 2. Its main purpose is to handle face melting distortion, but there is enough range in it to be used with more subtle genres of music. Great build quality and even better playability are among the highlights of this Ibanez model.

  What we don't like
The only thing that we would like to see changed is the length of the scale. If they went with 26.5 inch instead of 25.5, the guitar would be capable of much lower tuning.
By and large
Ibanez APEX 2 was one of the best entry level seven string guitars when it first came up. The selection of pickups and the tonal variety it offered was impressive for the price.
If we disregard the whole neck issue, Ibanez APEX 2 could compete with guitars in one category above easily. Finding one these days is tricky, but there are some still in circulation.