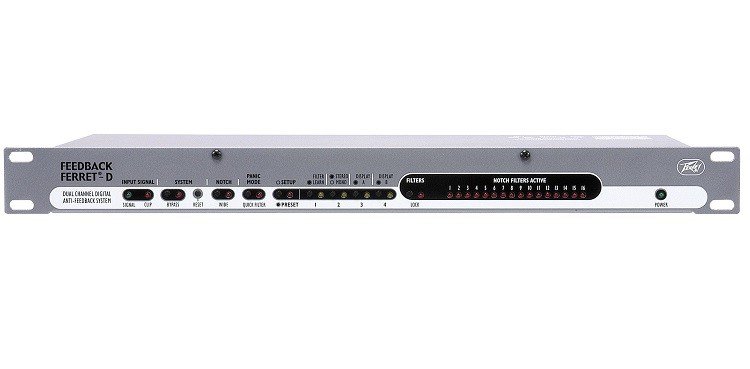 Working with large stage performance setups is a lot different from working with small home rigs. Actually, even the studio equipment looks simple compared to that.
Sound engineering for stage performance takes a lot of skill, knowledge and most importantly, gear. One of the worst things that can happen to an artist while on stage is feedback. Remember, every half decent venue is going to have large PA systems in place, a whole lot of monitors and similar equipment.
Bring a microphone anywhere close while there is any substantial amount of gain on the mixer, and your ears are going to be greeted with brain piercing sound of feedback.
There are several ways to combat feedback. Some use EQ to eliminate it, which sometimes works and sometimes doesn't. However, there are specialized pieces of gear out there whose main purpose is to eliminate this awful side effect. One such device is Peavey Feedback Ferret. Today we are going to take a closer look at this simple yet invaluable device, and talk about how it works.
Overview
Professional sound engineers will usually rely on a full rack of different devices in order to have full control over the sound. There is a lot going on stage.
A whole bunch of amps, speakers and other audio equipment is placed near each other, and all of them are pushing out high output. Maintaining everything at optimal levels is hard as it is, so you definitely don't want to deal with stuff like feedback.

  Features
The way Peavey Feedback Ferret suppresses feedback is by utilizing two sets of 16 digital matched filters. These can be set to suppress specific frequencies which are causing you trouble. Peavey Feedback Ferret can work in stereo or dual mono mode.
This introduces a level of versatility you will definitely want to have if you are working with a bunch of different equipment.
One of the great features Peavey Feedback Ferret offers is front panel lockout. What this does is it allows you to set up the Ferret, choose the frequencies you want eliminated, and then completely lockout the control panel so no one can mess with it on accident or on purpose.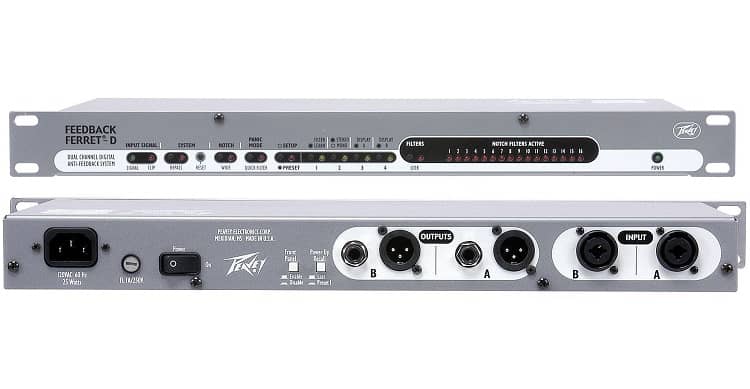 There are two sets of inputs and outputs on the back of the Ferret. You have balanced 1/4 inch TRS outputs and balanced XLR outputs. Next to them you will find a set of dual XLR-1/4 inch TRS inputs which are also balanced.

  Performance
Peavey Feedback Ferret works flawlessly in most conditions. The controls on the front panel allow you to dial in your own presets, but there are also options which you can use when you need to act quick. Namely, we are talking about the Panic Mode button.
This is a separate group of filters that can be activated to suppress large amounts of feedback instantly. The frequency range they operate at is not as refined, but you can worry about that when the feedback is gone.
In essence, this one of the more simple pieces of equipment you can use to solve what is actually a really big issue. Peavey Feedback Ferret is definitely user friendly.

  What we like
The ease of use combined with the efficiency it offers makes the Peavey Feedback Ferret one of the better products of this type on the market.

  What we don't like
The only thing that is worth mentioning here is the price. Sure, it works great and solves the feedback problem with ease, but the price is a bit to high. This is partially due to the fact that the Ferret is made in USA.
Conclusion
As a sound tech or engineer, you probably know just how irritating feedback can be, and how suddenly it can appear. Having something like the Peavey Feedback Ferret will allow you to relax and forget about this problem.
In professional environments, where you dedicate your time can have a huge impact on your performance and the performance of the band you're working with. If having something like the Ferret means you will have more time to spend on more important things, then even the high price shouldn't stop you from investing in this unit.