When it comes to microphones, they are application specific if you need something that is actually good and a cheap, low cost device. In this article we will focus on microphones that are designed and optimized for singing.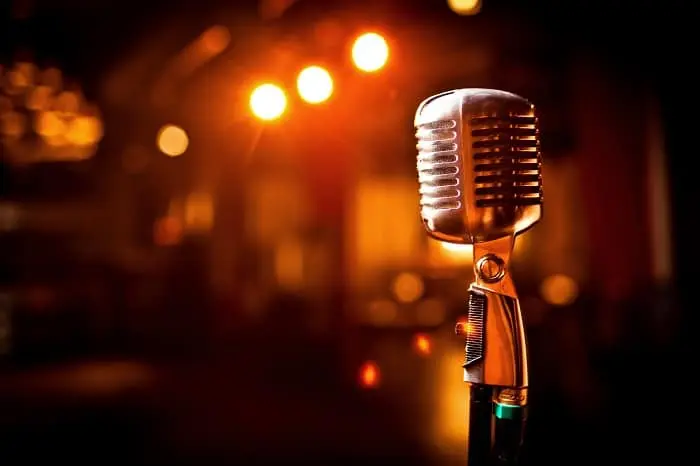 This means both live performance, recording, or home use. Generally, if a microphone is good for live performance, it's probably going to be more than alright for everything else. Even though we didn't clearly define a price range for this occasion, we are going to stick to mid-range products for the time being.
We've selected four microphones that we think deliver on all fields of use, but especially singing. All of these are going to be condenser microphones as we feel that dynamic mics just can't rise up to the occasion.
With that said, we need to recognize that there are excellent dynamic microphones out there, but since we need our picks to be flexible (good performance for recording and so on) we chose to limit our selection to condensers only.
Without further ado, let's find a good singing mic


Shure is probably the leading authority when it comes to performance microphones. They have an extensive range of dynamic and condenser microphones aimed at live performers as well as studio recordings.
Their more affordable models are known for their balanced quality and great life span. But we're not talking about them at the moment. We are talking about Shure KSM9, an all around excellent condenser microphone that is optimized for both live performance and studio use.

  Features
This microphone comes with a dual 3/4-inch mylar diaphragms that sport gold layering. Not only does this ensure the full frequency response, but you also know the microphone will just deliver when you need it to.
The design is a dual polar one, with both cardioid and super cardioid capability for optimal flexibility in use. Shure KSM9 comes with a class A preamp that pushes the response speed to an acceptable level that is necessary for live performance. The grille is designed to act as a pop filter and eliminate breathing noise as well.
  Sound
In terms of sonic accuracy, this mic is up there with the high end gear. It offers very fast and smooth response with no distortion even at higher frequencies. Proximity effect is brought to a minimum and the low end response is pretty define.
In other words, no matter which application you have in mind, this microphone will be more than sufficient. It has an actual 150 ohms impedance, what else needs to be said. In this price range you will hardly do better.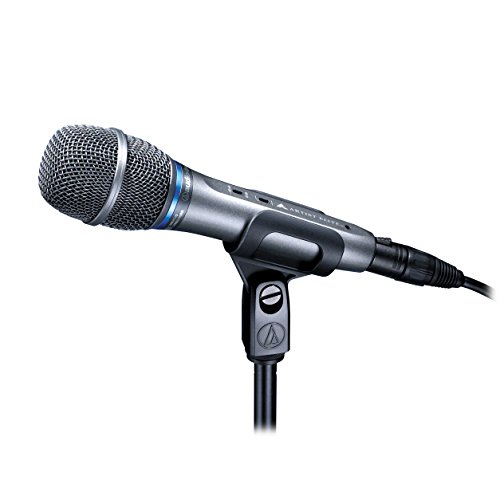 Audio Technica needs no special introduction when it comes to their microphones. They pretty much rule the mid-range section of the market. Their AES400 offers a great counter to many competing microphones under $400.
We think that it comes on top in this arena, mostly due to superior performance and great construction. It's one of those microphones that will pleasantly surprise you.

  Features
Audio-Technica AE5400 uses pretty much the same capsule as the AT4050, but with one big difference. Unlike the AT4050, this microphone has an output transformer.
The diaphragm is a 21.4mm unit that is plated with gold. The microphone comes with a high-pass filter and a -10dB pad. Two features that seem to be pretty common in Audio-Technica microphones lately.
  Sound
In terms of sound, you will be hard pressed to find the difference between this microphone and a more expensive one. It has a good response and clarity throughout the frequency range.
Maybe there is a lack of depth at the very bottom of the low range, but that is hardly noticeable. Compared to what Shure has to offer for the same price, you will hardly find anything that beats this AE5400.
Sometimes you just have to go back to the proven gear. AKG C535 EB is a microphone that has been around for four decades. A number of famous musicians chose this AKG for their main gigs, and have always come back to it for a good reason.
AKG Pro Audio C535 EB is just a quality product that gives you all the necessary features and performance you could need for singing live or in a recording studio.

  Features
This microphone comes with a pretty sensitive gold-plated condenser capsule, with a balanced body and a whole bunch of features that experienced singers find imperative.
We're mainly talking about the -14 dB pad that you can use, and a bass cut filter that cuts 100Hz. With a frequency range of 20hz to 20kHz, this microphone is definitely up there with the leading models.
It has a flat response which makes it great as an all purpose microphone. If you're too tired to mess with EQ in order to clean up your tone, this microphone may be the answer you were waiting for.
  Sound
AKG Pro Audio C535 EB is the kind of microphone that works well with all kinds of voices, male or female, high pitched or deep. It doesn't matter. You get very accurate reproduction with great noise reduction and overall sensitivity.
A side from being used for live performance and recording of vocals, this mic does an awesome job at recording acoustic instruments. You can easily use it as an overhead mic for drums, or something that will amplify even an acoustic bass with no issues.
We've mentioned Shure's more expensive models before, but now lets take a look at what they have to offer in the affordable category. Shure BETA 87A is a pretty decent condenser microphone that features a rugged design and overall great performance. It's something you can use with flexibility, no matter what you need to accomplish.

  Features
Shure BETA 87A is a cardioid condenser microphone with a frequency response that goes from 50Hz to 20kHz. As you probably noticed, it's somewhat limited in the low end of the spectrum. However it's barely noticeable during actual use.
The microphone comes with a built in pop filter that actually works. So don't worry about breathing in this mic too much. It can handle it. There is an electronic low-frequency roll-off that is there to counter the proximity effect. In our opinion it does this job well although it doesn't completely solve the problem.
  Sound
In terms of sound you get a pretty streamlined response with decent reproduction throughout the frequency range. Shure BETA 87A seems to favor high pitched voices, and doesn't really sit right with deep low tones, however even when you step in the bottom regions of the spectrum it handles the input decently.
In all honesty, at this price you are looking at a very capable microphone that maybe lacks some advanced features, but performs pretty good. It's a no nonsense piece of gear that you can use in just about any application.
By and large..
We showed you four great microphones. Each one has it's perks, but generally they all perform great on and off the stage, in or out of a studio.
You might want to compare each one to the properties of your voice, and see which one fits you the best. However, no matter which one you choose, you will end up with a great singing mic.