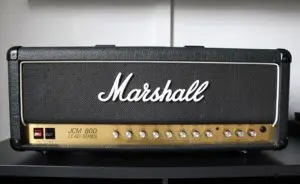 There are companies in the music industry who you can trust to deliver quality and great products, every single time.
It takes a lot of work and dedication for a brand to reach that level, but a few of them did. Marshall, an amplifier manufacturer from UK, is definitely one such company. Their amps are among the most popular and most trusted, even to this day.
Back in the '80s. Marshall released their famous JCM 800 series. This lineup of tube amps brought on a number of improvements which were later adopted by the whole industry.
[su_highlight background="#fcfa8a"]Marshall JCM 800 Model 2210 on Amazon[/su_highlight]
The one we are going to take a look at today is the Marshall JCM 800 Model 2210. As you're about to see, this old amp is still considered to be a competitive choice for those looking to get a great tube sound.
An Overview
The importance of JCM 800 series amps is already well known. Once Model 2210 was released, it raised a lot of eyebrows in the community, especially among the most loyal Marshall tube fans. What set this amp apart from the rest of the JCM 800 lineup was the introduction of an overdrive channel.
Marshall used diodes to additionally distort the signal, hence creating a pedal like effect in the amp itself. Some loved it, others hated it. Either way, this addition completely changed the amplification industry from that point on.

Features
Marshall JCM 800 Model 2210 comes with four EL-34 power tubes in addition to five 12AX7 preamp tubes. The amp itself delivers 100 Watts RMS, which proved to be more than enough for serious stage performance. The inclusion of a diode allowed this amp to deliver a large amount of gain. So much that it caught a lot of people by surprise. When you look at the front panel, you will see two sets of controls.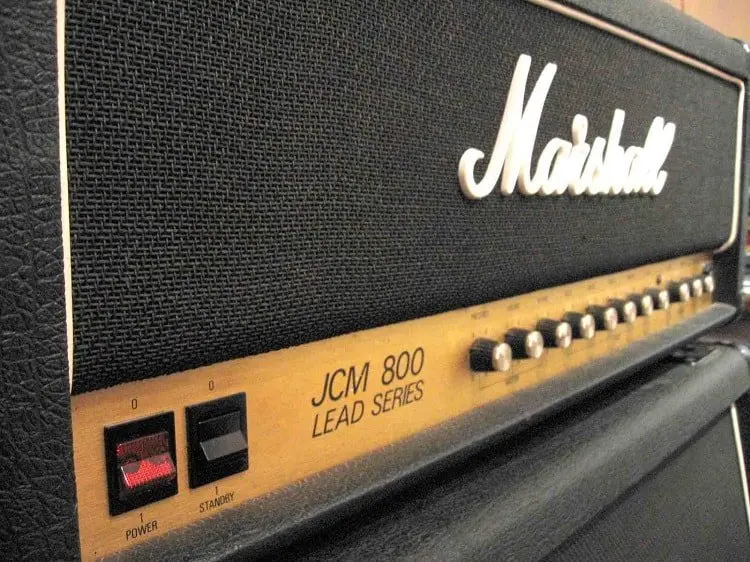 One for the clean channel which includes the standard three-band EQ, and one for overdrive channel. The latter includes the same controls as the clean channel, with the addition of gain. Additionally, there is master volume and master presence knobs.
What makes this amp interesting is the fact that there is no feature on it which allows you to engage the overdrive channel without the use of a foot pedal. This sounds odd to us today, but keep in mind that this Marshall was among the first to even offer an overdrive channel.
The only way to use the channel switching features is to have a foot switch, one that you had to purchase additionally. That's right, more often than not, you had to go out and purchase a foot switch separately.

Performance
The real importance of Marshall JCM 800 Model 2210 comes from its sound. The presence of diodes and additional channel allowed this amp to push out a lot more gain than it was the standard back in the day. Such new configuration of components made the Model 2210 pretty loud, and more versatile in general.
The tone was rich with trebles, which was not something you could see every day in those times. Overdrive channel brought on completely new levels of distortion, and was very punchy. The cleans were somewhat altered compared to previous tube models, but still high quality in terms of tone.

What we like
What we appreciate the most about this unit is the innovation that it brought to the table. Its overdrive channel is still among the best on out there, even all these years since the amp was released.

What we don't like
If there was one thing we had to complain about, it's the lack of an overdrive button on the front of the amp. But, even though it's quite irritating that you have to get a foot switch of some sort separately, we completely understand that this amp was spearheading a new technology.
Conclusion
Marshall JCM 800 Model 2210 is one of those amps which every guitar player should at least try out once in their life, if not own. Its importance for the evolution of amplifiers is recognized by many, which only helped it rise in popularity.
Nowadays, if you can find one, we definitely suggest you at least consider getting it.