Life and career of Eric Clapton is filled with dramatic moments, epic performances and overall incredible events. He is by far one of the most influential, and most popular musicians of our age.
Clapton's music didn't only entertain us through the decades, it was the soundtrack of so many important events that changed our world forever. Having that kind of influence on the world around you is something only a handful of people get to experience, and Clapton is one of those people.
Today we are going to talk about what can be found in Eric Clapton rig. We'll look at what he used during his peak years, and what kind of equipment he is using today. As you can probably imagine, the list is going to be fairly extensive, especially since we are talking about Eric Clapton of all people.
The master of electric guitar and a true sound wizard
When most people think of Eric Clapton, they imagine him in a black blazer wielding a maple neck Fender Stratocaster. This the type of image he created later in his career. However, during his career Clapton used a whole variety of guitars, amps and other equipment that includes stuff that you probably didn't know about.
First thing we are going to look at are the guitars he used over the years, starting way back in '60s and moving forward to this day.
Guitars
Back in his Cream days, Clapton was usually seen playing a 1964 Gibson Les Paul SG. This particular guitar was unique however. He took the guitar to an artist known as 'The Fool' and had it custom painted.
That artist later became famous partially because of that guitar, and his connection to Eric Clapton. Aside from this SG, he also had a Gibson ES-335 semi-hollow guitar. Before he became a member of Cream, Clapton played in John Mayall's Blues Breakers. At the time he was playing a 1960 Gibson Les Paul Standard.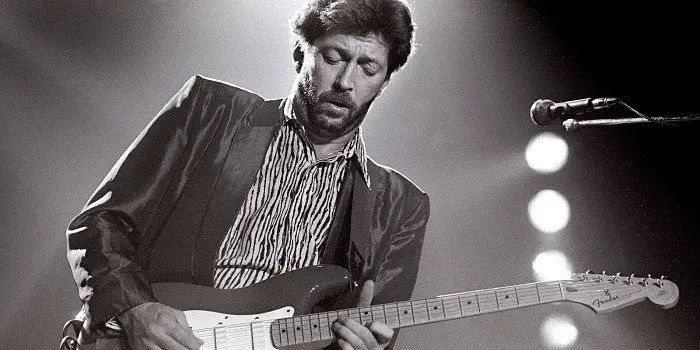 Before joining Blind Faith in 1969, Clapton switched from his custom Les Paul SG to a Gibson Firebird for a brief time. Soon after his stint with Blind Faith, he switched bands again and found himself in Derek and the Dominoes. While there, Clapton got a Fender Stratocaster which he later named Brownie. While this was his main choice in those days, Clapton still played his Gibsons.
Later in 1976, another Stratocaster joined his collection, and this one was promptly named 'Blackie.' Along with 'Brownie,' these two Strats were his go to guitars through '80s until he retired one of them and was supplied by Fender with his own signature model Stratocaster. He would go on to use these signature series Strats until this very day.
Amps
There's a long list of amps that were used by Eric Clapton at one point in his career. In his early days he had a thing for a Marshall JTM-45, a small combo amp that pushed out 45 Watts of power. He later went on to use a 100 Watt Marshall head when he joined Cream. In the '70s, he mainly used Fender Champ for recording, with Layla being one of the most notable songs recorded with this amp.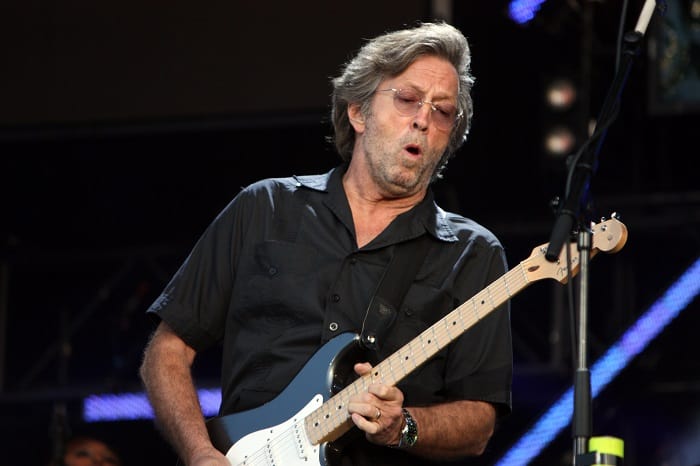 Today his main amp is a Fender Custom Shop Tweed Twin Amp, a reissue of Fender's 1957 Tweed model that had a pretty unique tone. He used this amp in his 2006/2007 world tour, and continued to use it later in his career. In terms of effects pedals, there really isn't much you can find on his main setup. Vox Wah and Dunlop Cry Baby Wah are the only two pedals that he continuously used during his career.
To summarize
Eric Clapton, and his sound are probably one of the most appreciated things to happen in the history of rock and roll. He is a true master of his craft, and he apparently isn't afraid to say that either. His choice of guitars is pretty conservative for today's standards.
Everything he ever recorded was done using either a Gibson Les Paul of some kind, or a Fender Stratocaster. That just tells you how much talent is really important when it comes to music.
No amount of pedals, expensive guitars, or beastly amps could have ever produced the same result. It's all about the person, and their guitar.