JBL is one of the rare manufacturers of audio equipment that holds such a legendary status among audiophiles.
What began as one man's idea turned into one of the best speaker manufacturers in the world. There's even a very dedicated scene in Japan whose only mission is to find and restore vintage JBL speakers and amplifiers.
This tells you all you need to knob about how much of an impact this brand made on the audio industry. These days they have a very flexible range of products. JBL LSR308 is a their mid-range monitor speaker that quickly became the favorite of music producers worldwide, and for a good reason.
Monitor speakers a held to a completely different standard than their commercial relatives. The whole point of a monitor speaker is to give the listener an accurate representation of the music they are listening to.
** JBL LSR308 On Amazon **
So, if you are a music producer or just an enthusiasts who is mixing music at home, you want to know exactly how everything in your mix fits together, and if there are any elements that stick out. Let's take a closer look at JBL LSR308, and see if this monitor does everything we have just mentioned.
An Overview
LSR308 is a part of a 3-series of monitors which also include a smaller LSR305 and LSR310. What almost immediately drew people to these two speakers, and LSR308 in particular was JBL's decision to pack these two models with high quality components and place them in an affordable price range.
[su_youtube url="https://www.youtube.com/watch?v=fqbB8S1NR1o"]
When you have a deal like that on the market, it's really hard to let it pass.

  Features
The cabinet and overall design of this JBL monitor is nothing extraordinary in terms of style and aesthetics. You could say that it looks just like any other run of the mill monitor speaker.
However LSR series was not made to look good, but rather sound good. The 308 offers a standard two-way configuration with an 8-inch woofer and a 1-inch soft dome HF tweeter. These two are powered by a 56-watt Class D amp that allows the whole setup to push out over 110dB.
Transducers are magnetically shielded and packed in a ported cabinet. All in all, pretty standard stuff. Now where things get interesting is when you look at the waveguide for the soft dome tweeter.
What makes this waveguide so special is that it belongs to JBL's unique ICW series. Image Control Waveguide was first developed for their M2 Master Reference Monitor.
M2 is the best they have to offer in terms of monitor speakers. So just the fact that they used the technology developed for their flagship model in their more affordable segment is really impressive.
ICW waveguides were designed in a way that allows you to have a wider sweet spot and stereo image than you would otherwise have. One of the requirements was for waveguides to have these qualities while also retaining impeccable sound resolution and clarity.
Let's take a look at the transducers. The 8-inch long throw woofer features a cone that is made of woven composite material. What this material does is it allows the woofer to have great structural integrity while also being able to support low resonance.
The 1-inch neodymium tweeter is somewhat standard for their cheaper models, but it's pretty decent. While most new speakers require a run in period before they reach their full potential, that is not the case with JBL LSR308.
JBL actually puts all of their monitors to a 100 hour burn in period so you don't have to, while they also treat this period as another level of quality control. If a speaker shows unstable performance, it's easy for them to spot it during these 100 hours.
Back panels sport a pretty simple layout. You have two balanced input ports, one XLR and one TRS, along with the standard IEC power socket. When it comes to acoustics modeling, you have the HF and LF controls that have +2dB, 0dB and -2dB settings. Finally there is an input sensitivity switch, and a I/O switch.

  Performance
When you set up a pair of these monitors and play a project you are working on, you will experience what the LSR308 has to offer. The sonic accuracy is almost clinical. Every subtle detail is accentuated nicely without stepping over other elements of the mix.
The 1-inch soft dome tweeter is capable of delivering defined trebles while the 8-inch woofer really moves the lower frequency range with ease. What is really impressive about these monitors is the effectiveness of the ICW technology. The waveguides JBL put in the LSR308 give you a large sweet spot area. You don't have to stand in one place if you want to listen to your mix with best results.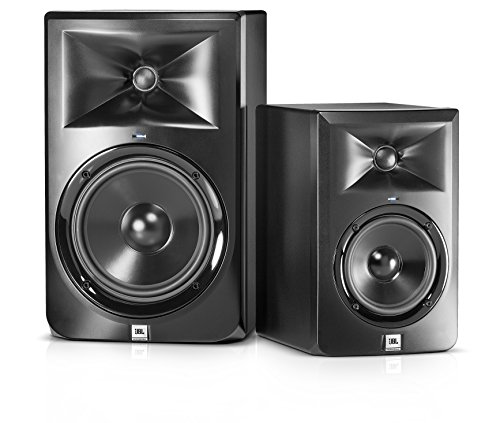 Acoustics modeling works great as well, and you can adjust the sound to almost any kind of room you want. Overall these speakers give you the experience you would find in much more expensive and professional line of monitors.

  What we like
The simplicity of design and quality of build is a good place to start. When you add the advanced waveguide and the decent choice of transducers, you get a complete package that just delivers great performance no matter what kind of music you are mixing.
The value for the money with this monitor is outstanding to say the least.

  What we don't like
There is really nothing we can find in terms of flaws on LSR308. Maybe they could have moved the power switch and volume knob to the front of the monitor, but that is not too serious of an issue.
All in All..
There's a lot of affordable monitors on the market, but we have rarely seen anything that comes even close to JBL's LSR308 in terms of sound quality and features.
** JBL LSR308 On Amazon **
At this price you can hardly find a better alternative. Whether you are an enthusiast looking for good set of monitor speakers for their home studio, or a professional on a budget, these JBLs are a great choice.