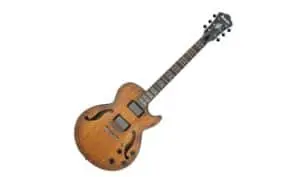 Ibanez is the brand you go to when you need a solid metal guitar. They have been pretty much dominating that segment of the market for a decades now. However, Ibanez also has a much softer side so to speak.
Aside from producing decent acoustic guitars, they also have some semi hollow models which bring all the attributes that made Ibanez one of the best guitar manufacturers in the world. The particular model we are talking about is the Ibanez AGS83b. This guitar is a proper semi hollow.

Usually when you want to get a guitar of this type, most people will tell you to go to Gibson or some other brand which has a long lasting practice of building semi hollows.
Ibanez definitely surprised everyone with this particular model.
Overview
Even though most of these were made in China, Ibanez AGS83b was subjected to strict quality control Ibanez is known for. Build quality is outstanding for a serial production model built outside USA. This is especially surprising considering how hard it is to make a decent semi hollow guitar.
[su_youtube url="https://www.youtube.com/watch?v=S4-lCIDLfBM" width="440″ height="260″][/su_youtube]
Sound Demo
The list good stuff about this guitar doesn't end there. It goes much further.

  Features

Ibanez AGS83b sports that well-known LP body shape with slightly arched top and distinctive f-holes. Whole guitar is made of maple, including the three-piece set neck. The choice of finishes included sunburst, tobacco burst and few others.
Fretboard is standard rosewood with bar inlays. In terms of hardware, you are looking at Ibanez ART-1 bridge on one end, and a set of Grovers tuners on the other. It's worth mentioning that these are not locking tuners.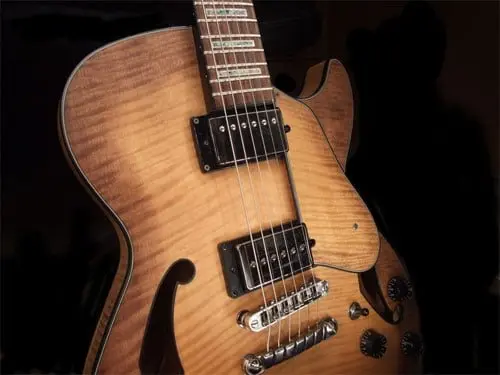 The sound brace was done incredibly well on this Ibanez. They have built the AGS83b like a tank compared to other semi hollow guitars in this price range. This build quality definitely plays a good part in the performance of this guitar which we will discuss later on.

There are two humbuckers on Ibanez AGS83b, an ACH1 at the neck and ACH2 at the bridge. These are controlled by two sets of volume and tone knobs, along with the pickup select switch. The quality of these humbuckers has been known for a while, and the truth is that they give this hollow body beast a very unique sound.

  Performance
Semi hollow guitars are not usually thought of as something you would use in more aggressive genres of music. That quasi rule does not apply to Ibanez AGS83b. This thing can handle a lot. You can go anywhere from jazz or blues, to heavy rock or even metal. The humbuckers are to be thanked for that.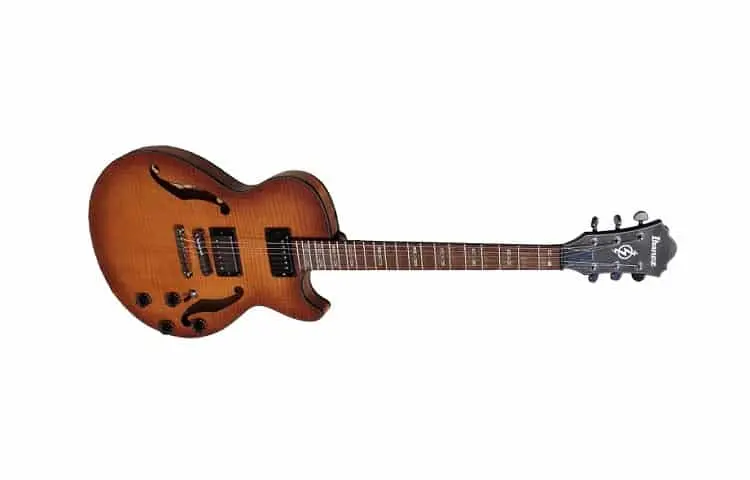 In terms of sound quality, you can expect to be surprised. There is an abundance of definition and sustain. This is partially due to the nature of ACH pickups, but also due to the bracing and overall build quality of this guitar. For a semi-hollow that doesn't cost an arm and a leg, Ibanez AGS83b punches way above its weight class.
On a similar note, this guitar is very playable as well. Usually semi-hollows are not that easy to handle because of their larger bodies. Ibanez AGS83b doesn't really have that issue. It's well-balanced and just sits right in your hands.

  What we like
Ibanez has proven that you can build a great semi hollow without having to ramp up the price to oblivion. This is a very fine instrument that can be compared to some much more expensive models in this segment of the market.

  What we don't like
There isn't really anything we can name as a flaw. Ibanez AGS83b even comes perfectly set up from the factory, with great action and intonation.
On the whole
Ibanez AGS83b is a testament to Ibanez and their ability to produce just about any kind of guitar they want. For an "affordable" semi hollow, this particular model showed a lot of potential.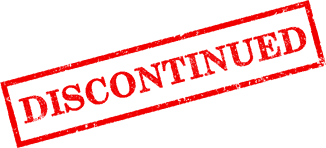 Unfortunately, Ibanez discontinued the AGS83b some time ago. They can still be found on the used market, but don't expect to find one for cheap. People who own them know just how great these guitars are, and will put a price that fits accordingly.
With that said, if you ever run into one, you should definitely give it some time.