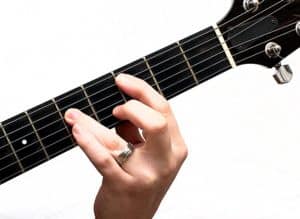 Chords are by far the backbone of modern music. Sure melodies are important, but if you listen to an average song, you will realize that its the chord that make it sound so good.
Whether on a piano, guitar, or any other instrument, chords give you a lot of flexibility and room to express yourself.
There are all kinds of chords out there. The list is probably too extensive to fit in several articles of this size. However that is not what we want to talk about today.
There are many different ways to play the same chord on a guitar. Some of them are easy, others require you to grip a very strange formation that is different with each chord. It takes a lot of time to learn and practice each and every chord.
However there is a shortcut that allows you to play whichever chord you want using a single grip form every time. These are called the power chords.
The absolute best thing about power chords is the fact that you use one shape to play every chord on the guitar, with an exception which we will discuss later. Using power chords sounds good on acoustic guitar, but when you start playing them on a distorted electric guitar, things go completely wild.
Almost every metal song you ever heard includes power chords at one point. For example, Nirvana's 'Smells Like Teen Spirit' is pretty much four power chords. Simple right? But look how legendary that song has become.
Let's take a look at what makes a power chord. A power chord consists of a root note, and the fifth while a more saturated variant also includes the octave. In practical terms, to grip a power chord shape, you need to select the root note, let's take G for example, and press it with your index finger.
If we count the frets, your index finger will be on the third fret of the low E string. Your ring finger will press down on the fifth fret of the A string, and if you want to include the octave, your pinky will press down on the fifth fret of the D string.
/——————————/
/——————————/
/——————————/
/—-5————————-/
/—-5————————-/
/—-3————————-/
This is a G power chord. It's important to remember that you only play the strings you are pressing down on. In our case with the G power chord, those would be E-A-D strings, while the G-B-E strings will be muted. If you don't mute the remaining strings, you will get a messy sound.
Once you practice this shape to a point where you are comfortable gripping it, you can start to move it around. If you go two frets up, you will reach the A note. Select A as your root note and apply the same shape we described just a moment ago. You are now playing the A power chord.
The exception to the rule when it comes to the power chord shape appears once your power chords requires you to play the B string. Lets say you want to play an G power chord where your root note is located on the fifth fret of the D string. If you applied the same shape we talked about before, you would hear a broken chord. That is the B string messing everything up.
To fix this, we need to alter the shape a bit. So you have your index finger on the fifth fret of the D string. Your ring finger is on the seventh fret of the G string. Now your ring finger would usually go on the seventh fret as well, but since we are dealing with the B string, we need to move it one fret up to the eight fret.
/——————————/
/—-8————————-/
/—-7————————-/
/—-5————————-/
/——————————/
/——————————/
If you want to go even further and play a power chord on a G string, you need to apply the same rule that goes for B string, to your high E string. A power chord on a G string would look something like this.
/——–8———————/
/——–8———————/
/——–5———————/
/——————————/
/——————————/
/——————————/
Everything considered..
Power chords are great tools for those who play both electric or acoustic guitars. They allow you to play chords in an easier fashion until you learn the different chord shapes. Power chords are also what works the best with distortion and overdrive guitar effects.
If you play a regular chord, it will usually come out as a unrecognizable noise. Hopefully this guide helped you understand power chords, and how to play them on the entire neck of the guitar.