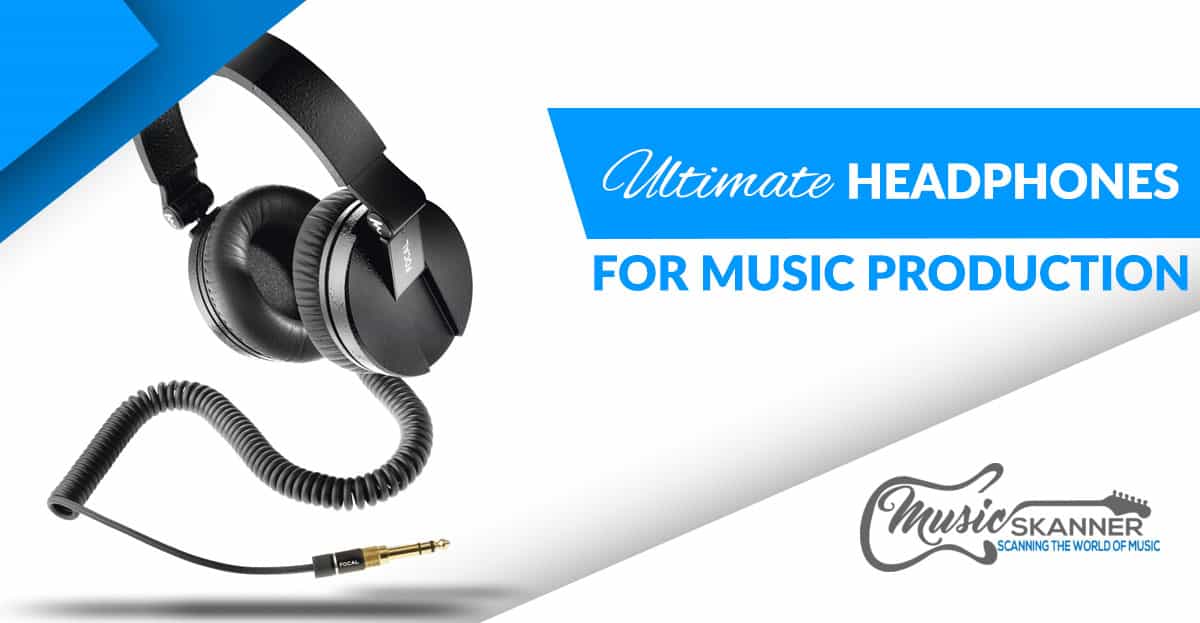 Music production is a process which requires a lot of focus and experience. You are manipulating sounds, sometimes in a very subtle way, in order to give that composition the vibe it needs. Good pair of headphones is absolutely essential in this business
A producer needs to be able to hear exactly what is going on with perfect clarity and definition. Finding the best headphones for producing depends on a lot of factors.
However, we've looked into it, and found three pairs of excellent headphones which do the job extremely well.
Check Out Our Picks !
EDITOR'S CHOICE
Focal is one of those companies who deliver the top notch quality in all of their products. Monitor speakers or headphones, it's all high quality gear. Their Spirit Professional model has been around for some time now, and the users are still sending in positive feedback.
They are in the upper part of the price range, but nothing beats quality especially if you demand only the best performance you can get.

  Features
Build quality of Focal Spirit Professional is great. The headband is comfortable and sturdy, while the padding installed on the ear pads somehow comes natural. Unfortunately the padding is not removable, but wear doesn't seem to be an issue with these.
You can wear the Spirit Professional for an extended period of time and not feel fatigued. Focal Spirit Professional are closed-end headphones, which also means they will easily survive if you accidentally spill something on them.
  Sound
Focal headphones are known for their sonic accuracy. Some describe the sound to be somewhat flat, but these offers a true representation of what you're listening. That's to be expected from a pair that has a frequency response range of 5 Hz to 22 kHz and 32 Ohm Impedance.
Since they are closed, Focal Spirit Professional do an excellent job at reducing ambient noise. This makes them perfect for mastering as well as monitoring during recording sessions.
If there's one thing that AKG knows how to make, it's headphones. For a company that has a very wide range of products, they make some of the best headphones you can find. The K712 Pro are just another step in the evolution of the legendary K702 which AKG made some time ago.
The new AKG 712 Pro sport a new and improved design, as well as some serious performance upgrades. They are relatively expensive, however they are also the choice of many professionals in the field.

  Features
AKG 712 Pros offer a simplistic but practical design with orange details that make it stand out. The construction of these headphones is durable, and most importantly very comfortable. Headband feels natural and offers just enough pressure to stay in place.
Ear pads are padded with one of the best memory foams available on the market which doesn't clamp your ears and is cozy instead. You can easily work long hours at the studio without experiencing any fatigue. AKG 712 Pro come with detachable cable, which allows you to plug in a longer one if you need to move around the studio as you work.
  Sound
For open headphones, AKG K712 Pro feature a refreshing brightness of sound with increased bass response and incredible clarity. It's very easy to distinguish different frequencies and sounds, allowing you to focus on each element of your project with little to no effort.
Bass response is one of the main upgrades that K712 Pro brings in comparison the old 702s. Now you can really distinguish different parts of your low frequency elements of the mix, and manipulate them without losing accuracy or definition.
Compared to our two previous entries, Beyerdynamic DT-880 Pro is an affordable set of semi open headphones that are considered to be somewhat of a classic. If bang for the buck is what you're looking for, these headphones are absolutely the way to go.
Beyerdynamic DT-880 Pro It's a compromise model that brings some benefits of Beyerdynamic's DT-770 closed-back and DT-990 open headphones, giving you a combination that is very well priced, and fully suitable for studio use.

  Features
Beyerdynamic DT-880 Pro boast a very aesthetically pleasing design which is simple and practical, but also very rugged. The padding on all parts of this set is comfortable to a point where you won't get fatigued, while the head band gives you just the right amount of support for extended use.
There might be some break-in time required, but once these conform your head, ultimately you won't feel them that much. They are comfortable to say the least. The cable is about 10 ft long when fully extended, which is a pretty decent length for any studio or home use.
  Sound
The hybrid nature of Beyerdynamic DT-880 Pro brings an interesting combination of impressive sound quality and ambient noise reduction. These are clinically accurate and offer the clarity of sound which you'd expect to find in a pair that is far more expensive than these.
The 250 impedance means that you might need an amp if you want to take these bad boys to the limit, but even if you decide to just plug them in directly to your computer, you will get that neutral sound that is all so necessary for music production.
Conclusion
Music production and mastering is all about being able to hear every detail of the mix perfectly. Therefore headphones designed for this purpose simply need to have certain qualities that your regular ones just don't. The three models we chose come packed with potential, and will be a perfect choice for any studio.
DT880s represent a more affordable option, which punches well above its weight when it comes to sound quality, while the Focal Spirit Professional and AKG K712 Pro offer a well rounded experience at a higher price margin.
Choosing the best headphones for producing is not easy, but hopefully with these three choices you will find something that suits your needs and requirements.