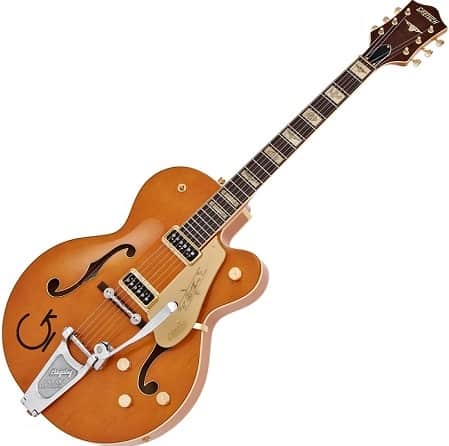 What exactly happens when Gretsch puts their mind into creating an elite class guitar is something every fan of this company knows. With that said, Gretsch has lost a certain part of their fan base when they became part of Fender.
Most people were under the impression that the quality of their guitars will suffer because of the corporate nature of their new parent company, however that didn't happen. Even so, a lot of those who gave up on Gretsch never returned.
[su_note note_color="#fefec5″]That is a shame really, because Gretsch is still creating ripples in the guitar world with their incredible creations.[/su_note]
What we have in store for you today is a Gretsch Custom Shop extravaganza which goes by the name of Gretsch 6120 DSW.
This guitar is a true masterpiece that showcases the skill and style of Gretsch and their luthiers. Creating a hollow that sounds good is hard enough, but taking things to this level of excellence is something very few brands can achieve.
Gretsch 6120 DSW Review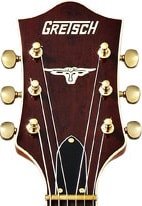 To many Gretsch fans, Gretsch 6120 DSW is the quintessential Gretsch guitar. It was largely inspired by Chet Atkins, whose name it carries. Now, they included a whole lot of cowboy inspired details which are supposed to be a tribute to Atkins, however it's been common knowledge for a while that he wasn't particularly fond of those design details. Honestly, neither are we.
With that said, having some cowboy themed details doesn't really change the performance of this guitar, and that is the only thing that really matters.

  Features
The body shape of this Gretsch is the standard single cutaway design. It's a hollow body guitar made of maple laminate all around. The finish is a glossy orange stain which invokes that vintage appearance of early hollow body guitars. There are false f-holes on top and bottom portions of the body, which are a part of the overall theme Gretsch was trying to accomplish here.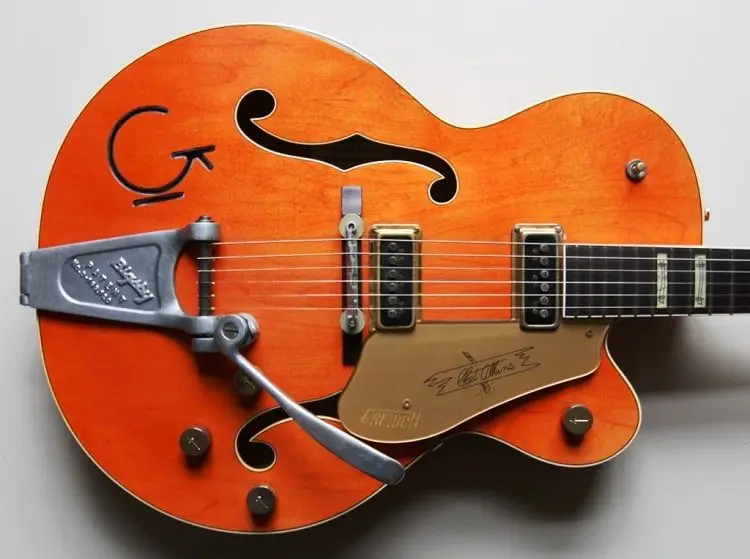 Neck is a maple piece with a C Fat profile and a nine rosewood fretboard. Speaking of which, this is where we run into our first cowboy details. Every inlay on the fretboard is very complex and represent a wild west theme. One is a cactus graphic, another is a bull's head and so on.


In terms of hardware we are looking at a tremolo Bigsby bridge which is interesting because it has a fixed tremolo bar. On the headstock you will find Gotoh vintage style tuners. Electronics of choice for this model are a pair of Seymour Duncan DynaSonic DeArmond humbuckers with dedicated tone and volume knobs, with the addition of the master volume.

  Performance
The sound Gretsch 6120 DSW produces is the epitome of Gretsch tone and their signature 'twang' so many of us love. Seymour Duncan humbuckers are just so well balanced and give you an authentic vintage tone that takes you back some sixty years into the past.
[su_youtube url="https://www.youtube.com/watch?v=n5x4GdLqick"][/su_youtube]
There is really nothing quite like it in terms of sound. On the other hand, this is a very playable guitar. The neck is a bit thicker, but pretty smooth and comfortable. If you are used to playing hollow body guitars with their larger bouts, you will enjoy this classic Gretsch a lot.

  What we like
Gretsch 6120 DSW is considered to be the most authentic guitar this company has to offer. The sound and performance are on a level that no other guitar of this type can truly replicate.

  What we don't like
Just like Chet, we find those cowboy motifs to be a bit of an overkill. If you are looking for a neutral type of appearance, all this cowboy nonsense can really ruin the look of the guitar.
All things considered
Gretsch 6120 DSW is definitely a model every guitar player should at least get to play once in their life. It's also one of the most expensive guitars in production. However, the type of legacy and quality Gretchs offers with this thing comes at a price.
And guess what? It's worth every single penny you put in it.
Gretsch guitars were never something everyone could afford, nor like for that matter, but this thing is simply on a whole different level.