There are two things that anyone will tell you about hollow body guitars. First one is that hollow body guitars are expensive, and the second one is that Gretsch hollow body guitars are even more expensive.
But how true is that? To tell you the truth right away, these two statements are not true at all.

The proof of that is Gretsch 5120. This guitar is exactly what happens when a company like Gretsch sits down and designs an affordable guitar for the masses. With Gretsch 5120, just about anyone can enjoy a great tone for a relatively small amount of money.
If you look at the history of Gretsch, you will see a huge variety of hollow body and semi hollow body guitars. Making these is their specialty. Everyone knows about their top tier models – those that cost as much as a decent used car. However, it's their more affordable stuff that really needs a shout out.
>> View Current Price On Amazon <<
When you have the experience and authority like Gretsch does, it's not that hard to apply the right skills into making a beastly affordable guitar. Sure, it won't be able to go head to head with the flagship models, but Gretsch 5120 brings a very good portion of that sound.
Overview
At this point you are probably wondering how come there is no hype about the Gretsch 5120 if it's such a good guitar?
[su_youtube url="https://www.youtube.com/watch?v=peQDFl9_c64″][/su_youtube]
The answer to this is deeply rooted in the fact that Gretsch was sold to Fender. Their core fan base pretty much got really quiet when this happened, which is why no one is really talking about these guitars.
The result of this whole drama is that we have a great affordable guitar that has become somewhat of a hidden gem on the market. Those who know what it can do probably already own one, those who don't will hardly find out about it.

  Features
What we have here is a pretty standard hollow body guitar that features that signature shape. The top is made of laminate maple with gloss urethane finish. Neck is also a laminate design, but in this case it is actually a big plus. The fit and finish are great. That was one of the main concerns the fiercest critics of this model had. Especially since these guitars are made in Korea.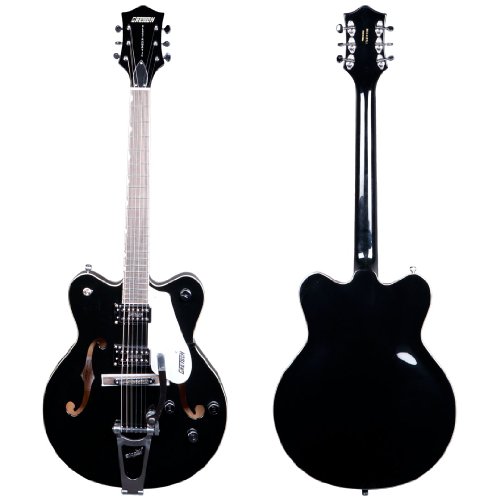 Honestly, the concerns are justified. Ever since it was first founded, Gretsch always made almost all of their guitars in United States. After so many years of untouched tradition, all of a sudden we have production in Asia. That just didn't sit right with people.
Hardware of choice came down to the Adjusto-Matic bridge and Bigsby B60 tailpiece on one end, while the headstock features a set of die cast tuners.
Original Bigsby tailpiece on a flagship Gretsch hollow body is a handful to master, let alone a low price licensed model. However, it's not that bad really. As long as you don't mess around with it too much you will have zero issues.
The set of tuners which come with the guitar are good, but might be something you will want to change in the future.
Now for the part that holds the whole thing together – the pickups. Naturally, these wont be your TV Jones or anything remotely similar to that. With that said, Gretsch managed to give the budget users a good portion of that Gretsch twang with a set of affordable dual coil pups.
These are controlled by two dedicated volume knobs, a tone knob and a master volume knob. Pickup select switch has three positions, which is pretty standard.

  Features
Building an affordable hollow body guitar is something most purists think is just abysmal. By definition, this type of electric guitars has to be expensive, right? No, that is not true at all.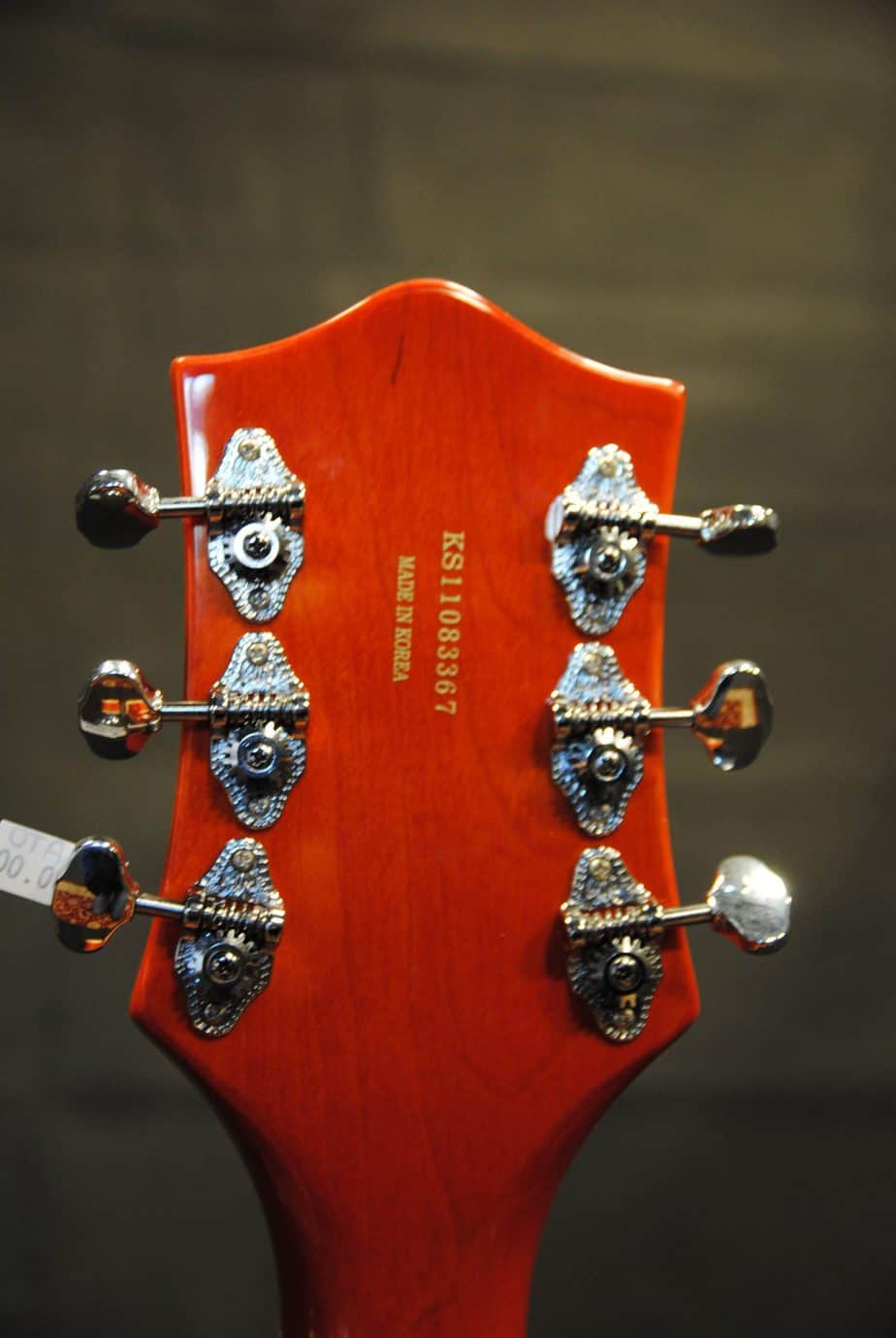 Gretsch actually managed to design and build an affordable hollow body guitar that sounds amazing. The range of tone is impressive for what is essentially an entry-level hollow body. The pickups they install on these can take you anywhere from light jazz, over blues, to hard rock with no issues at all.
They do have some limitations though. The tone difference between the neck and bridge pickup is very obvious. Bridge pickup lacks some definition, and the tone tends to melt away when you roll down the volume on the guitar. However, all of that is salvageable.
What is most surprising about the tone is how good the laminate top is resonating. It definitely adds some range to the sound, even though it's not the best design ever.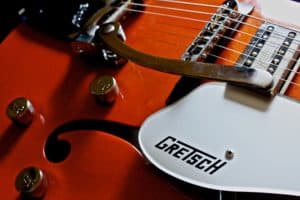 Truth be told, many experienced players who own high-end hollow body guitars were caught by surprise when they first played the Gretsch 5120. It's a guitar that shouldn't sound as good as it does.
On top of all that, Gretsch 5120 is very playable. The neck fast and the fretboard isn't hard on your fingers at all. You can bend those strings all day long and it will sound delicious every time. The quality of that licensed Bigsby tailpiece is questionable. When used lightly, it works fine but pushing to the limit is probably not a good idea.

  What we like
The fact that Gretsch managed to build a hollow body guitar that falls within the affordable range, and isn't pure rubbish, is impressive on its own. Add to that a very well-balanced performance, and we are already in the miracle territory.
Not everyone has the taste for hollow body guitars, but those who do and are suffering from the tight budget syndrome should absolutely check out Gretsch 5120. It might just be the best option they have at the moment.

  What we don't like
There is nothing we can complain about here. The price nullifies whatever flaws this guitar has. Keep in mind that this thing costs a fraction of what you would otherwise pay for a decent Gretsch hollow body. It's really a bargain.
Final thoughts
If there was one way for Gresch to redeem themselves for becoming the property of 'evil' Fender, it was by making a guitar such as the Gretsch 5120.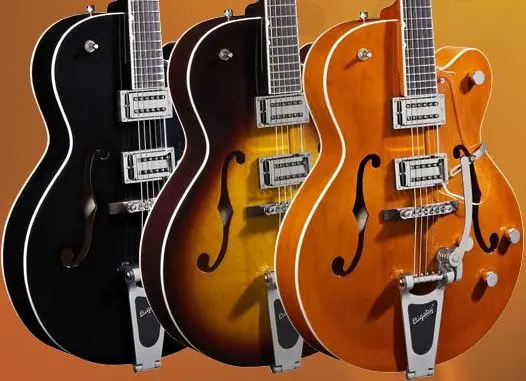 The amount of performance you get for the money is almost to hard to believe. When we say that, keep in mind that we are looking at this guitar through a prism of similar models in the price range. This Gretsch runs circles around them.
Compared to Gretsch top tier guitars, 5120 starts to struggle. However, the price to performance ratio goes in favor of Gretsch 5120, every time.
>> View Current Price On Amazon <<
Whether or not this is a guitar for you depends on what you are looking for. If you simply must have a hollow body guitar, but you are short on money, this is your best option. If you can't stand the fact that it's made in Korea, and that Gretsch owns Fender, you need to swallow that sour pill and look at the world with new set of eyes.
At the end of the day, Gretsch 5120 is well worth the money you are asked to pay for it, and it brings that twangy Gretsch tone to the budget crowd. That is something that is worthy of respect.