Looper pedals are among the most interesting effects pedals to come out. They allow you to record multiple sections and layer them on top of each other.

As you probably know by now, the practical applications for a good looper pedal are almost endless. You can create a whole song just by using a single instrument and a single effects pedal.
Talk about versatility. Looper effects come in various shapes and forms. From simple pedals that allow you to loop a limited duration of a song, to full fledged processors that bring this whole thing to a completely new level.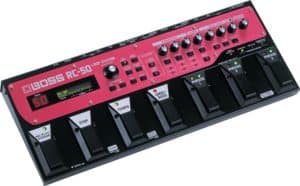 Boss RC-50 belongs to the latter category. It is by far one of the most complex looper stations on the market. The type of performance you can expect from this unit is fit for both hobby and professional use.
There are endless features, options and effects to choose from. Because of its incredible flexibility, Boss RC-50 is among the most popular looper stations on the market.
Incredible flexibility for professional use
The value of a looper pedal depends on several important factors. The most obvious factors, which are also the most important ones, are the amount of time that can be recorded, and the amount of layers you can apply to a single loop.
[su_youtube url="https://www.youtube.com/watch?v=1bPHeDENn-o"][/su_youtube]
Needless to say, more in case of both of these is better. As you are about to find out further down in this article, Boss RC-50 offers impressive performance when it comes to loop duration and the amount of layers you can apply. However, that is only scratching the surface. This looper station brings so much more.

  Features
What you see here is a rather big piece of gear. It looks more like a guitar effects processor than a looper. However, due to its complex nature, all of the hardware you see here is necessary to say the least.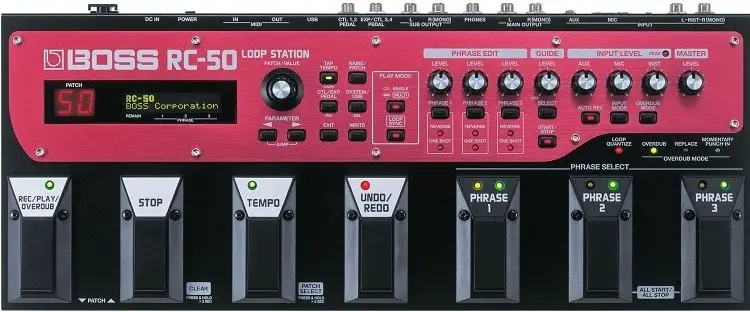 There are seven foot switches on Boss RC-50, with four of them being the control switches, and the remaining three being used to activate each of three phases available. These three stereo phrase tracks can be played simultaneously. Not only that, but you can layer them multiple times. All three of these are synced to MIDI clock for best timing.

Recording time is up to 49 minutes per phase, and you also have 99 patches available. In the back you will find a whole variety of connectors. This is not a guitar specific looper. There are XLR inputs, 3.2mm stereo inputs, and TRS inputs available.
This means that you can loop voice sections, guitar/bass guitar sections, and even connect other devices to stream audio to the looper. And all of these features are just the core components.

  Performance
Using the Boss RC-50 is a bit tricky. While it's easy to record phases, you will have to work quite a bit if you plan on using this looper in a live performance. However, that is the nature of looping in general. Everything works pretty much flawlessly on Boss RC-50.

Recording phases is pretty easy, and the four main control stomp switches allow you to quickly stop, undo or clear the recorded sections if you need to. The controls on the top panel are pretty straight forward, and you won't have a hard time figuring out what's what.

  What we like
This is one of the most capable looper stations on the market. Boss went and outperformed the majority of the market with the RC-50. There are very few loopers that come even close to this behemoth.

  What we don't like
Complexity comes with a price. Learning how to use this station might take some time, however once you do, it will be your best friend on and off the stage.
Conclusion
Loopers are pretty much defined by their capabilities. The duration of a recording and the ability to layer the loops is what makes or breaks a looper. Boss RC-50 is the absolute champion of both, and it offers so much more.
It's fair to say that you can record the whole song, including rhythm, guitars, voice and any other instrument, using just this one looper station. If you want absolute creative freedom, Boss RC-50 is what you are looking for.