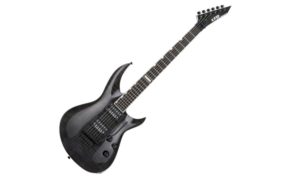 ESP has achieved a rather large success in a very competitive market. Ever since metal music became more popular, the constant movement in terms of sound have created a need for more aggressive guitars.
Several companies recognized what's going to happen, jumping in to action on time. ESP has been making incredible metal guitars for a while now. However, these come at a price which is often above what budget guitar players can spend.
For that reason, ESP created LTD – a daughter company which is basically their Squire. The quality of models under the LTD branch is similar to that of ESP. The main difference is in components and where these guitars are built.
>> Check Out Current Price & Customer Reviews On Amazon <<
One of the more popular guitars to come with this brand's name on the headstock is the ESP LTD Horizon III.
Today we are going to quickly go over this ax and see what it has to offer.
Music Skanner Review
ESP LTD Horizon III is among the most elite models LTD offers at the moment. Unlike most almost all of their other guitars, Horizon III is actually made in Japan. This gives it value. The level of quality control is better and the overall build quality will be superior to anything that comes out of factories in Korea or Indonesia.
This is only the beginning of the good news. ESP LTD Horizon III comes packed with all kinds of great components which we are about to go into.

  Features
The body of this guitar sports that standard Super Strat shape. It's made of alder and comes with a beautiful flamed maple top. If looks were the only criteria, Horizon III would be getting perfect marks across the board.
The neck is a maple design that comes with an ebony fretboard. This is a neck-through design that packs 24 XJ frets and a thin U neck profile. The hardware comes in form of a Gotoh Magnum set of locking tuners and a Gotoh tune-o-matic bridge. Both of these components are painted black.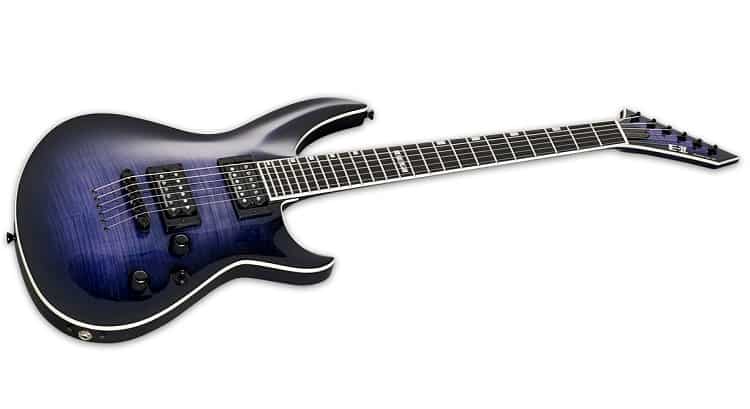 One more significant difference compared to the majority of the LTD guitars is the choice of electronics. ESP LTD Horizon III comes with a pair of Seymour Duncan humbuckers.
To be more specific, you are looking at an SD Custom 5 at the bridge position and an SD Jazz at the neck position. These are controlled by one volume and one tone knob followed by the three-way pickup select switch.

  Performance
ESP LTD Horizon III packs a lot of versatility in terms of tone. Seymour Duncan chosen for this model are very balanced, but hot enough to deliver great driving rhythms under a high gain distortion. There is enough expression potential to get any kind of solo down, although there are some limits. Overall you could say that humbuckers on this guitar are accurate enough for more refined genres of music.
In terms of playability, things are even better. The thin profile of the neck makes it pretty fast and smooth. Combined with an ebony fretboard, ESP LTD Horizon III is really a true shredding ax.

  What we like
ESP LTD Horizon III brings the level of quality that is not usually associated with LTD. It's a well built guitar which delivers when it comes to performance as well as build quality. There is enough versatility to make it suitable for various genres of music although it's obviously made to handle a harder sound.

  What we don't like
There isn't much we can criticize about this LTD. It packs a serious punch, which can be compared to more expensive guitars.
>> Check Out Current Price & Customer Reviews On Amazon <<
To summarize
Many people are wondering what's the point of getting a top tier LTD instead of just going for a good ESP. There is a perfectly reasonable answer to this question. High end LTDs bring a great performance that is still cheaper than it would if it came from an ESP guitar. Branding is a serious factor when it comes to pricing different guitars.
ESP LTD Horizon III is a great performer in all aspects that matter the most. Whether or not this is a guitar for you is something you can easily figure out by trying it out. Chances are you will love it.