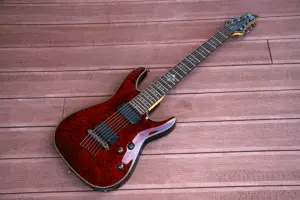 Schecter is one of those companies which started out in a completely different field, only to find themselves manufacturing some of the best metal guitars on the market at the moment.
Their roots in guitar components allowed them to retain a down-to-earth approach to building musical instruments, which is why their guitars are pretty straight forward.
Generally, they have three distinct categories of guitars. First one is their affordable line, followed by mid level guitars which swing either way. Lastly you have their high end stuff.
>> Check Out Current Price & Customer Reviews On Amazon <<
Today we're going to take a look at one of their mid level guitars which has a lot to offer, both in terms of sound and aesthetics. The guitar in question is Schecter Damien 7, and it's definitely something you might want to consider if you're looking for heavier than usual tone.
Overview
Schecter guitars are generally simple in design. However, much of their appeal comes from their Spartan nature. Even though they were never meant to be looked at, rather played hard, there is something beautiful about the uniformity of colors and a clean layout these guitars offer.
[su_youtube url="https://www.youtube.com/watch?v=__yEko3-Ls0″][su_youtube][/su_youtube]
Whether or not you find them attractive, you will definitely love the way these axes sound when you plug them into a good amp.

Features
The body of Schecter Damien 7 features a jacked up Super Strat shape that is accented by an arched top design. The body itself is made of basswood, which may prompt some to question the quality of this guitar.
The truth is that basswood is not necessarily a bad tonewood, especially considering the fact that there are different qualities of basswood in use today. When it comes to available finished, you have several solid color choices to choose from, with black still being the most popular one.
The neck is made of maple, and features a rosewood fretboard with 24 extra jumbo frets. The scale on this guitar is a 26.5″ one, which is actually pretty important. The thing about seven string guitars is that the force exerted on the neck is much higher than on your standard six string configuration.
This extra tension requires a longer scale unless you want to have a fragile neck that can fail in more than one way. Some manufacturers choose a 25.5″, but this additional inch of real estate definitely helps a lot, especially if you're aiming for drop tunings.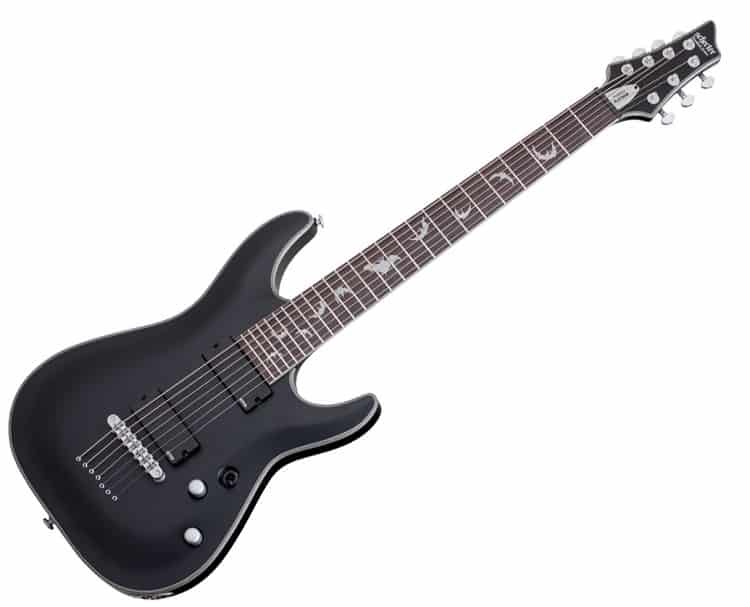 Hardware this Schecter comes with is great considering the job it's tasked with doing. You have a Tone Pro bridge that sports a string-through design on one end, and a set of Grovers locking tuners on the other. Combined, this hardware has shown to be more than capable of wrangling that B string along with the rest of the strings, despite the gauge you go for.
Electronics come in form of two passive EMG pickups. Both the neck and bridge position are fitted with an EMG HZ 7A, both of which are controlled by one tone knob and one volume knob. Additionally, there's a pickup selector switch. As you can see, the controls are pretty standard.

Performance
What sets 7 string guitars apart is their ability to give you a much deeper tone thanks to that extra B string. How the guitar handles the expanded lower end of the range determines how practical it actually is. Schecter Damien 7 delivers a mighty sound that is incredibly versatile.
You can go all out Meshuggah if you want and those passive EMGs will keep up. On the other hand, this Schecter give you a more tamed and refined tone. You can easily dial in authentic blues or rock sound, with little to no effort.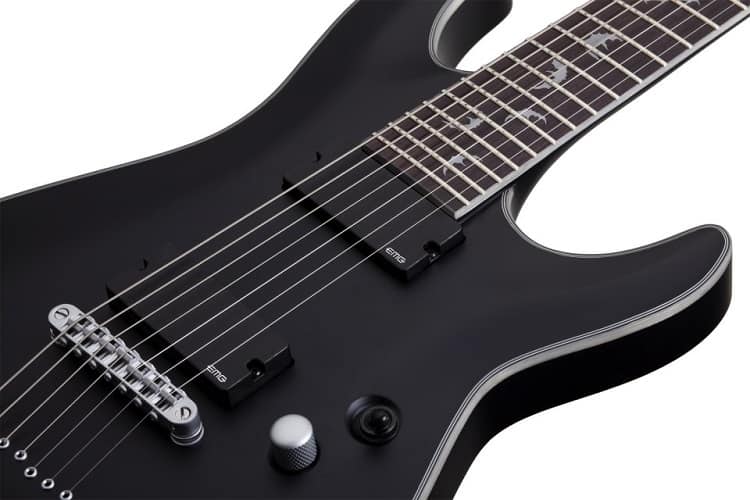 Aside from its sound, this ax is also quite playable. You don't have to perform any significant adjustments on it straight out of the box, aside from checking the tune.
The neck is comfortable and rather smooth, although this should come as no surprise considering the nature of this guitar. Unfortunately, this model has been discontinued and was replaced by Damien Elite 7 and Damien Platinum 7.

What we like
One of the things we really appreciate is the build quality of this guitar. Schecter went above and beyond to design a seven string which has all of its bases covered.
Additionally, it's one of the rare seven string guitars that comes with passive pickup set. At least when it comes to mid range models. Most manufacturers opt out to install active pups, which is something Schecter decided to with the current version of Damien Elite 7. Bottom line, this is a very versatile and capable guitar.

What we don't like
There really isn't much to criticize about this Schecter, aside from the fact that it's no longer available. The price was reasonable, and still is for the used ones you can find on the market. In general, this Damien was a very well thought out model.
To sum up
Finding a decent seven string guitar is definitely a bit trickier than it is to find a good six string. There are more things to factor in, and you have to pay attention to details. Schecter created a wining formula with this guitar, and they evolved it even further.
Schecter Damien 7 is definitely a model you should take a look at if you ever run into it. With this specific version discontinued, we are left with newer iterations which utilize active EMG 81-85 pickups for seven string guitars.
For some, the decision to go active is a good thing, but we'd definitely like to see more high quality passive humbuckers in the game. Sure, you get a lot more output, but the level of expression a passive humbucker can give you is hard to replicate even today.
It's no secret that Schecter is one of the few companies which knows how to make a great metal guitar. With that said, we can only expect to see many more great models such as the Damien 7 we reviewed today.