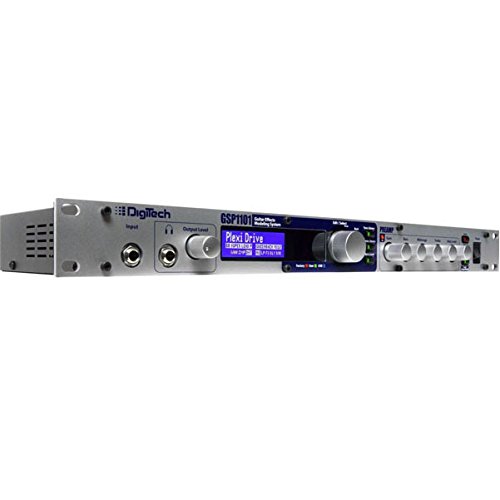 Guitar effects are a huge part of almost every guitar players sound. The most popular way of including guitar effects in your setup is to use guitar effects pedals mounted on a pedalboard.
By most standards, this is still the best way to do things. However, there are other ways you can achieve the same result. We are specifically talking about rack mounted guitar effects processors which not only offer a vast library of effects, but are essentially a preamp that can benefit your signal chain in numerous ways.
>> Check Out DigiTech GSP1101 Guitar Preamp/Processor on Amazon <<
One of the most popular models of this type of device is DigiTech 1101. This unit alone brings an incredible amount of versatility to any guitar player. The fact that it's a rack model shouldn't turn you away.
DigiTech 1101 can be used in a variety of different ways, including but not limited to adding them to a pre existing rack setup. Today we are going to take a closer look at this effects processor and see what exactly does it have to offer.
Adjusted On The Fly With No Effort
When you start working with rack preamps and other devices that follow this format, it's very easy to get lost in the newly established complexity of your setup. Believe it or not, maintaining some semblance of simplicity is harder than it sounds. That is also one of the major benefits of DigiTech 1101.
It's a very simple guitar effects processor/preamp that can be adjusted on the fly with little to no effort. Having that type of user friendly tool at your disposal can really make a difference.

  Features
As you have probably figured out by now, DigiTech 1101 comes in a rack format and housed in a quality made enclosure. There are standard rack mount ears that allow you to install it into every standard rack, and the whole thing is built like a tank. Front panel is where you will find all of your controls. Right side is your preamp cluster while the left is where your effects controls are.
There is a decently sized LCD display with a large knob next to it along with several buttons. These are all of the controls necessary to navigate and select effects from the vast effects library.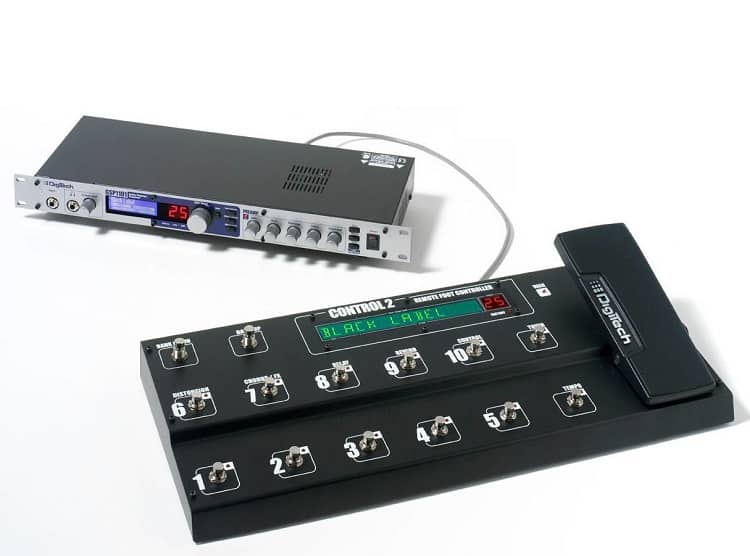 Speaking of which, there are over 120 amp, preamp, cabinet and effects pedal voices to choose from. On top of that, you also have 40 tone and 40 complete effect chain presets. This gives you some 1600 combinations to work with. Outputs on the back are limited to XLR and TRS, however there is also MIDI in/thru available along with USB connection.

  Performance
DigiTech 1101 is extremely easy to use. You can set it up as a standard preamp, or you can use it in combinations with standalone preamps. This allows you to limit the performance of the DigiTech 1101 to its effects library if that is something you want to do.
The processor itself comes with a setup wizard which makes the whole process of setup so simple. Since it comes with a preamp loop, you can insert this processor into any signal chain you already have configured.
The effects are numerous and sound impressive. Amp and cab emulation is on point to say the least. This makes the DigiTech 1101 perfect for recording purposes, especially considering that you can connect it to your computer and use it as a standalone effects library.

  What we like
DigiTech 1101 is probably the most versatile guitar effects processor of its kind on the market. The amount presets it offers, the quality of sound it brings are both incredible for the price.

  What we don't like
There is nothing so bad about this guitar effects processor that is worth mentioning.
Conclusion
Having a rack mounted guitar effects processor is not something every guitar player is looking for. However, the versatility and practical value of DigiTech 1101 makes it a perfect tool for a variety of applications. It's actually so good that even users who don't have racks should check it out.
>> Check Out DigiTech GSP1101 Guitar Preamp/Processor on Amazon <<
It simply packs too much value and performance to be discarded purely based on its form factor. On the other hand, those looking to build a great studio rig will appreciate this processor for what it is.