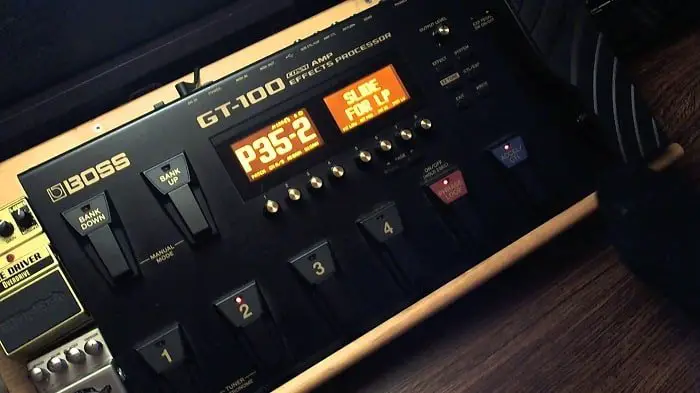 For a long time now, if you needed a guitar effects of any kind, Boss was the go to brand. People grew to trust them to a point where they would recommend Boss for just about everything and anything guitar effects related. Their stompboxes have become legendary.
However, pedals are not the only thing Boss has to offer when it comes to guitar effects. They have a great range of guitar effects processors, divided into two distinct classes. The more affordable series of effects processors bears the ME designation. These are great for those who are on a budget.
>> Check Out Current Price & Customer Reviews On Amazon <<
Their more advanced line of guitar effects processors goes under the GT name, and has become somewhat of an icon over the past few decades. Back when effects processors first appeared, earliest GT models created ripples in the market whenever they were released. One of the latest units in GT line is the Boss GT100.
This incredible effects processor brings a lot of features and options to the table.
Let's take a closer look, and see what makes it so great.
[su_youtube url="https://www.youtube.com/watch?v=klokEmN4PTc"]
Boss GT100 is the current flagship model in the GT line of multi effects processors. As such, it brings the best Boss has to offer at the moment, and that is a lot.
It's packet to the brim with all kinds of features that make it not only capable of replacing a pedalboard, but also flexible to a point which is hard to achieve otherwise.

  Features
Compared to the previous flagship model, the GT10, this new iteration of the series brings a completely reworked COSM and preset library. Everything has been updated with a more modern configuration that brings this effects processor that much closer to standalone effects pedals.
[/easyazon_link]The layout of the GT100 is nothing new, nor is it all that different from other products of this type. There are eight stomp switches in total, including an all new expression pedal.
The main controls are simplified and make for a much cleaner layout. Two LCD displays of decent size dominate the top panel. These are used to navigate the library, and have a visual representation of different parameters you are adjusting.
The overall quality of the case is great. It inspires confidence, and appears to be durable enough to sustain serious use. The stomp switches are standard Boss design we saw in many previous models. All that you need to know about controls and their layout on the GT100 is that they are very intuitive for use.
Now let's talk about what most of you are here for. Boss GT100 comes with 400 patches. That is 200 presets, and 200 slots for your own creations. When it comes to effects that are available on GT100, you have a wide range.
There are distortions/overdrives, amp emulators, EQs, FX1 and FX2, delays, chorus, reverbs, and expression pedal effects. FX1 and FX2 have a whole range of effects of their own.
All of these are not enough, you always have the option to hook up an external effect pedal to the GT100, and include in the signal chain. At any given moment you can have two sets of effects active. That means you can set up a two different configurations of amps, distortions, modulation effects and more. These can then be used combined, or one at a time.
What is most impressive about GT100 is the fact that you can use it straight from the box, or you can spend hours upon hours on layering different effects, and shaping the sound to whatever you want it to be.
In other words, it can be as simple as the most basic effects processor, while it can also be the most complex device you will ever plug your guitar into.

  Performance
One of the biggest issues more experienced guitar players have with effects processors is the quality of sound they offer. The problem is that effects processors can't quite reach the level of quality you can get from a dedicated guitar effects pedal.
That is still true to a certain extent. However, Boss GT100 offers the sound that is currently the closest thing to effects pedals we have.
All the different amps and distortions have much more thickness and character to them compared to previous versions of the GT series. The overall flexibility this processor brings definitely compensates for whatever subtle sound disparity there is compared to guitar effects pedals.

You can literally play with this thing for days and not repeat two identical sound configurations. If you know what kind of tone you need, you can easily shape it up on GT100.
Among other interesting features that come in handy often is the looper. You can record up to 38 seconds. It is a pretty basic looper, but it works.

  What we like
There isn't much about this effects processor that we don't like. The versatility is impressive, and not often found elsewhere. The amount of control you have over your tone is great, especially for those who need to dial in a specific tone.
Quality of sound is great for an effects processor, and we are pleasantly surprised by this GT.

  What we don't like
Finding a flaw worth of mentioning is hard when it comes to Boss GT100. If you consider what this device is meant to do, everything it offers seems to be great.
If you really wanted to nitpick, we could say that amp emulators lack some clarity especially when pushed through a powerful amp on a higher volume. However, this is not that big of an issue.
Conclusion
All in all, Boss GT100 a powerful guitar effects processor that pushes the envelope when it comes to this technology. While they still have a lot of work to do, Boss showed us that advancements in this branch of the industry are coming along exponentially.
>> Check Out Current Price & Customer Reviews On Amazon <<
We can expect to see some pretty amazing guitar effects processors in the future if GT100 is any sign of things to come.