Fender is a huge brand in the music industry, but not many people know that Leo Fender, the founder, sold the company in late '60s and went on to work with other brands including Music Man.
When that cooperation ended, he founded another company of his own called G&L. This brand doesn't have too many models in their offer, but one of the most popular ones is the G&L Asat Bass guitar. Everything about it screams Fender. That much is apparent as soon as you see this thing for the first time.
>> Check out Prices & Reviews on Amazon <<
What Leo managed to do with G&L is to further iron out his designs and ideas. He wasn't bogged down by company policies, or any of the other issues which are more or less standard for huge corporations. He was free to design whatever he wanted. That freedom gave birth to several incredible instruments, one of which we are going to talk about today.
Overview
One of the things that really put the ASAT bass ahead of the competition is the range of tones it can deliver. Leo Fender applied some new ideas to this design, including features which were obviously inspired by his experience in Music Man. The whole bass guitar is simple, yet so beautiful. Its flexible nature has earned it a rather large following in the bass community.
[su_youtube url="https://www.youtube.com/watch?v=j-6WlfmrMCc"][/su_youtube]
One of the biggest fans of this bass guitar is Tom Hamilton from Aerosmith. He recognized the quality of Leo Fender's new design, and has followed it closely ever since. Leo Fender stayed with G&L until he passed away, claiming the work he did there was the best in his whole career.

Features
G&L ASAT Bass features what can be defined as a slightly modified Telecaster body. There are some differences but the general shape is there. The tonewood he chose for this model was either alder or swamp ash, depending on the finish you choose.
The neck is a maple design which features a medium C profile and medium jumbo frets. Selection of fretboards available is maple or rosewood. As you can see, a lot of the features are similar with Fender models.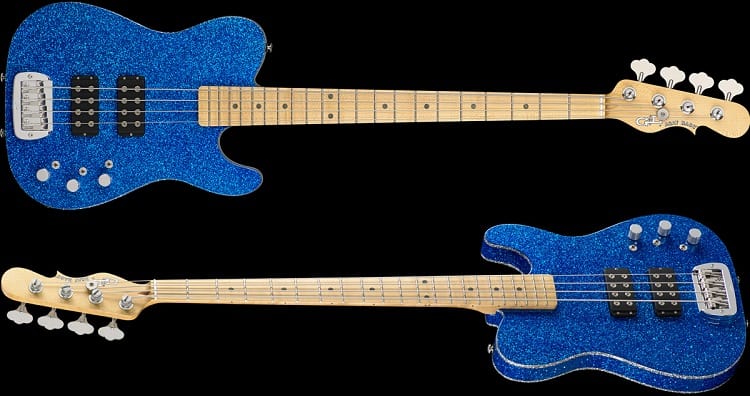 Hardware comes in form of G&L Saddle Lock bridge, designed by Leo Fender himself, and a set of G&L Ultra-Lite tuners. Needless to say, both of these components perform pretty much flawlessly.
The electronics are where things get really good. There are two humbuckers, both of which belong to the G&L Magnetic Field Design line. These are controlled by your standard volume treble and bass knobs, while there are also several switches. Aside from the pickup selector, you have series/parallel switch and a three-way preamp mode switch.
This unusual system goes by the name of Tri-Tone, and is something G&L are quite proud of.

Performance
This bass guitar is on the next level when it comes to performance. That is apparent right away. The range of tones you can dial in is just crazy. Even though it is equipped with two chunky humbuckers, you can still get a fair bit of definition and clarity when you want to play more delicate genres of music.
On the other hand, when it's time to lay down driving bass lines, G&L ASAT has you covered. You can pretty much play anything from blues to death metal on this thing, and it will sound great.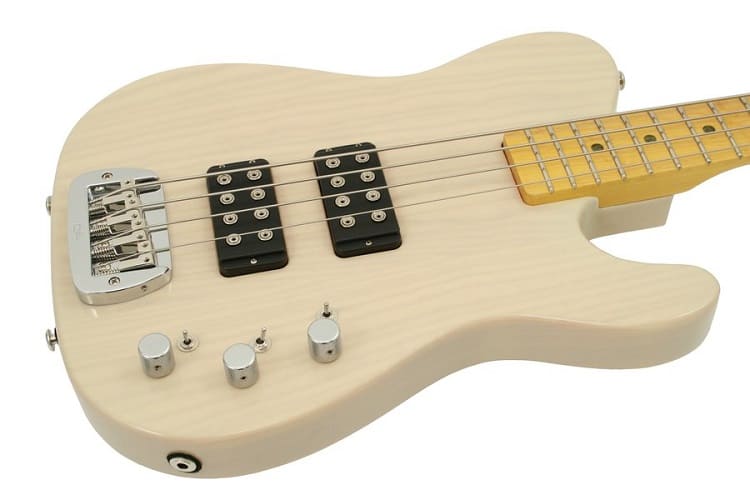 The guitar itself is very playable and well balanced. It's a chunky piece, despite the alder body. However, when you strap it on, it doesn't feel too heavy or cumbersome. The neck is very smooth, especially the maple variant.
It's comfortable, but also fast enough if you want to walk the scale at a quicker pace. When it's all said and done, at the end of the day this is one mighty bass guitar. It is incredibly versatile and allows for a very high level of precision.

What we like
Leo Fender definitely outperformed himself when he created the ASAT bass. The shape, the balance, the sound, everything is on point. It's a serious choice for those who need a different kind of sound while demanding high flexibility. In some ways, G&L ASAT is like a fusion of Fender Jazz bass and Music Man. It's a combination that has a lot to offer.

What we don't like
There is absolutely nothing we can name as a flaw when it comes to this bass guitar. It's an ironed out model, which is apparent from the moment you pick it up. Leo Fender had more than enough time to perfect his design and turn it into a great bass guitar it is today. Every singe detail on this thing is on point, from the quality of buckets to overall tone.
Finally, it may be concluded…
How important Leo Fender was, and what kind of impact he left on the music industry is already known. However, most of the focus is placed on Fender as a company even though Leo didn't spend that much time over there.
His independent work largely goes unnoticed, which is really a shame. G&L ASAT bass is one of the best bass guitars on the market at the moment. These things are not cheap by any means, but the performance they offer makes up the steep price.
>> Check out Prices & Reviews on Amazon <<
Those who appreciate Leo's work need to give G&L instruments more attention. In many ways, these are an evolution of the original Fender's work. In some ways, Fender guitars and bass guitars feel like unfinished work compared to the few G&L models which are currently available.
This statement might cause a lot of disagreement, however it needs to be said. Fender knew what his end game was, and he partially achieved it. When the man who gave us the Strat and Telecaster says that G&L guitars represent the highest point of his career, we ought to at least honor them in a way that is appropriate. If you want something that is more refined than a standard Fender Jazz bass, give G&L ASAT a chance. You won't regret it.