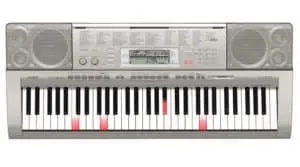 Casio's line of keyboards meant for beginners is quite extensive. You can tell that this company cares about the new players just as much as it cares about the professionals.
There are two things that make a great beginner keyboard – affordable price and features meant to help the user grasp the fundamentals faster. Casio has become an expert in fusing these two requirements together in a whole range of incredible models.
These vary slightly at times, while the difference can also be significant. It all depends on how complex you want the keyboard to be, and what kind of extra features you want.
>> Check out Prices & Reviews on Amazon <<
One of the better models of this type is the Casio LK-270. It sits somewhere in the middle of their entry level range, and it is definitely among the more popular keyboards.
Today we are going to take a look at all the features LK-270 offers, and how they can help you learn to play keyboard faster and with more confidence.
Entry level keyboard – Your first Tutor
The need for good entry level keyboards was there ever since this instrument first appeared. As time went by, features meant to help the user learn kept on evolving. What we have today are tools which really simplify both the technique and theory behind playing a keyboard.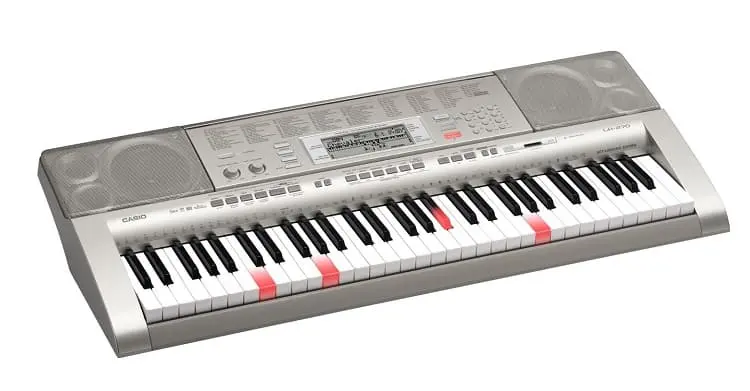 In many ways, learning how to play without these advanced features is detrimental to your overall progress. Casio is not the only company which offers this kind of experience, but they are definitely among the best ones.

Features
Casio LK-270 comes in that standard gray design which many of the entry level keyboards feature. The top is dominated by two very large speakers located at either end of the keyboard. There are 61 piano style keys with two sensitivity levels.
These are not weighted or anything similar, but the feedback is actually quite nice. Above these you will see a set of buttons and a small display. You can use the latter to navigate the preset library and activate any of the learning features Casio has packed in this keyboard.
Casio LK-270 comes with 48 note polyphony. While this is not enough for more professional boards, it's actually above average for entry level models. The library contains 570 different voices and presets. These include regular piano tones as well as a variety of synthetic sounds.
In terms of learning features, you have several important ones. The most noticeable is keyboard illumination which shows you exactly which keys to play. This is great when learning chords and scales.
Keyboard illumination demo
Next is Step Up Lessons. This neat little feature breaks up a song for you, and enables you to learn each part as an individual section. you can practice each hand on its own, and change the tempo.

Performance
Compared to other entry level keyboards, Casio LK-270 is a bit ahead of the competition. The sound engine Casio included won't win any prizes, but it definitely offers a more than decent sound. This keyboard is very easy to use.
The layout of controls and buttons is rather intuitive. The feedback from the keys is great, and the two sensitivity modes increase the amount of expression you can apply while playing. This can help those users who are looking to switch to an acoustic piano later on.

What we like
Entry level keyboards don't win over customers with their sound. No one expects a great sound from models in this segment of the market. Rather, the amount of features and their practical use is what distinguishes a good beginner keyboard from a bad one. In that respect Casio LK-270 leads the pack.

What we don't like
If we look at this Casio keyboard through the prism of its intended purpose, there is nothing it does that we have to specifically call out as bad.
All things considered
Casio LK-270 is a great tool for those who need a basic keyboard they can learn to play on. The learning tools which are included with this board are easy to use and very efficient.
On top of all that, you also have a very extensive preset library which comes packed with all kinds of sounds and backing tracks. In short, Casio LK-270 is great for beginners, and even kids who are just starting out.