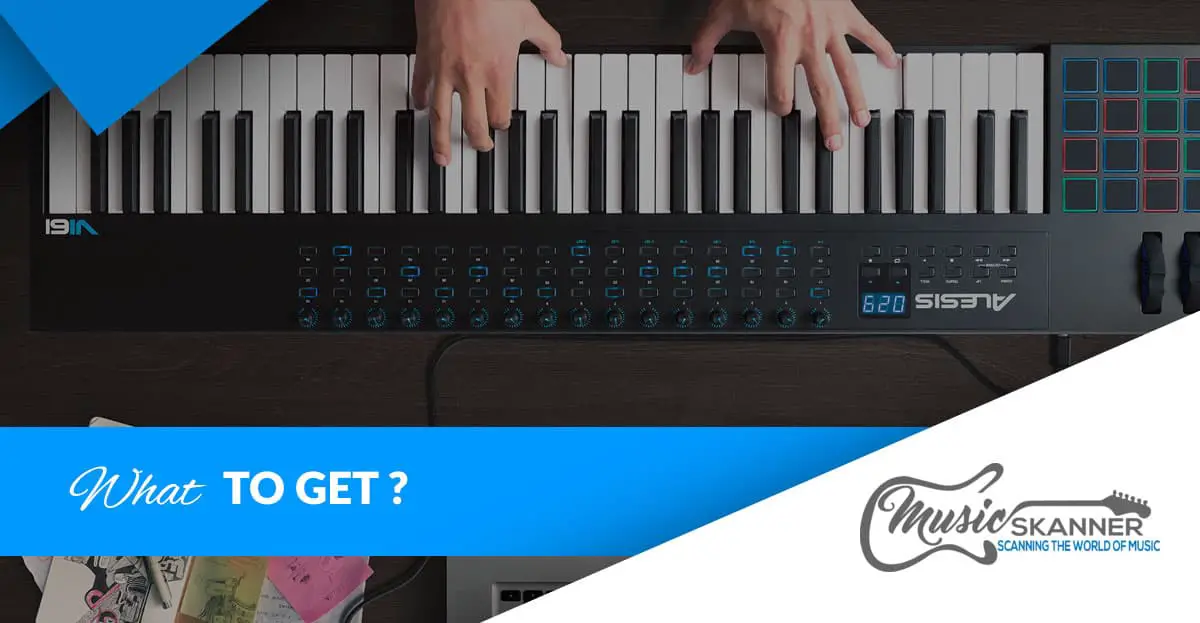 Terms keyboard and portable don't usually go well together. We are generally used to having large heavy keyboards that are anything but portable.
However, there's a whole segment of the market that revolves around small, and compact MIDI keyboards that you can pack in a backpack and carry with you where ever you decide to go. The use for his kind of device are many. Some people just like to create music on the go, while others actually need to have something like this.
Whatever the case may be, there's a number of great keyboards that will serve you well. The best thing is, in most cases these type of keyboards are inexpensive which makes them attractive to a whole variety of users.
If you are in the market for one of these, stay tuned. We have scanned the market, and chose what we believe to be some of the best portable MIDI keyboards you can get at the moment. So, check out these three bad boys.
Check out our Selection
EDITOR'S CHOICE
Alesis definitely is an authority when it comes to portable MIDI keyboard. Their products can be found in just about any price range, and the quality seems to be consistent across the range.
Their VI49 is one of the best, if not the best portable MIDI keyboard on the market. It is also one of the more popular ones by all standards. Great build quality and a good number of features are what separate this keyboard from the competition.

  Features
What you get with Alesis VI49 is much more than just a pretty good 49 keys unit. You get a controller that can be used for hands on control and music composition. The keys are full sized square front type and are semi weighted. There are 36 buttons in total, followed by 12 knobs.
All of these are fully programmable and can be assigned to different features depending on which DAW you are using.
The keyboard is powered via USB connection, so there is no adapter to carry around.

  Performance
In terms of performance, Alesis VI49 offers a very balanced experience. The keys are nice, and very responsive. You will have great control over velocity and other parameters. The rest of the keys and knobs are great as well.
Quality of 16 RGB pads is good, and they don't feel mushy nor do they stick. All in all, Alesis VI49 is a very flexible controller.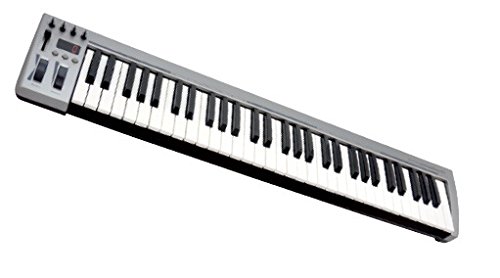 Compared to that Alesis, the Acorn Instruments Masterkey 61 comes across as pretty light in terms of features, however the core components are there. The design and build quality of this model is on point, especially considering the price. Everything you would want from a basic MIDI keyboard is there and delivered in a very compact package.

  Features
Acorn Instruments Masterkey 61 offers 61 full sized, velocity sensitive keys. This is a synth style keyboard, which some will like and others may find to be a flaw. You have two wheels on the left control cluster, one for pitch bend and the other for modulation. Pretty standard stuff so far. There are four knobs that you can assign to whatever you need, and a single fader as well.

  Performance
For a basic keyboard this Acorn does what it's really meant to do well. The keys feel great under the fingers, and there is no free travel. You can comfortably play the keyboard without having to worry about its performance. It's actually one of the better keyboards in this price range.
The main controls which come in form of a small LED display, are pretty easy to use.
It will take some time to get used to navigating between octave, transpose, and other modes quickly, but once you do you will find everything to be intuitive.
At this price range, Acorn Instruments Masterkey 61 is definitely a good bargain. You great keyboard with some extra features that can come useful for real time recording. It's USB powered so it's a very light package to carry around overall.

Korg is no stranger to keyboards, even the kind we are talking about today. Their Korg microKEY2 is a very nice little unit that comes wit ha bunch of great features, and supports both Mac and Win machines.
You can also use it with your iPad or iPhone. Compared to our previous two keyboards, this one has somewhat shorter scale, but the core performance really makes up for this.

  Features
This keyboard is a simple as they come. You have 37 full size keys and standard pitch/modulation wheels. That is pretty much it. There are no pads, programmable knobs or similar stuff.
Korg wanted to deliver a model that is focused on offering the best quality of the core features, leaving no room for anything more complex.
If you want a multifunctional keyboard, look elsewhere, otherwise the Korg microKEY2 is a great little keyboard to check out.

  Performance
There's nothing we can really notice that would warrant us to criticize this keyboard. It's a simple model that plays like a charm. The keys are of great quality and allow you to be as accurate as you want to both in technique and intensity.
If you just want a simple MIDI keyboard that is compatible with just about any platform, this is it.
By and large
There are many good MIDI keyboards on the market. Although it was a tough choice, we think these three are the top candidates for the best portable MIDI keyboard on the market. As you can see, each one of these three models comes packing a different set of features.
The Alesis is probably more catered to those who need additional control over their music, while the other two are your basic keyboard setup. What all of these are good for is using them on the go.
Depending on the size you are comfortable with, you can pick one that best fits your needs.