Casio is one of those manufacturers that make decent keyboards but that have everything you would need in a simple and intuitive package.
Their CZ1000 was their entry level model that has become somewhat popular thanks to its decent features and a good set of 8-stage envelope sections.
It has proven to be a formidable choice for many who didn't want to commit to more advanced models like the CZ2000 and CZ 5000. This trust and good track record draws roots from another model that was first in the series.
Casio CZ101 is a miniature version of the CZ1000 that started the whole CZ lineup of synths. When it first appeared, it really changed the playing field in the industry.
Needless to say, it became extremely popular over a very short period of time. This vintage synth is regarded as one of the most important synths ever made, and is still in high demand to this day. Let us do a quick review.
What this old synth is capable of
When it was first released in 1984, CZ101 was a game changing synth. It brought some features that were exclusively seen in more expensive synths. Keep in mind that these devices were still very much pricey back in those days.
Especially since they were pioneering the whole new type of technology. CZ101 was the first synth to bring the features everyone wanted within a price range that was accessible to a large number of people.

  Features
Looking at it today, Casio CZ101 looks like your average vintage synth. There's the keyboard section with 49 keys and four octaves, and a whole range of controls surrounding it. The keys weren't full size, they were miniature.
However this didn't impact the popularity of this synth as it sold in over 60,000 pieces. Aside from being cheap compared to other synths of that time, Casio CZ101 brought one more important innovation which is partially why it is considered legendary today.
It was the first fully programmable polyphonic synthesizer that didn't require you to take a mortgage on your house. This allowed a whole lot of artists to access this feature for which they had to set aside a pretty big chunk of money before CZ101 appeared. This was a huge deal back then.

The 8-stage envelope design CZ1000 was known for first originated on the CZ101. Speaking of which, the Phase Distortion synthesis which this Casio was based around allowed the user to create some pretty interesting voices. It used eight wave types that you could choose, but programming anything wasn't all that easy. Compared to what we have today, you could say that programming the CZ101 would be like trying to shape a preset in your DAW with a blind fold.
Aside from its core capabilities, CZ101 featured a whole array of analog effects. You had a very decent choice of different vibratos that all together functioned as a spartan LFO of sorts. There were only 16 presets available, although you had 16 additional slots to save your own creations. By our standards today, this nothing to write home about. However, back in the day having 16 presets and 16 additional memory slots was about as good as it got in that price range.

  Performance
Judging the performance of this synth requires us to go back in mid '80s. At the time, Casio CZ101 was considered to be among the most powerful entry level synths. Sure, there were some larger and more complex models that offered more in all areas of synthesis. However, this Casio gave you the necessary portability which made it so practical to use.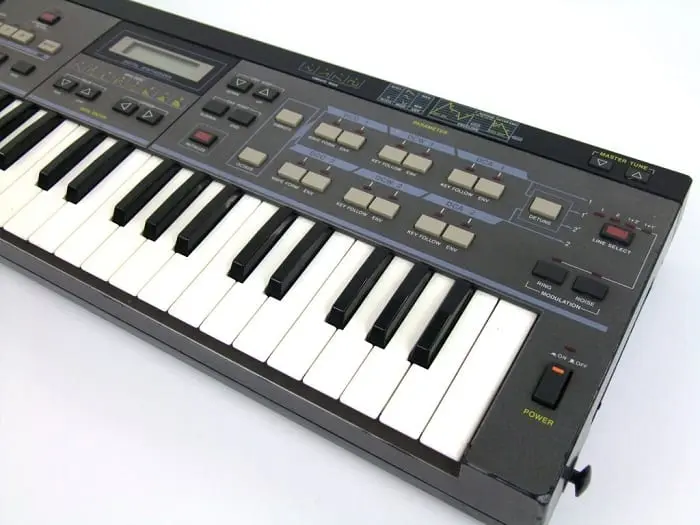 The presets that come with the synth were more than enough for a great majority of the users who decided to pick up a CZ101. The rest managed to meet their requirements by creating their own. Over time it was determined that percussion were something this synth was very good at delivering.
No matter how complicated it appears to us today, Casio CZ101 gave you that additional dimension of control that people back then longed for desperately. You definitely had to have solid knowledge of audio synthesis in order to use this synth to its fullest extent. Most of the people who got one of these fit that description.

  What we like
You just have to appreciate the classic vintage synths, and this Casio is definitely one of the most notable ones. These are still around, and even though they were rendered obsolete a long time ago, owning one is a real blast. It is a rugged synth with still has a lot to offer.

  What we don't like
You can't really critique a vintage synth. Whatever limited features CZ101 has, they were ground breaking at the time. The only thing we can say is that you will have to look hard to find one of these in a decent condition. Otherwise, Casio CZ101 is a pretty well rounded synth.
To sum up..
In a world where you can do just about anything on a laptop, it is good to pause and remember the legendary vintage synths that propelled the whole technology to a level where it is today. Casio CZ101 was a true pioneer of sound.