Vocal effects can have a drastic impact on the music that you can create. It allows for a great deal of creativity and innovation to elevate your music to a whole new level and impress your listeners and leave them wanting more.
Of all the musical elements out there, looping brings that X-factor that stuns the audience. By layering loop upon loop, we can make a whole symphony of sound that leaves our listeners in awe.
If you want to take your performance to the next level, you should consider adding looping to your repertoire, and we'll help you find that the best looper pedal with our review of the top nine models available today.
Our Top Picks
If you don't have time to stick with us to the end, here are our top picks:
The Most Impressive Pedal: BOSS RC-300 Loop Station
Most Budget-Friendly Looper: Nux Loop Core
Honorable Mention: Zoom G1on Guitar Effects Pedal
Last update on 2023-11-04 / Affiliate links / Images from Amazon Product Advertising API
The Best Looper Pedals Reviewed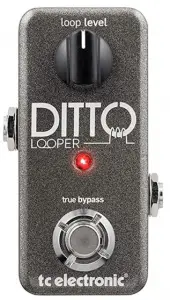 We'll start this list out with a pedal that fits the needs of a beginner looking to get their feet wet in looping. We believe that the TC Electronic Ditto Looper pedal is just that, simple to operate and budget-friendly, this can help you get comfortable with the art of looping.
Key Features
Essential looping features
24-bit uncompressed audio for pristine audio
Internal memory retains loops even when turned off
Five-minute loop time with unlimited overdubs
What We Like About the Product
We love how easy to use and straightforward this product is—you probably won't even need to read the manual to operate it. A beginner can dive in and begin experimenting with lopping and let the creative juices flow.
What We Don't Like About the Product
One of the big problems with this product is that you have to buy its power supply separately. Some of us think that it is simple to a fault, but that is why you would choose the Ditto Looper.
Pros
Easy to use and master allowing you to focus on your music
Has internal memory that keeps your loops even when powered down
The sturdy build designed by TC for life on the move
Small dimensions make it for a proper fit on any pedal board.
Cons
Power supply sold separately
If you're looking to try out looping, this is the perfect pedal to start your journey—cheap, durable, and incredibly easy to use. Instead of having to learn a complicated system, you can focus on what matters— your music!
Overall Rating – 4.5 of 5
If you want additional information on the Ditto Looper, you can watch this video by TC Electronic.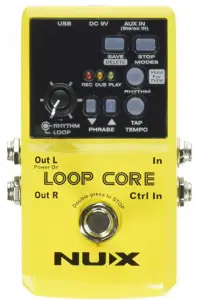 Are you looking for more advanced features but are the prototypical starving artist? Nux has you covered with the affordably-priced Loop Core! This brightly colored yellow metal pedal is sturdy, compact, and easy to master and just what you need if you're on a tight budget.
Key Features
Dual input and output plugs
99 memory slot and six hours of recording time for loops
Includes drum patterns and tap tempo feature
Seamless switching between phrases without any delay
What We Like About the Product
It is cheap; it's that simple. Other products at this price point would have half the features of the Loop Core, and the dual input and output slots also allow you to use two instruments. The memory is also impressive.
What We Don't Like About the Product
At this price, we're not expecting studio-quality audio, but it can be improved as that is the essential feature of a looper. We don't recommend it for live performances.
Pros
Cheap for the number of features it provides
Large memory and recording time
40 built-in drum patterns to choose from
Cons
Sound quality could be improved
If you're on the tightest budget but want to get into looping, then this is the best loop pedal in the market. Again, the number of features the Nux Loop Core is impressive for its price, and it will fit your needs even as an advanced musician. If you're not on a budget, this is the right practice pedal for looping, and if you love the color yellow, then this is a good buy.
Overall Rating – 3.5 of 5
Watch the Nux Loop Core in Action as demonstrated by Silas Fernandes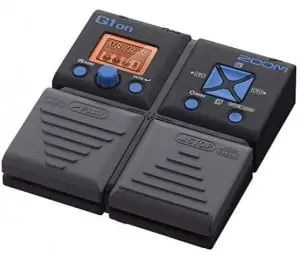 As our previous entry in these looper pedal reviews has proven, a quality effects processor doesn't have to be expensive, and Zoom's G1on Effects Pedal is a testament to that. While not strictly a looper, this pedal provides over 100 effects that include distortion, compression, reverb and yes, looping.
Key Features
Can use up to five effects simultaneously
100 effects and 68 rhythm patterns built-in
Runs on batteries
Built-in chromatic tuner
What We Like About the Product
The number of effects and rhythm patterns built-in on this pedal is fantastic— and at such a low price as well. This pedal is an excellent yet cheap addition to our pedalboard that helps us create some unique music.
What We Don't Like About the Product
As a looper, you can only record up to 30 seconds on this device, which is something of concern. It also doesn't come with its power supply so you have to buy a 90V DC adapter if you'll consistently use it.
Pros
Multiple effects can be layered simultaneously
Has a ton of effects and rhythm patterns you can use
Cons
Doesn't come with its power supply
Looping is limited to 30 seconds
This pedal has a lot of features that you don't find on other pedals on this list which makes it unique, but again it isn't strictly built to be used as just a looper, but this thing is simply amazing at its price and a great addition to any pedalboard.
Overall Rating – 5 of 5
ZoomSoundLab created a demo video to help you get started on this pedal.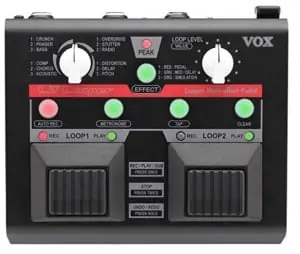 When a company is named VOX amps, then you would probably think twice about looking at any of their products outside of their amplifiers. VOX shows us that they can make more than just impressive amps and that they know their stompboxes as well with their Lil Looper.
Key Features
Two separate foot pedals allow you to record, playback and overdub between two different loops
Loop Quantize feature enables you to synchronize loops to a specific tempo or create loops at the exact length you want
Straightforward interface with twelve effects for both guitar and mic input
What We Like About the Product
What others would call simple, we call a clean design that makes it easy to use and understand. At this price point, the two-pedal design that allows you to work with two different loops at the same time places it ahead of other pedals.
What We Don't Like About the Product
Also given the price, we don't expect studio-quality sound, but it could be better, and the low record time at only 90 seconds is what keeps VOX' Lil' Looper pedal from being great.
Pros
Multitrack pedal design
Twelve additional guitar and voice effects
Can be battery-powered
Cons
Limited loop time recording
Sound quality could use some improvement
As we mentioned, VOX isn't known for producing the best loop pedals, but this remains a solid stompbox for beginners or artists who want to experiment with working on a multitrack.
Overall Rating – 4 of 5
Want more information? Vox made an overview video to help you with your decision!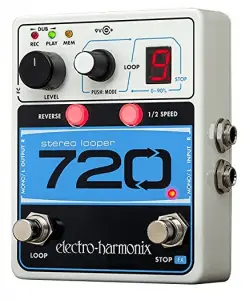 Let's move down this list of looper pedal reviewswith a more complex system in the 720 Stereo Looper Pedal by Electro-Harmonix (EHX). This device gave us quite a surprise as at first glance it looked basic, but don't let its appearance fool you, it provides high-quality audio and advanced features that you won't find in other products of the same build.
Key Features
Provides 12 minutes of recording time
Stores ten independent loops with unlimited overdubbing
Has Stereo in/out allowing you to record two instruments at the same time
Has trailing/loop fadeout feature
What We Like About the Product
For a pedal as small as the 720 stereo looper, we thought that it would come with only basic looping features, but it not only has unlimited overdubbing, redo, and edits, but it also has additional effects such as half-speed, reverse, and trail.
What We Don't Like About the Product
The limited memory is disappointing. With the added features, you can create more than ten loops which dampen your creative freedom.
Pros
Provides high-quality 24-bit audio with a 44.1kHz sample rate
Additional loop effects
Compact and sturdy
Can run on battery and power supply included
Cons
The EHX 720 Stereo looper was a pleasant surprise; what we thought was a basic looper pedal turned out to have some additional features that place it a cut above the rest of the starter devices out there. Do we think it's for professional use? If you're a budding professional artist, then this will do, but it will limit the number of loops you can create.
Overall Rating – 4 of 5
Want to see the EHX 720 Stereo Looper in action? Check out this video by EHX.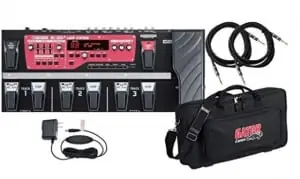 If the limited memory of our previous entry just wasn't for you, and you're looking for more to expand your creative freedom, then RC-3 Loop Station Pedal by Boss might be a good fit for you. Its impressive recording time and memory slots should give you enough saved loops to create some innovative music.
Key Features
Compact yet has a high memory capacity of up to three hours of recording time and 99 memory slots to store loops
Includes a USB 2.0 port that let you import or export audio to your computer
Has ten drum rhythm patterns to play along and add in your loops
What We Like About the Product
The three hours of recording time is nothing short of impressive, and the rhythm patterns are an excellent addition to this solid pedal.
What We Don't Like About the Product
The power supply is sold separately, which is a downer considering that it is already at a higher price point compared to similar pedals.
Pros
99 memory slots with 3 hours of stereo recording time
USB 2.0 compatible for secure storage of any additional loops you create in your computer
Compact and easily fits onto any pedal board
Cons
Does not come with a power supply
It lacks any other looping features
We consider the Boss RC-3 Loop Station Pedal as an upgrade to previous entries on this list as far as memory and recording time is concerned. Although it lacks looping features that other products at this price point have, the increased memory gives you more loops to expand your music repertoire.
Overall Rating – 4 of 5
Curious about the product? Loop Station World Champion US Finalist, Tony Smiley, features the BOSS RC-3 Loop Station Pedal in action.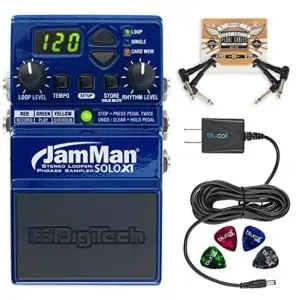 99 isn't enough for you? Well, the next entry on our list comes from the innovators at DigiTech who gave us the gift of live looping. JamMan Solo XT has several unique features that were added in with the thought of the professional musician in mind and all the memory you could ever possibly need.
Key Features
Features 200 onboard memory slots that allow you to save your loops for easy use
Has a micro SDHC slot to let you store up to 16 hours of high-quality audio
Can connect to your computer via USB for easy organization and archiving of loops
Allows for slowing down and speeding up of loops without changing the pitch
What We Like About the Product
Two hundred onboard memory slots say it all. We love how this gives us unlimited creative possibilities by saving a ton of looped phrases in the system. As musicians and composers, inspiration can strike at any moment, and having the multiple slots are invaluable to the creative process.
What We Don't Like About the Product
Two hundred memory slots don't mean much if you have limited memory, the built-in memory can only hold 35 minutes of loops, but DigiTech covers that with a micro SDHC slot.
Pros
200 memory slots for loops for limitless creative possibilities
Can be connected to a computer for easy management via USB and through the JamManager XT program
Power supply included
Has a micro SDHC slot to expand the memory
Cons
Limited built-in memory
It's advisable to get an external footswitch for easy switching between stored loops
Overall, the JamMan Solo XT is relatively straightforward to use, and the multiple memory slots make it invaluable if you want to let your creative side loose. If you're a composer, this is a prime candidate for purchase as it gives you nearly limitless creative freedom when looping with the addition of micro SDHD card.
Overall Rating – 4.5 of 5
Undecided? You can watch a demo of the JamMan Solo XT by Digitech to help you decide.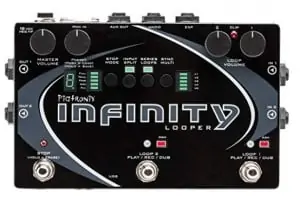 We've said it before, don't judge a book by its cover, and looking at the Pigtronix Infinity Looper, it can feel underwhelming at first. That is until you dig in and find out what this pedal can do. Just to put it into perspective, it comes with a 52-page manual, which tells you just how much you can squeeze out of this stompbox.
Key Features
Has two stereo loops with sync and a loop two multiplier that goes from x1 to x6
50 presets for each loop (100 total)
Expression pedal to adjust loop aging, variable speed, and volume
MIDI beat clock sync
What We Like About the Product
The Pigtronix Infinity Looper is like an iceberg, the most formidable part of it is under the surface. With 50 presets and an 8GB micro SD card you can record up to two hours of loops. It is relatively intuitive to use, and the Loop Aging feature allows you to fade loops out as you introduce new phrases.
What We Don't Like About the Product
This pedal doesn't have a tempo guide like other loopers which makes it's MIDI synchronization necessary, that does mean you'll need the dual remote to utilize all of its functions properly.
Pros
Multitrack looper with a loop multiplier on track 2
Excellent quality sound with no apparent difference between live performance and recording
Large memory (50 presets per track and about two hours of loop recording)
MIDI synchronization
Cons
Requires dual remote to utilize all its features properly
Best used with a computer or sequencer
The infinity looper sounds excellent and offers a vast range of features, with some that are unique, making it a versatile looper pedal. With that said, it isn't cheap and needing that dual remote means that you to think if the additional investment outweighs the cost.
Overall Rating – 4.5
Watch two-time Grammy winner Eric Krasno demonstrate how the Pigtronix Infinity Looper performs!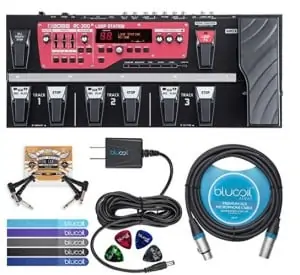 You know what they say, save the best for last, so we're ending this list of looper pedal reviews with the big BOSS of stompboxes, the RC-300 Loop Station. Touted as the tripe-stereo mega looper this bad boy was made to be the most potent loop station ever brought to the market. This powerhouse looper can help artists take their music to another whole level.
Key Features
Three stereo tracks that have dedicated pedals and controls for each
Each track has a fader and an expression pedal to control effects
16 handpicked effects for optimized looping
99 memory slots for loops and 3 hours of recording time
What We Like About the Product
The RC-300 was made by BOSS specifically to bring looping to greater heights. With eight footswitches, MIDI synchronization, sixteen effects, and multiple inputs and outputs, this has to be the best looper pedal in the market.
What We Don't Like About the Product
Features and sheer looping power aside, it is expensive. We don't recommend this unless you're a professional musician, not just because of the price, but it can overwhelm you in terms of features.
Pros
Three track looper with dedicated foot pedal
Multiple inputs and output slots
USB slot for importing and exporting WAV files
MIDI synchronization
Cons
Expensive
Geared more towards professionals
I don't think we'd be exaggerating if we said that this is every musician's looping wet dream. The multiple effects and multitrack will help you unleash your creativity, and the sky is the limit when it comes to what you can do with the RC-300.
Overall Rating – 5 of 5
"I want to see what this bad boy can do!" Well here you go: Demo video by Rico Loop in NAMM 2012
Buying Guide
Before getting into the nitty-gritty of the buyer's guide, let's talk about what a looper pedal does. Chances are you probably already have an idea since you're on this page, but for the beginners out there, a looper is a device that allows you to record samples of audio phrases which you can then play over and over again or dub. The loops can then be layered over one another with additional effects to create some truly unique music. Loopers and effects can turn you into a one-person band if need be.
Now that you know what looping is, we can talk about what different factors you need to consider when looking for a looper pedal. With that question in mind, you can immediately tell that there is no one-pedal-fits-all answer as you need to understand your needs as an artist.
Performance Venue
Are you looking for a pedal for a live performance or a just for practice at home? If it's for a live environment you'll need to consider ease of use, can you quickly access the buttons or dials, are the foot pedals large enough? If they aren't, then it will get in the way of your performance as you'll have a difficult time at bending over consistently during shows. You'll also have to consider if the stompbox has an LED screen and whether the labels are readable while standing up, this is especially concerning in dim and poorly lit stages.
On the other hand, if looping is a hobby or you're looking to work at home or jam with friends then you don't have to go for the expensive pedals, a simple one that does the job should be enough.
Durability and Size
They're called stompboxes for a reason, which means you'll need to find a pedal that can take some punishment. Especially if you're in live performances and you need to get that energy up for the crowd; if your pedal consists of low-quality materials then one over-enthusiastic stomp can break it in the middle of the show.
If you're a traveling musician, size matters, having to carry your equipment everywhere you go is backbreaking, and the extra pound or two from multiple pedals add up so you'll need to consider this as well.
Price
You can have all the bells and whistles on a pedal, but if it's at an outrageous price, then it's off the table—or the pedalboard in this case. We've provided several budget-friendly options on our list for beginners and those that are in a tight financial squeeze along with other pedals on the other side of the spectrum. Again, it comes down to your needs, if you don't need certain features at the moment, consider other options.
Features to Look Out for in a Pedal
Now that we've gone into the different considerations you have to take into account when looking for the best loop pedal, we can move on to what features your stompbox has to have.
Footswitches
The number of footswitches you have dictates the number of loops you can work with, and this is increasingly important if you're a live performer, as it makes it easier for you to manage your loops on stage. Does this mean that the single pedal stompboxes are immediately out the window? No, it depends on if you need multiple loops, and even if you do, there are single-footswitch models out there that allow you to connect additional pedals, but that does mean you have to spend more for it.
Input and Output Type
The typical input type for loopers is the ¼ inch input, which is the standard input from guitars. Some pedals do have XLR inputs and even microphone plugs to allow you add different sequences to your loops from vocals and other instruments.
If you want to use music from other music devices, then you should look at models with aux jack inputs. Having a USB port or a micro SD card slot is also vital if you want to import or export audio files directly to your computer for storage.
Pedals used to be in mono output exclusively, but more recent models now come with stereo output options to get more pronounced effects from your music. The number of input slots is an additional consideration if you want to use your looper on two instruments at the same time or record with a mic and an instrument.
Memory
As any experienced looper will tell you, memory is an essential feature as you'll need to store your loop phrases for use at a different time. If you're a composer and need to record multiple phrases or extended samples, then you'll need a pedal with high built-in memory.
Note that there are loopers with minimal built-in memory but have USB ports to allow you to export your audio to a computer. Other units have micro SD card slots that potentially give you an unlimited amount of space for your recordings.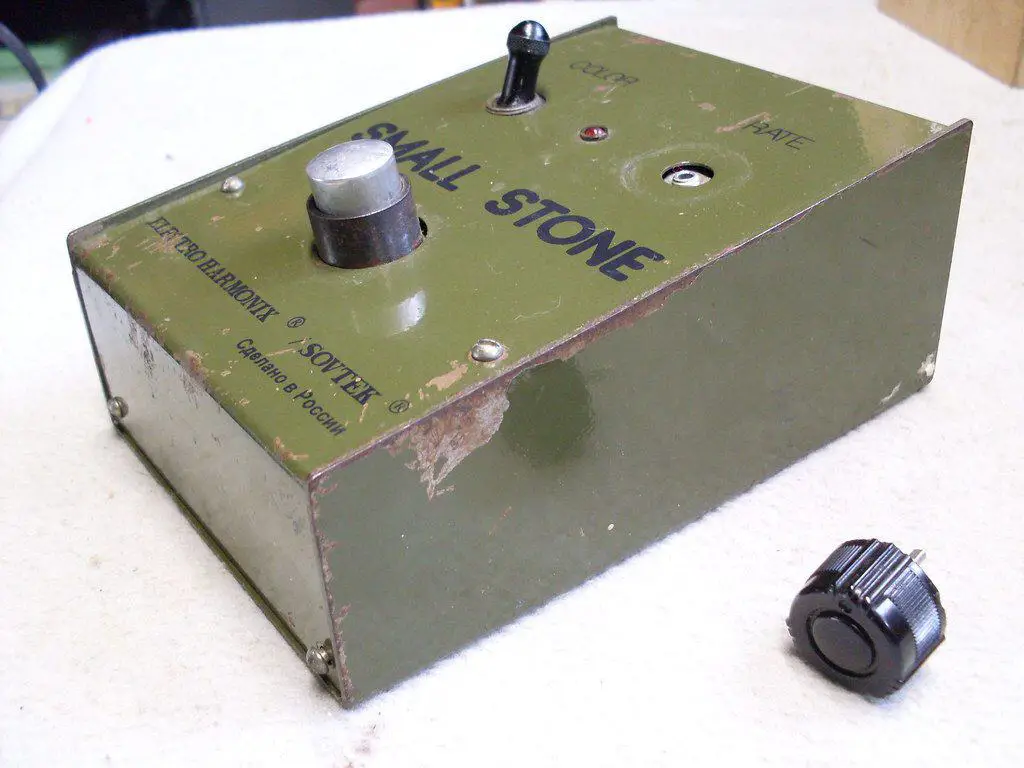 Multitrack Looping
Multitrack looping allows you to play multiple tracks and loop them simultaneously, this is more of an advanced option and a feature that you usually don't find on standard entry-level loop pedals, but if you're looking to expand your musical repertoire and create genuinely innovative music entirely on a looper pedal this is a must-have feature.
Reverse Looping
Reverse looping isn't exactly an essential feature but if, like us, you have that wild creative spirit that loves to experiment and innovate with different effects then playing recorded loops backward is something you should look for in a pedal. Mind you; this isn't wildly available as it is a relatively new feature.
True Bypass
If you've been looking at pedals for some time, you've probably heard this term thrown around here and there. It is an essential feature if you have multiple pedals in your pedalboard. True bypass means that the tone going into a pedal comes out the same each time. Loopers without this feature will affect the sound going through it and cause it to distort even when they are turned off.
Which Pedal Should I Choose?
Now that we've given you all the factors and features that you need consider when purchasing a pedal which pedal should you choose from those we've reviewed? Again, it's a case to case basis, but our top picks were:
The Most Impressive Pedal: BOSS RC-300 Loop Station
Most Budget-Friendly Looper: Nux Loop Core
Honorable Mention: Zoom G1on Guitar Effects Pedal
Final Thoughts
So, there you have it folks, our review of the top 9 looper pedals available on the market today along with a comprehensive buyer's guide to help you choose the right pedal for you. We want to end this guide by reiterating that there is no single pedal that will have everything you need and that would fit every situation. You'll probably need to have several of these at any given time if you're a professional musician always traveling between your home, studio and live performances.
You've likely noticed that we don't have a "best looper pedal" on our picks as we genuinely believe that only you can decide what the best one is according to your situation. We've outlined what we think about each pedal to help you on your quest for that looper pedal!