Shopping for a new clarinet is an exciting prospect. You may love the sound of the instrument and the way it contributes to the sound of bands and orchestras, and you may look forward to developing your own clarinet playing skills.
One thing you will soon realize, though, is that clarinets, even entry-level ones, can be expensive. If you buy the first affordable one you see, chances are that it will not meet your expectations in terms of sound quality and durability.
In this guide, we will provide you with enough reviews and information to buy the best student clarinet for your budget.
Our Top Pick
If we had to choose just one instrument from our reviews to be deemed the best clarinet for beginners, it would be the Juan Paul USA CL-300. Due to its affordable price tag and adaptability to a range of skill levels, this model is hard to beat. We've reviewed it first for your convenience.
Last update on 2023-08-26 / Affiliate links / Images from Amazon Product Advertising API
Review of the Best Student Clarinets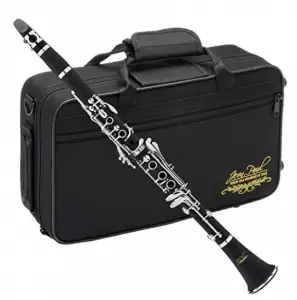 The CL-300 from Juan Paul is a popular option for beginners who are looking to develop their clarinet playing skills.
Key Features
B Flat clarinet
Ebonite construction
Boehm nickel-plated key system
Contoured carrying case
Several accessories for maintenance included
What I like
The Juan Paul CL-300 is specially designed to provide the beginner and intermediate clarinetist with smooth playability and a professional-grade response. The instrument features an appealing ebonite body that contributes significantly to its sound quality and projection.
The Boehm 17-key system is nickel-plated to allow for smooth and effortless action, and the clarinet offers a generous tone range, making it suitable for a wide range of practice and performance applications.
With your clarinet, you will receive a compact carrying case, mouthpiece, cap, and a high-quality ligature. Included with the package are professional Ricco reeds to enhance your clarinet's authentic sound. The clarinet is paired with a neck strap for added comfort while playing.
What I don't like
One drawback is this model is that its keys tend to bend easily, and you have to exercise proper care when playing or handling the instrument.
Pros
Clarinet from a reputable brand
Produces a strong projection and a wide range of tones
Versatile Bb clarinet
Easy playability and superb response
Durable ebonite construction to enhance sound quality
Cons
The keys are prone to bending
The Juan Paul USA CL-300 is a great clarinet for beginner and intermediate players with its reasonable price, high-quality features, and durable ebonite construction.
Overall Rating – 4.9 of 5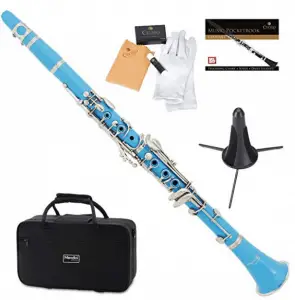 The MCT clarinet is one of the budget models on this list. This instrument provides decent sound quality and comes with several high-value accessories.
Key Features
Bb Clarinet
Inline trill keys
Adjustable thumb rest
ABS body
Nickel-plated key system
What I like
The MCT clarinet from Mendini by Cecilio caters for beginners who want decent sound quality but don't have a large budget. This instrument has a hard ABS resin body and a durable nickel-plated key system. Because the clarinet can withstand a lot of hammering, it is especially suitable for playing in marching bands.
The adjustable thumb rest adds to the clarinet's playability and comfort, and it is lightweight, making it easy for children to play. A prominent feature of this clarinet is its glossy sky-blue finish, which may be attractive to jazz band members—though it's also available in other colors!
What I don't like
While this clarinet's sound quality is not terrible, it is nothing to write home about. The ABS resin body doesn't compliment the instrument's sound, and if you are serious about long-term value, it may be better to save some money and buy a higher-end model.
Pros
Complete starter kit with a stand and durable case
Beautiful blue color
Durable ABS resin construction
Affordable price
Easy to play for beginners and kids
Cons
Sound quality may not be sufficient for some beginners
The Mendini by Cecilio MCT is the ideal option for beginners or kids who may like bright colors and comfortable playability.
Overall Rating – 4.5 of 5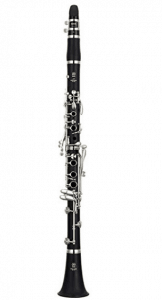 If you want a beginner clarinet from a reputable brand, consider the YCL-255 from Yamaha with its warm sound and lightweight construction.
Key Features
B Flat clarinet
Based on Yamaha's professional models
Adjustable thumb rest with strap ring
Yamaha CL-4C mouthpiece
Matte ABS resin body
Nickel-plated key system
What I like
Unlike many professional models, the YCL-255 has an ABS resin body instead of an ebonite or grenadilla construction. However, the clarinet produces an authentic sound that is typical of a wooden clarinet.
The plastic is also durable and offers higher resistance to damage from abrasion, moisture, and temperature fluctuations, while the matte finish provides the same visual interest as wood.
The YCL-255's performance is on par with professional models in terms of playability, sound quality, and projection. The nickel-plated key system also makes smooth action possible, and they are easy to maintain.
This clarinet's bell has a contemporary and lightweight design that incorporates a resonance chamber to enhance the clarinet's intonation.
What I don't like
The YCL-255 has a high price tag in comparison with other beginner models but, because of its high-value features, it is an investment for the long-term.
Pros
Durable ABS resin construction
The clarinet mimics the sound of a wooden model
Matte finish for added aesthetic appeal
A redesigned bell for enhanced intonation
Adjustable thumb rest allows for comfortable playing
Cons
Price may be too high for some players
When it comes to beginner models, the Yamaha YCL-255 excels in several ways, including sound quality, durability, and playability.
Overall Rating – 4.3 of 5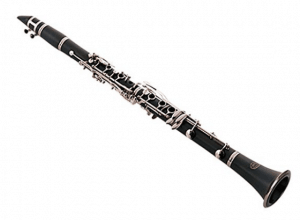 The JCL-700N from Jupiter is a reliable, lightweight clarinet with several features that are typical to professional models.
Key Features
Bb clarinet
ABS resin body
French style offset trill keys
Smooth matt finish
Nickel-plated key system
Specially designed C/G key riser
Adjustable thumb rest
What I like
The most notable features of this instrument are its ABS resin body and nickel-plated key system. The result of these construction materials is complete durability and resistance to wear, abrasion, and moisture.
While a plastic body is not typically associated with the rich, full sound you get with wooden instruments, the JCL-700N performs admirably in this department. As a result, it is a viable option for beginners or intermediate players who need a clarinet for practicing as well as performances. The durable construction is also beneficial to marching band members.
Comfort features of this clarinet include a C/G key riser, adjustable thumb rest, and undercut holes.
What I don't like
Even though this model produces a decent sound quality and a string projection, it is somewhat limited by the plastic body.
Pros
Versatile Bb clarinet
High-quality and durable construction
Strong projection and decent intonation
Nickel-plated silver keys are responsive allows for smooth action
Suitable for beginners as well as intermediate clarinet players
Several comfort features that include an adjustable thumb rest
Cons
Doesn't provide the same authentic sound as a wooden clarinet
The Jupiter JCL-700N is a viable option for beginners who value quality, durability, and strong clarinet projection.
Overall Rating – 4.8 of 5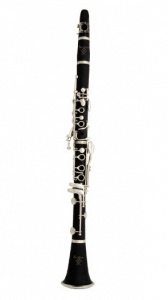 The Gemeinhardt 2CN1 is a popular entry-level clarinet and one that is widely recommended by music teachers and schools.
Key Features
ABS resin construction
Wood-like finish
Undercut tone holes
Thumb rest with strap ring
Nickel-plated key system
What I like
Traditionally, Gemeinhardt has been a prominent manufacturer of high-quality flutes and piccolos. During the 2CN1's design phase, the company involved several professional clarinetists to ensure that the instrument meets the highest possible standards in terms of playability and sound quality.
This clarinet is made of durable ABS resin, and it has a realistic wood-like finish for visual interest. Additionally, it has a signature bore design that finds a balance between achieving a quality sound and easy playability. To eliminate distortion, the clarinet has a nickel-plated key system that features an airtight seal to prevent leaks from forming.
The 2CN1's mouthpiece was made in the United States, and it features a cap to protect your reed and prolong its lifespan.
What I don't like
While you receive reeds with this clarinet, their size and cut may not be suitable for beginners. To enhance playability and sound quality, you may have to purchase additional reeds.
Pros
Strong and durable ABS resin body
The nickel-plated key system is airtight to prevent distortion
Features a thumb rest for enhanced comfort
Decent sound quality for beginner clarinetists
Cons
You may have to replace the reeds
The Gemeinhardt 2CN1 is an excellent option for the beginner with budget constraints who don't want to forgo quality sound and durability.
Overall Rating – 4.6 of 5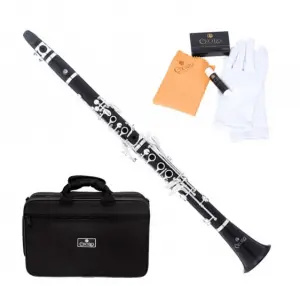 If you are looking for an affordable entry-level clarinet with a wooden body, consider the Cecilio CT-480 with its silver-plated key system.
Key Features
Bb clarinet
Ebony wood construction
Silver-plated keys
Italian pads
Adjustable thumb set
Several accessories included
What I like
Beginner clarinets with wood bodies are relatively scarce, and if they are as reasonably priced as the CT-480 from Cecilio, they are worth considering.
The CT-480 has an ebony wood body that provides an authentic, deep sound that you would expect from a high-end clarinet. If you take proper care of the wood, it is also highly resistant to cracks and damage as the result of humidity and harsh temperatures.
Other notable features of the CT-480 include an adjustable thumb rest for added comfort while playing, high-quality Italian pads, and 2.5-inch reeds.
With this clarinet, you will receive a hard-shell case, a top-notch mouthpiece, ten reeds, cork grease, a cleaning cloth, and a pair of gloves.
What I don't like
The clarinet has a durable key set. However, the keys are plated with silver instead of nickel. As a result, the plating may wear off over time.
Pros
Premium-quality ebony wood construction
Adjustable thumb rest for enhanced comfort
Handy accessories that include a hard-shell case
Durable keys that are not prone to bending
String projection with a high sound quality
Cons
Silver key plating can deteriorate over time
Clarinet has a high maintenance requirement
The Cecilio CT-480 has high-quality wooden construction that adds significantly to its deep and rich sound.
Overall Rating – 4.6 of 5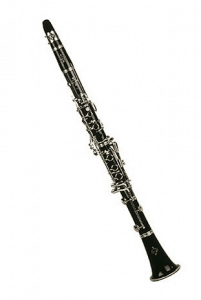 The Buffet B12 is a clarinet that was specially designed to help beginners develop their acoustic capabilities.
Key Features
Bb Clarinet
ABS resin construction
Blue needle springs
Staggered trill keys that are similar to that of the R13 Green Line
A silver key system that is nickel-plated
What I like
Beginners who are unsure they'll stick with it should consider the B12 from Buffet. This affordable clarinet features a strong ABS resin body that has a high resistance to blows and moisture damage.
It also features a high-performing silver-key system that is nickel-plated for added durability and smooth action. The B12 features the same staggered trill keys as the R13 Green Line, a popular professional clarinet.
The B12 is lightweight, so young musicians should find it easy to handle, clean, and play without any discomfort.
What I don't like
The focus with this instrument is on skill development, practicing and, to a much lesser extent, sound quality—it's that last bit that brings this model down.
Pros
Specifically developed for beginners
Durable ABS resin construction
Affordable practicing clarinet
Lightweight and quality components
Nickel-plated keys for added durability
Cons
This clarinet's sound quality can be improved
Not an ideal clarinet for long-term value
If you are looking for a quality clarinet that you can use to practice and develop your skills, this model may be ideal.
Overall Rating – 4 of 5
Buying Guide
Before buying a clarinet, it may be worth your while to learn more about what a clarinet is, the different clarinet types, and their components. The information below may help you select the most appropriate instrument for your skill level, music genre, and budget.
What is a Clarinet?
A clarinet is a single-reed woodwind instrument that is primarily used orchestrally. The instrument is cylindrical, and it consists of a long, round tube that has a flared bottom called a bell.
The clarinetist produces a sound by blowing air between a reed and the mouthpiece and covering the tone holes on the side of the tube with metal keys to play every note of the chromatic scale.
A clarinet has a characteristic and distinct sound that differs from the sound of other woodwind instruments.
Clarinet Types
There are many different clarinet types, with the most common being the Bb clarinet. Below, we will take a look at some of the different clarinet types as well as their unique applications.
A Clarinet
The A clarinet is widely considered to be a viable alternative to the Bb clarinet and is often used in classical music performances. This type of clarinet is larger than the Bb clarinet and is one of the most common clarinets that is not in Bb or Eb.
Bb Clarinet
The Bb clarinet is in B Flat and is one of the most versatile clarinet types. Since you can use a Bb clarinet for several music styles, it may be the best clarinet for beginners. In addition to the soprano models, bass clarinets and contrabass clarinets are also Bb instruments.
Bass Clarinet
Bass clarinets are larger than other clarinet types and also popular among intermediate and professional clarinetists. While bass clarinets are not suitable for as many music styles as soprano clarinets, they are also versatile instruments.
Contrabass Clarinet
Contrabass clarinets are Bb instruments, and they have the lowest pitch of the common clarinet types. This instrument is widely used in ensembles and classical orchestras.
Eb Clarinet
An Eb clarinet is an E Flat instrument and is often referred to as a sopranino clarinet. In contrast to contrabass clarinets, the Eb clarinet has the highest pitch of the most common clarinet types.
Alto Clarinet
The alto clarinet is an Eb instrument with a lower pitch than the Eb clarinet. This clarinet type is suitable for small chamber ensembles, jazz bands, and orchestras.
Contra-alto Clarinet
A contra-alto clarinet is an Eb instrument that can reach a lower register than the alto clarinet. Like the alto, the contra-alto clarinet is used in small chamber ensembles, bands, and orchestras.
Harmony Clarinet
Harmony clarinets differ from most clarinet types in that they have a supportive function and produce harmonies rather than carrying melodies. Harmony clarinets are available in several keys.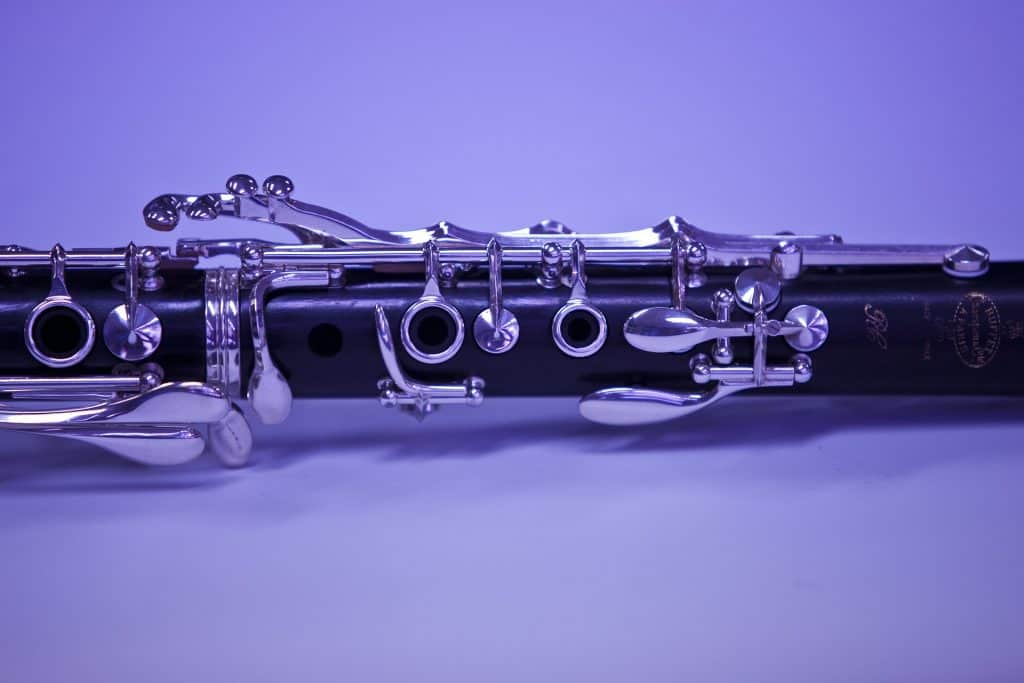 Construction Material
Clarinets can be made from different types of wood or synthetics. The most common type of wood for the construction of high-end clarinets is African Blackwood, also called grenadilla. Each type of material has its own benefits and drawbacks.
Synthetic materials are more resistant to abrasion, blows, and changes in temperature. A synthetic material's maintenance requirement is also significantly lower than wood and, since synthetic materials contract and expand throughout the instrument's lifespan, you are less likely to experience problems with ill-fitting keys. Clarinets made from synthetic materials are generally more affordable than wooden ones.
A significant benefit that wooden clarinets have over clarinets made from synthetic materials is the warm tone. Because of the sound difference, many professional clarinetists are willing to commit to the care requirements of wooden options.
Keys and Plating
A clarinet's keys can be plated with silver, nickel, or gold. Many players prefer nickel plating because of the durability and shiny appearance that it offers. Silver plating is not as durable as nickel plating, but it adds visual appeal to your instrument, and it allows for smooth action.
Bore Style
Bore refers to the inside dimensions of a clarinet. If you are a beginner, you may have to start with a small-bore clarinet as they are easier to learn and play in tune. Professional clarinet players mostly prefer large-bore clarinets to achieve higher projection and bend notes.
The bore size of a Bb clarinet ranges from 14.7mm to 15.2mm. Most beginners will have no problem with clarinets in this bore size spectrum.
Ligatures
A ligature is a clarinet component that controls the reed vibration and has a direct impact on the sound of your clarinet. The benefit of a high-quality ligature is an enhanced tone and playability and a longer reed lifespan.
Reed Types
There are two variables as far as reeds are concerned, namely strength and cut. Reed strength is rated on a scale from one to five, with one being the softest and five being the hardest. As a beginner, opting for a softer reed will make the instrument more comfortable to play, but it will not produce the full, rich sound that harder reeds typically deliver.
The reed cut is also significant. There are two reed cuts to choose from: regular and French-file. Advanced clarinetists typically prefer French-file reeds as they provide a quicker response. Beginners or casual clarinet players, on the other hand, prefer regular cut reeds, not because of playability, but because French-file reeds are significantly more expensive.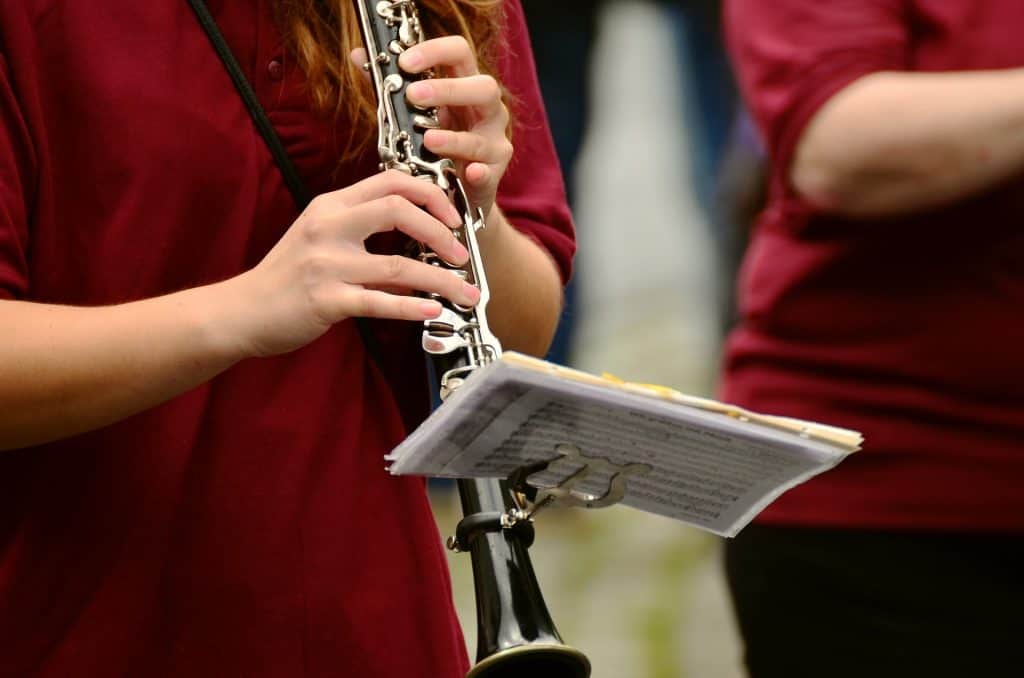 Price Considerations
Price can be a complex buying consideration. A clarinet's cost can range from as $40 to $4,000 or more. As a result, finding a basis for comparison and determining if an instrument has a reasonable price can be a challenge.
Entry-level clarinets are typically on the lower end of the clarinet price range. However, if you are willing to commit to this instrument for a long time, you may be better off looking at models that are not necessarily beginner models, but that is easy for beginners to play.
Additionally, if you cheap out on your entry-level clarinet, you may not get the best possible value and enjoyment from your instrument, which is why many talented beginners eventually stop playing.
The good news is that there are many entry-level clarinets from reputable brands available that sound great and that are easy to play. Plenty of high-end beginner models are also made of durable materials, and you will be able to play them for many years.
Final Thoughts
As a beginner clarinetist, there are several clarinet features that you need and others that you can do without. The CL-300 from Juan Paul is known as one of the best clarinets for beginners as it contains a wide range of high-value features that are especially suitable to a beginner's needs.
The CL-300 has a durable ebony wood construction to create a deep, authentic clarinet sound and to strengthen its projection. It also features a Boehm 17-key system that is nickel-plated to allow for smooth and effortless action.
The CL-300 is for you if you are looking for long-term value, a bright tone, and a professional-grade durability.