Trumpets are quite a popular musical instrument the world over. They offer a simple yet beautiful way to express your feelings through music. It is no wonder that there are thousands of people signing up for trumpet lessons—but signing up for trumpet classes means you will need a trumpet.
If you are looking for a budget-friendly student/beginner trumpet to kickstart your lessons, you'll find it in our best beginners trumpet reviews. Just to be sure we also included a guide to buying the best student trumpet as well. We're confident you'll find one that suits your budget, and, at the same time, will give you reliable performance with little maintenance and breakdown.
The Best Student Trumpet—Our Top Pick
If you need to jump right to the verdict, we loved the Jean-Paul USA TR-330 because it scores highly in many reviews— and for good reason. It is a well-built trumpet that delivers exceptional sound and reliability. It is also reasonably priced and comes with a staggering number of accessories. This model is the absolute best student trumpet—there's no compromise on quality.
Last update on 2023-11-07 / Affiliate links / Images from Amazon Product Advertising API
If you'd like to know more, we've reviewed it first below.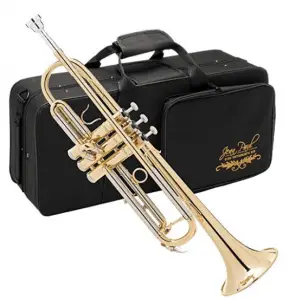 This option is among the most popular student trumpets with a very high user rating. It is a beautiful yellow brass, and gold lacquered trumpet that delivers a lovely rich tone. It is extremely well engineered with the student in mind to provide a long-lasting trumpet.
Features
Has a B flat key
Comes with a durable contoured case for easy transportation
Gold lacquer and yellow brass finish
Includes cleaning kit, oil for valve, carrying case, and mouthpiece
What I like
Jean-Paul's TR-330 has a rich sound in an E flat key scale. It plays well to classical music, some jazz, and a host of popular tunes. It has excellent projection with crisp and clear sound irrespective of where you are; home, outdoors or even a concert.
The TR-330 is well built with high-quality parts and accessories engineered to last longer. It has a beautiful yellow brass and gold-lacquer finish that looks great any day.
What I don't like
The valves are a little rigid, so if you prefer more flexibility, you might look elsewhere.
Pros
Has a great projection
Includes a sturdy case
Beautiful warm, rich tones
Cons
Valves are not flexible enough for some people
Not only does Jean-Paul produce an affordable trumpet with this product but also delivers a high performing trumpet with a fair price that is popular around the world. It has bonus accessories to spice up your playing and keep your trumpet in top shape.
Overall Score: 4.9/5
The Best Beginners Trumpet: The Runner Ups
The history of this trumpet makes it an interesting one. It is based on the trumpets Bach used to play when he was young. It has powerful yet smooth tones with a perfect balance and fantastic projection.
Features
Special design for students and beginners
Pistons made from Monel metal with nylon valve guides
Sturdy case with straps and ample space
What I like
Owing to its origin from Bach's trumpet, Bach TR300H2 has a beautiful sound that is perfectly toned and easy for students and beginners to play. It has a great response with authentic sounds. It is also well built with premium quality materials giving an incredible intonation.
It's bored to .459″ with a 4-7/8″ bell which allows it to have that perfect intonation and projection. With the strong strapped case, you can safely travel without compromising your trumpet and accessories.
What I don't like
The valves on this are a bit different and can take some time to adjust to if you have tried other trumpets in the past.
Pros
Hard carrying case
Rich and balanced tones; built from Bach's trumpet
High-quality Monel pistons
Cons
Valves take a while to get used to
This trumpet has an exceptional build that gives it a great tone. It was built specifically for students. One of the highlights of the trumpets that makes it popular is the fact that it is a recreation of Bach's trumpet. Bach is a legend when it comes to music.
Overall Score: 4.6/7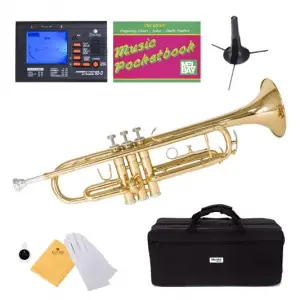 Since Cecilio is a recognized brand among professional players, you can always expect their equipment to maintain high standards of quality. The same case applies to Mendini, their student trumpet. It is one of the best trumpets for beginners because it strikes a perfect balance between a professional trumpet and a beginner trumpet.
Features
B flat gold lacquered trumpet
460-inch bore with a 5-inch bell
Has phosphorous copper on its mouth pipe
Fluid action valves
Includes case, chromatic tuner, pocketbook, oil for the valve, gloves, trumpet stand, and polishing kit
What I like
Mendini has a powerful and unique tone that has been tuned to the scale of B flat. It has a clear sound that is perfect for most genres, such as jazz among others.
Mendini has an abundance of accessories that range from a durable case to a stand for your trumpet. It contains polishing materials as well as a chromatic tuner with a display to make sure you are playing the right chords all the time.
What I don't like
This option requires quite a bit of maintenance. The valves will need to be oiled more frequently than some other models.
Pros
Has a lower price
Great accessories
Robust build with a strapped, rugged case
Cons
Its valves have to be oiled regularly
This is a great beginners trumpet that trounces many other trumpets in its category based on sound, strength, and accessories assortment. It has a unique and distinct sound you can identify anywhere. It also comes with a warranty, unlike most trumpets.
Overall Score: 4.6/5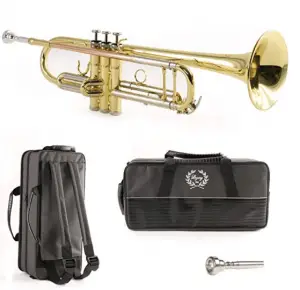 The TR750 is an affordable trumpet for both students and intermediates. It has a deep, crisp sound that's comparable with professional trumpets while remaining budget friendly to the students and beginners. It comes with a warranty against manufacturer defects.
Features
B flat trumpet
5-inch bell
Has a double brace; solid brass and rose brass tubing
Silver-plated mouthpiece
Canvas case that can be converted to a backpack
What I like
This trumpet has a rather deep, resonant voice that is characteristic of professional trumpets. It has a fantastic response with a powerful projection. The TR750's performance will make you forget that it is a budget device.
Strong and durable, these are the words that can be used to describe the TR750. It has an attractive silver plating on its mouthpiece that simply makes it remarkable. It also comes with a host of accessories to help you maintain your trumpet.
What I don't like
This is another high-maintenance option that will need constant re-oiling.
Pros
Two-year warranty
Strong and durable
Wonderful professional-like sound
Cons
A robust student and intermediate-level trumpet that delivers exceptional performance. The TR 750 comes at an unbelievable price, considering the number of features it has.
Overall Score: 4.5/5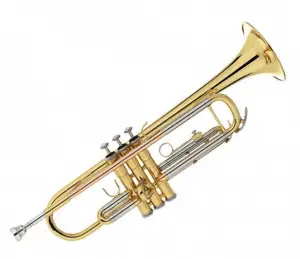 The Kaizer TRP-1000Q is one of the few student and beginner trumpets that was made to take all kinds of punishment. It is a thorough beast that you can take anywhere without worrying about breaking things. It has a high-quality, perfectly balanced, well-intoned sound.
Features
464-inch big bore with a 5-inch bell
lead-pipe made of ross brass
tuning slides made of cupronickel
Includes gloves, polishing kit, shoulder straps, molded case, valve oil, and guide
What I like
Kaizer is one of the few brands that manufacture their products in the USA. This means that they have better control over the quality of their products compared to their competitors. That's why the TRP-100LQ has such a sturdy design and a build. All their products are tested for defects before being packaged and shipped and include a lifetime warranty.
This trumpet has excellent performance and sound. You can take it anywhere you want without much hassle and worry. It comes bundled a host of accessories that'll help you play and maintain your trumpet better.
What I don't like
There have been some complaints about the valve slides with this option. It's not a universal issue, but it's worth keeping in mind.
Pros
Strong and high-quality build
Choice of four colors
Great accessories
Cons
Some people complain the valve slides become loose
This Kaizer model is cheap and features a sturdy design. It has a deep sound that is loved by thousands of people everywhere. It is a great trumpet for a beginner.
Overall Score: 4.4/5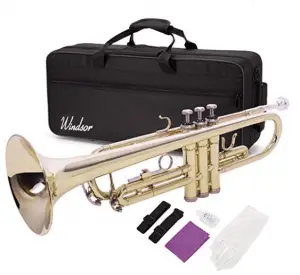 Built for the budget-constrained beginner/student, the Windsor Ml-1001 delivers remarkable and reliable performance at a fraction of the cost of other beginner trumpets. It is a lightweight but solidly built trumpet with a terrific sound designed for students.
Features
Beautiful finish with gold lacquer
Double water keys
Thumb hook on its first valve
What I like
With the Ml-1001, you get a pristine, resonating sound that outdoes other trumpets in its class. It is crisp and deeper, with an almost professional feel. It is also well built with smooth valve motion to give a perfectly balanced intonation.
The M-1001 is built using high-quality materials to guarantee you long life and service. It is one of the reasons why Windsor is one of the best trumpets for students. It comes with lots of extras including a carrying case to store your trumpet and other small accessories, too.
What I don't like
This model might be a bit too light for some. It's very well-suited to children, though.
Pros
Highly responsive valves
Handy lightweight case
Coated with gold lacquer
Cons
A bit lighter for some people's preference
This is a trumpet that was built with a student or beginner in mind from start to finish. It is easy to play and quite reliable.
Overall Score: 4.3/5
Student Trumpet Buying Guide
Before you settle for just any trumpet, it is crucial to understand the instrument you are buying and the essential features for a beginner.
A Trumpet in a Nutshell
A trumpet has many parts that blend to form that rich sound that is recognized worldwide. Some of these parts include; bore, mouthpiece, valves, the bell, and of course the finish.
Bore: refers to the inner radius of the piping from the second valve's slide. The diameter of the bore determines how hard or easy it is to play the trumpet and the sound it produces; a student trumpet should have a smaller bore.
Mouthpiece: is the part that goes to the mouth and extends to the primary tuning slide. It comes in three main colors red, yellow, and silver. Yellow and silver are reserved for intermediates and professionals because it requires cleaning and maintenance regularly.
Valves: These are what shape the sound of the trumpets. They come in various types. The most common and recommended for students is pistons plated with nickel, but some student models come with Monel or stainless steel.
Bell: Student models usually come with a yellow brass lacquer or rose brass. The shape and size also determine the quality and type of sound it produces.
Types of Trumpets
There are several types of trumpets out there, depending on the key and sound they produce. These include Bb, C, E, Bass, Piccolo, Pocket Trumpets, slide trumpets, Herald trumpets, and Eb/D trumpets. The most common for students is the Bb.
It has a warm sound that easily blends with other music genres. The others are professional, intermediate, and marching trumpets.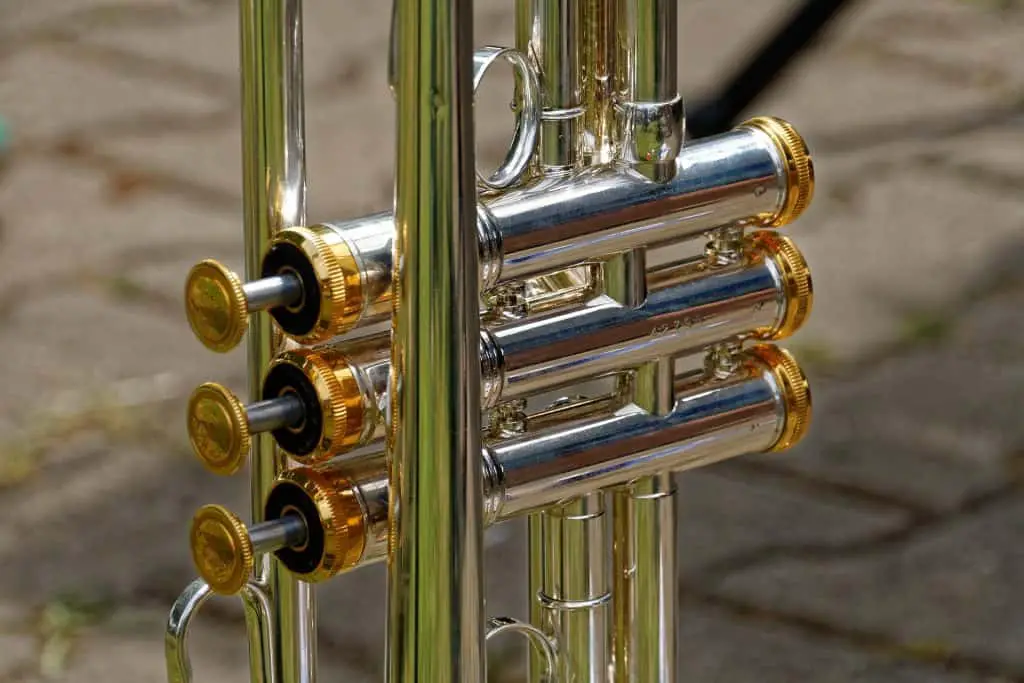 Accessories
Some accessories are useful to have, especially when you are a beginner. These include a stand, music sheet stand, mouthpiece cleaning kit, and valve lubricant.
Final Thoughts
With our review of the best student trumpet, it shouldn't be too hard to pick a new trumpet for your practice sessions. We have included an inexhaustive list of the best brands and models that target students and beginners. Our roundup includes budget-friendly options as well as premium products for those that want high-quality products.
While our reviews may not cater entirely to everyone's needs, with our buyer's guide, you should be able to buy the best beginners trumpet with no problem at all. There are plenty of options to choose from and different sources you can use. If you feel your budget is below most of the products available, you can always go for a pre-owned trumpet.