As a clarinetist, your ultimate objective is to produce the warm, rich sounds that are unique to the clarinet. While you may be working hard on your playing skills, however, you may become limited by your instrument and consider an upgrade.
Choosing a clarinet that matches your skill level and, unfortunately, your budget is no simple task. Below, we will be reviewing clarinets from the best clarinet brands available today for beginner, intermediate, and professional clarinetists.
We will also discuss the best clarinet brands, buying considerations, and the different types of clarinets. Keep reading to find the best clarinet for your needs.
OUR TOP PICK
If you're short on time, if we could recommend one product from our reviews, it would be the Mendini MCT-SB+SD+PB B Flat. We've reviewed it first for your convenience, but in summary, this model is a bit spendy but is sure to last, well, a lifetime.
Reviews from the Best Clarinet Brands
Last update on 2023-11-04 / Affiliate links / Images from Amazon Product Advertising API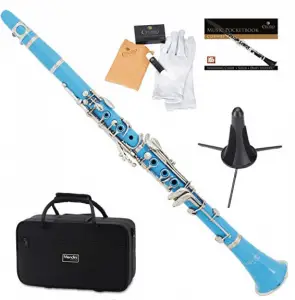 The Mendini B Flat clarinet is ideal for beginner and intermediate level clarinetists. This package includes a stand and maintenance kit.
Key Features
ABS Body
Nickel-plated keys
Hardshell case with accessories
Key of B flat
Inline trill keys
Adjustable thumb rest
What I like
The Mendini clarinet comes in a package that consists of a hard-shell case, clarinet pocketbook, foldable clarinet stand, mouthpiece, adjustable thumb rest, and a maintenance kit with cork grease. With the clarinet, you will also receive ten reeds, each with a size of 2.5 inches.
The clarinet's bell, upper and lower joints, barrel, and mouthpiece are all made of durable ABS resin that is weather resistant and does not crack easily. The instrument has a sky-blue color, and the keys are nickel-plated for smooth sliding.
Since the clarinet is in the key B Flat, it is suitable for a wide range of applications and is easy to play if you are a beginner clarinetist.
What I don't like
One drawback is that the quality of the reeds is somewhat lacking. To improve the sound quality of this clarinet, consider reeds from Yamaha. If you replace the reeds, you may also be able to hit higher notes and find the clarinet easier to play.
Pros
Comes with everything you need
Durable ABS resin construction
Suitable for beginner and intermediate clarinetists
Adjustable thumb rest
Foldable for easy storage
Excellent value for money
Cons
Quality of the reeds can be improved
Not ideal for professionals
The Mendini is a viable option for beginners with its striking appearance and high-quality key system.
Overall Rating – 4 of 5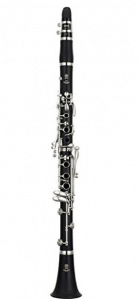 The YCL-255 is a Bb clarinet that is modeled after professional Yamaha models, and it offers a warm tone typical to wooden instruments.
Key Features
Matte ABS resin construction
56mm barrel
Nickel plated key system
Adjustable thumb rest with strap ruing
Yamaha 4C mouthpiece
Hard- or semi-hard case included
What I like
Despite its ABS resin body, the YCL-255 produces a professional sound that you expect with most wooden instruments. The clarinet also has Yamaha's high-quality and durable silver key system with nickel plating for smooth sliding.
This Bb clarinet is ideal for clarinetists of all levels and, thanks to its plastic construction, it is lightweight and easy to handle. The instrument is also fitted with a neck strap, making it suitable for players of all hand sizes.
Included with the clarinet is Yamaha's 4C mouthpiece. This mouthpiece does not only contribute significantly to the instrument's sound quality, but it also makes this clarinet easier for children or beginners to play.
What I don't like
This clarinet has several features that attempt to make it more suitable for beginners. However, the YCL-255 may be a bit difficult for beginners to play.
Pros
Warm, pulsation sound
Adjustable thumb rest for any hands size
Resonance chamber to enhance the sound
Yamaha 4C mouthpiece included
High-quality key system
Cons
Might be too difficult for beginners to play
The Yamaha YCL-255 is a well-constructed clarinet that produces a beautiful sound. Because it is made of plastic, it can withstand drops and moisture damage than wooden instruments.
Overall Rating – 4.5 of 5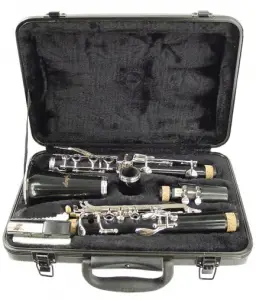 The 2610 Bb is a Bb soprano clarinet that is suitable for playing in orchestras, marching bands, and jazz ensembles.
Key Features
Bb soprano clarinet type
Durable ebonite construction
Silver nickel-plated keys
Cork grease and clarinet swab included
Hard plastic case included
What I like
This clarinet from Hisonic provides high tone quality, and it is easy to play for beginners. Despite being at the low end of the price spectrum, it is durable and will maintain its sound quality for many years.
The 2610 Bb has an ebonite construction with a silver key system that is nickel-plated. As a result, it is suitable for outdoor use, for example, in marching bands, and it is more resistant to temperature changes and moisture than wooden clarinets.
With this instrument, you will receive a protective case with reinforced hinge edges and a plush lining for secure storage and transport. Included with the clarinet are cork grease and a clarinet swab that you can use to maintain your clarinet's condition and sound quality.
What I don't like
Because the clarinet doesn't feature a grenadilla wood construction, it may not be suitable for professional clarinetists. However, this clarinet's sound quality is sufficient for school and professional jazz bands.
Pros
Durable ebonite construction
High-quality silver key system
Key of B Flat for most performance settings
Protective case and cork grease are included
Cons
May not be suitable for professionals
The 2610 Bb clarinet from Hisonic offers excellent value for money with its warm sound and sturdy construction.
Overall Rating – 4.3 of 5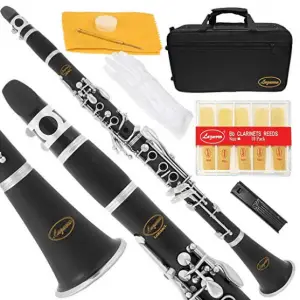 The Lazarro is a reasonably priced Bb clarinet that is ideal for students and jazz band members. This instrument has all the features you need in an entry-level instrument, including a durable construction and a vibrant sound.
Key Features
Available in a wide range of bright colors
Black instruments are made of a resin material
Colored instruments are made of ABS plastic
Mouthpiece with eleven reeds included
Package includes a fabric case, reeds holder, and cork grease
Adjustable thumb rest
Silver keys and bell rings
What I like
The Lazarro clarinet is an entry level Bb clarinet that is suitable for a wide range of performance applications, including jazz and marching bands. Because of the overall value that this clarinet has to offer, many teachers recommend it to their beginner and intermediate students.
The construction depends on the color of the clarinet. The black clarinet is made of a durable resin material, and the colored options are all made of hard ABS plastic. The Lazarro is highly resistant to damage from moisture and drops, making it a suitable choice for kids.
This clarinet is lightweight and easy to play, but it produces a warm sound that is not typical to clarinets in this price range.
What I don't like
One issue with this instrument is that it doesn't work well with the 2.5-sized reeds that are included, and you may have to replace them with size 2 reeds.
Pros
Excellent value for money
Suitable for lessons and school bands
Durable construction
Rich, deep sound
Cons
You may have to replace the included reeds
This Lazarro clarinet has a striking appearance and is a high-value clarinet for the beginner or intermediate clarinetist.
Overall Rating – 4.6 of 5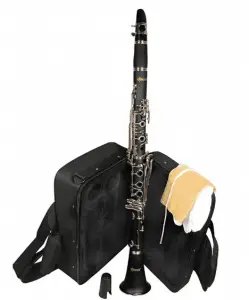 The TTC50WA is a viable option for intermediate clarinetists who are looking to upgrade their entry-level instruments. This clarinet offers durable construction with and decent sound quality.
Key Features
Ebony wood construction
Silver nickel-plated keys
Deluxe case with back straps included
Bb clarinet suited for playing in orchestras and bands
What I like
The TTC50WA from Mirage has high-end ebony wood grain construction that contributes significantly to this instrument's sound quality. The silver key system with its nickel plating is highly responsive and complements the clarinetist skill.
Included with this instrument is a soft deluxe case for secure storage and transportation as well as an additional mouthpiece and reed holder.
The ebony wood not only enhances the clarinet's sound, but it also contributes to its classic and aesthetically pleasing appearance. Despite this clarinet's high-end features, it has a relatively low price tag. If you are looking for affordability, consider the TTC50WA.
What I don't like
Even though this clarinet features wooden construction, its sound delivery may not meet a professional's needs. If you don't want to replace your clarinet in the future, consider a model like the R13 Green Line from Buffet Crampon.
Pros
Sturdy construction
Classical appearance
High-quality sound
Suitable for intermediate players
Cons
May not be suitable for professional clarinetists
For the price, the TTC50WA offers high-end, long-lasting tonal quality. If you are an intermediate clarinetist who needs value for money, this clarinet may be the best option for you.
Overall Rating – 4.7 of 5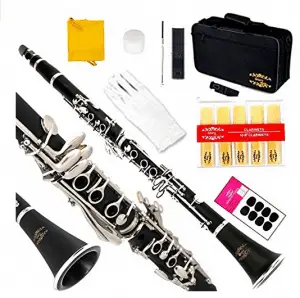 This B Flat clarinet from Glory is a viable option for beginners who want to save money without compromising sound and quality.
Key Features
High-grade ebonite and ABS construction
Key of B Flat
Adjustable thumb rest
Hard-shell case with the second barrel included
Nickle plated keys
What I like
The B Flat clarinet from Glory is ideal for beginners who need an entry-level instrument with high sound quality. The clarinet has an ebonite construction, and the body is plated with ABS. Other notable features include an adjustable thumb rest to accommodate any hand size as well as inline trill keys.
With the clarinet, you will receive several handy accessories, including a hard-shell case, a second barrel, eleven reeds, and a care kit to keep your clarinet in a pristine condition.
What I don't like
This clarinet is suited for practicing and developing your skill, but it may not be ideal to use with bands or orchestras.
Pros
Decent sound quality for the price
Several accessories included
Great value for money
Comes with a second barrel
Cons
Repairing a damaged component may be a challenge
Only suitable for lessons and practicing
The B Flat clarinet is an excellent option if you are new to clarinet playing and unsure if you will eventually commit to this instrument. This instrument is affordable, but it produces a decent sound.
Overall Rating – 4.4 of 5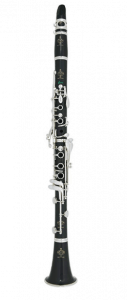 The R13 Green Line is a high-end B Flat clarinet that is widely popular among professional clarinetists. This instrument is masterfully crafted and offers several world-class features to complement your talent.
Key Features
95 percent Grenadilla wood construction
Hand-burnished bore
Nickel-plated key system
Ring key design
Clarinet in the key of B flat
What I like
Buffet Crampon is a seasoned clarinet manufacturer that has been around for two centuries. The R13 is a Bb clarinet and is suitable for a wide range of performance settings. The body construction consists of 95 percent grenadilla wood, 5 percent polycarbonate, and epoxy resin for added durability.
Because the clarinet is primarily made of grenadilla wood, it produces a warm, professional tone that most other plastic or ABS resin instruments can't match. The wood also gives the clarinet a classic appearance.
The polycarbonate and epoxy resin in the construction add to the clarinet's durability so it can withstand temperature fluctuations and humidity without cracking or losing its sound quality.
What I don't like
The clarinet has no drawbacks in terms of sound quality and construction. However, it has a relatively high price tag, and may not be ideal for complete beginners.
Pros
Produces a rich, warm tone
Responsive nickel-plated key system
High resale value
Suitable for intermediate and professional clarinetists
Grenadilla wood construction adds to the sound quality
Cons
Might be too expensive for beginners
The R13 Green Line from Buffet Crampon offers everything you need in a professional instrument, from classic tones to a durable, long-lasting construction.
Overall Rating – 5 of 5
Clarinet Buying Guide
What is a Clarinet?
A clarinet is a woodwind instrument that typically has a warm tone. Because it is a versatile instrument with expressive capabilities, it is ideal for several styles of music, particularly classical music and jazz.
In essence, a clarinet consists of a tube with finger holes. When you close all the finger holes and blow through the narrow gap between the reed and mouthpiece, the clarinet's pitch will be at its lowest. As you take more fingers off the clarinet, its tone will rise.
A clarinet usually also has metal rings and keys that enable you to easily play notes that fall between the highest and lowest pitch.
Types of Clarinets
There are five common types of clarinets, namely:
The Bb
The A
The Contra-Alto in the bass family
The Contra-Bass in the bass family
The Eb (E flat) in the soprano family
There are other types of clarinets, but the five types listed above are the most commonly used in schools and orchestras.
Most beginners will start with the Bb, as this type of clarinet is the easiest to play and for learning the instrument.
Eb clarinets are popular for intermediate students and professionals. While this clarinet type is more challenging to play than a Bb clarinet, it produces a deep and whole sound that a Bb clarinet does not. The clarinet type you need depends on your skill level, the sound quality you require, and the application.
If you need a clarinet for classical pieces, you will likely need an A clarinet, and clarinets in the bass family are typically used for clarinet ensembles.
The Parts of a Clarinet
A clarinet consists of five components, namely the mouthpiece, barrel, upper joint, lower joint, and the bell.
The mouthpiece with the reed is usually made of ebonite, which is a type of hard rubber, but it can also be made of glass, metal, crystal, or plastic. The reed is fitted to the mouthpiece with a ligature containing screws or a cord.
The barrel is sometimes referred to as the socket, and most clarinets come with two barrels – one long and one that is short. You use the barrel to tune your clarinet. If you are playing in an orchestra, you will use the barrel to adapt your instrument's pitch to the rest of the orchestra's.
The upper joint is located to the top of the clarinet's midsection and contains all the keys for the left hand.
The lower joint is at the bottom of the clarinet's midsection and contains all the keys for the right hand. In some cases, the upper and lower joint can consist of one piece. When they consist of two parts, however, handling, storage, transportation, and repair is much easier.
The bell is the flared end of the clarinet that projects the sound.
Construction Material
Clarinets can either be made from plastic or wood. Plastic or resonate is the material of choice for durability. Plastic is less susceptible to damage from drops and moisture than wood, making it the suitable construction material for children and players in marching bands.
The drawback of plastic clarinets is that they don't produce the same sound quality as wooden clarinets, which is why many professional clarinet players prefer wooden instruments.
The wood used for clarinets is usually African Blackwood, sometimes called Granadilla. This wood has a dark color and is very similar to ebony in terms of color and density.
Cork tenons connect the different parts of the clarinet. Cheaper or contemporary instruments will typically feature rubber rings instead of cork.
The construction material for the key system that opens and closes the keyholes is forged of German Silver. The key system of some clarinets will be coated by a layer of silver, gold, or nickel. This coating is significant for several reasons. Some people may be allergic to nickel but, like gold coatings, it is ideal for effortless gliding. Silver layers may be difficult to keep free of fingerprints.
Reed Strength and Cut
Clarinet reeds differ in terms of strength. Reed strengths range from one to five, with five being the hardest. Hard reeds generally produce full and thick sounds. However, softer reeds are more forgiving and more comfortable to play. If you are a beginner, a softer reed may be more suitable for your needs.
Reeds also come in two different cuts, namely French-file and regular. A French-file cut has a quicker response than regular cuts, but they are more expensive.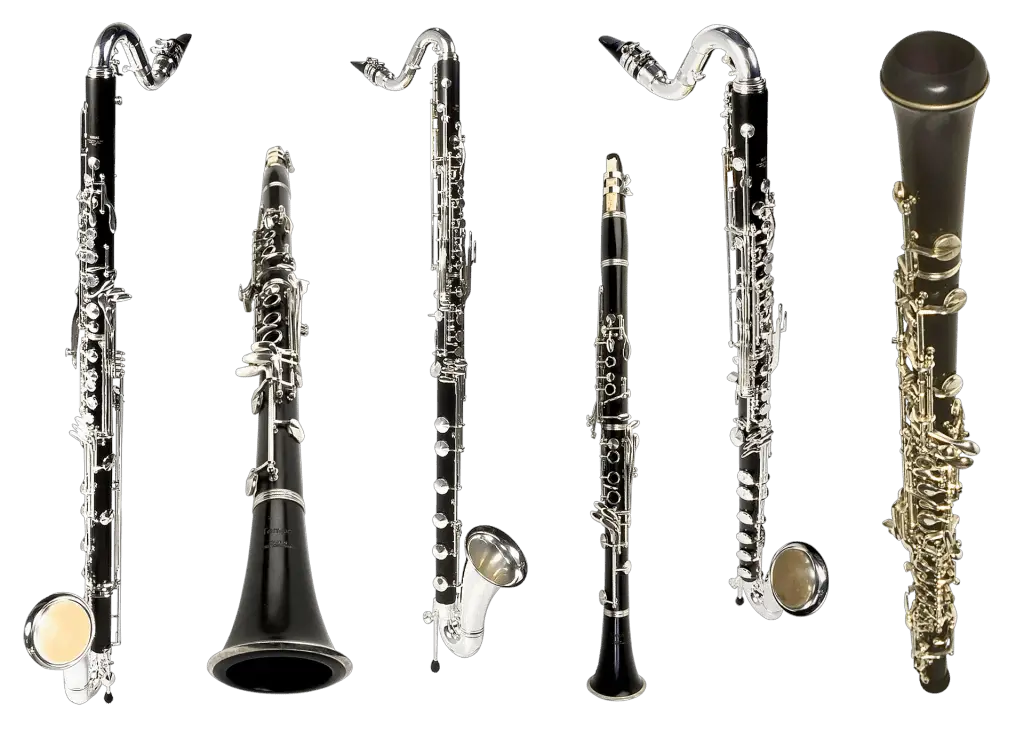 Size
Clarinets are available in many different styles and bore sizes, which is the inside dimensions of the clarinet. Generally speaking, clarinets with smaller bores are easier to play in tune, especially for beginners.
Larger bore clarinets, on the other hand, are more challenging to play in tune, but they offer enhanced pitch flexibility. Jazz players often prefer clarinets with large bores as you can easily bend notes with these clarinets.
Cost
Clarinet prices can range from as low as $50 to $3,000 or higher. Several factors determine a clarinet's price, including the brand, sound, construction materials, and clarinet type. Before shopping for a clarinet, the first thing to consider is what your budget allows.
A high-quality student clarinet typically costs around $400, and an intermediate instrument usually costs around $700 or higher. Clarinets with professional features generally cost $1,000 or higher.
A high-quality clarinet will not only last a lifetime, but it will typically maintain its sound quality and structural integrity. If you are a serious clarinetist, it may be worth your while to invest in a high-priced instrument, even if you are still developing your skills.
However, if you are complete beginner, and you are not sure if playing the clarinet is something that will grow on you, it may be better to select an entry-level instrument that you can upgrade as you get better.
Entry level clarinets are not only easier to play, but you can also find a high-end clarinet that can help you improve your skill, even if it is at the affordable end of the price spectrum.
Do Research
Before purchasing a clarinet, spend some time to research so you can find an instrument that matches your skill level and playing style.
Final Thoughts
While all clarinets feature the same basic construction, they differ significantly in terms of material quality and sound, hence the wide price range.
Our top pick is the R13 Green Line from Buffet Crampon with its 95 percent grenadilla wood construction, hand-burnished bore, nickel-plated key system, and ring key design. Because the body is made of grenadilla wood, the clarinet will maintain its beautiful sound and aesthetic appeal for many years.
The R13 is also our clarinet of choice for professionals who are playing with prominent orchestras or jazz band. If you are looking to replace your intermediate-level clarinet and buy a clarinet that you can play for the rest of your life, consider the R13 Green Line.