Saxophones are one of my favorite musical instruments. They add a certain flair to any song they're featured in, and the ladies love a man playing a sax. If you are like me and are interested in learning to play the saxophone or maybe you just want to upgrade your old one, you're in for a surprise.
We're going to sample the best saxophones for beginners and also give you some ideas on what you should look out for when shopping—your quest for the best saxophone for beginners ends here!
The Best Alto Saxophone for Beginners
If you're short on time, from our list of best alto saxophones for beginners, the Mendini by Cecilio MAS-L+92D+PB Gold Lacquer E Flat Alto Saxophone is the one that stood out for us. It is quite popular for those just getting started because many music teachers have recommended it—its attractive price tag doesn't hurt either! We've reviewed it first below for your convenience.
Last update on 2023-11-07 / Affiliate links / Images from Amazon Product Advertising API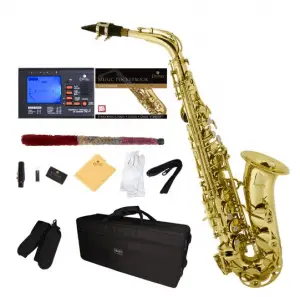 Cecilio's Mandini MAS-L+92D+PB is a favorite among many beginners. It comes bundled with several accessories and an unbelievable price. It is no wonder that music tutors everywhere recommend this to their students. It is the best saxophone for beginners.
Features
Its body is gold lacquered and tuned to Key Eb and a high F#
Ribbed, large-bored construction containing great leather pads and metallic tone boosters
Many accessories; durable, rugged carrying case, a mouthpiece, neck strap, ten reeds, cleaning material, and gloves
Metronome Cecilio 92-D string tuner with a handy pocketbook
One-year manufacturer defects warranty
What I like
I loved this particular model for students and beginners. It has a fantastic sound quality and a sturdy build designed to last your whole learning period. It is also one of the few saxophones that are recognized by music teachers from all over the world.
The other great thing about this saxophone is the number of accessories included. It includes a sturdy and robust carrying case, a Cecilio 92-4D tuner, a pocketbook, and a box of reeds.
What I don't like
Even nitpicking, I couldn't find anything not to like about this instrument—is being too perfect a downside?
Pros
Great build quality and sound
Lots of extras
Small form factor
Cons
A great saxophone built especially for students and beginners. It comes with a lot of accessories and tools. It is well made with impressive sound.
Overall Score – 5/5
https://www.youtube.com/watch?v=3PbsuGbLsQE
Runner Ups for Best Saxophones for Beginners Reviewed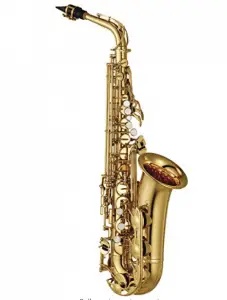 Yamaha is one of the biggest saxophone brands when it comes to musical equipment. They have a reputation for building durable and high-quality products sold worldwide. The same applies to the Yamaha YAS-280 sax. This option looks good but sounds even better.
Features
Comes with a strong case
Built by Yamaha; carries their reputation of producing phenomenal musical instruments
Finished with gold lacquer
High F# in addition to front F aux keys.
What I like
Yamaha YAS-280 is one of the most comfortable saxophones for beginners. It is light and easy to hold with a perfect grip, making it easy to carry around as well as hold for prolonged periods during practice sessions. It has rich a sound characteristic of alto saxophones.
Unlike other beginner saxophones, this one is a high-end product. It has a premium finish with beautiful gold lacquer.
What I don't like
That top quality also comes with a higher price tag.
Pros
Built with high-quality materials
Has a professional level sound
Comes with decent extras
Has a premium finish
Cons
A bit expensive
Doesn't come with a cleaning kit
This option is excellent for both beginners and intermediates. If you are a complete newbie, you can buy this and use it until you are ready to cross over to a professional saxophone. It includes some nice extras.
Overall Score – 4.3/5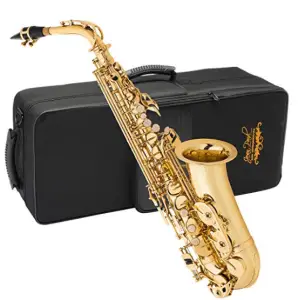 Jean Paul's USA AS-400 is budget friendly high-grade alto sax that delivers a beautiful sound for the beginner saxophonist. It's available in brass, gold, or silver lacquer that defies wear and tear.
Features
It is on the scale of Eb
Has a hardy carrying case that is easy to load and transport
Beautiful body construction with lacquer finish
Has plenty of accessories, including a mouthpiece, gloves, case, swabs, and reeds
What I like
This model is one of the easiest saxophones to tune. It also maintains your tuning no matter how many hours you spend playing it. Its tone and sound quality are one of the best in its category. This is one instrument you will enjoy playing.
It is so versatile with an easy key placement that you can play all major genres with no problem. The key placements make it easy to play for long hours without experiencing fatigue, too.
What I don't like
While this model is great for beginners, it's a bit limited and may disappoint more experienced players.
Pros
Has many accessories
Comes in three finishes; brass, gold, and silver
Has a rich and clear sound
Comes with a case
Fairly priced
Cons
Are you looking for a beautiful beginner's alto saxophone that will last for many years? You are in luck. Jean-Paul AS-400 is a perfect piece in so many ways. It has a terrific price as well as a high-quality finish that is uncommon with beginner saxophones.
Overall Score – 4.6/5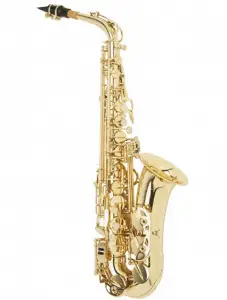 This option is budget-friendly for students and beginner saxophonists that want a simple and great sounding instrument for their practice lessons. It is built almost to a premium level with no cuts that affect performance.
Features
Comes with a carrying case; standard but heavy duty
Full-range standard instrument
Packed with accessories; mouthpiece, carrying case, cleaning tools, and ligature
What I like
The Etude has a fabulous fingering that has impressed even established professional saxophonists. It has solid keys that are easy to play and feels great when you wrap your hands around it.
Unlike other cheaper alto saxophones, the Etude EAS-100 does not cut costs in a way that compromises quality. You get pretty standard features that are well worth the price.
It includes a simple carrying case that makes traveling easy and safe. The mouthpiece that comes with it is also pretty standard and will serve you for a couple of years with no problems.
What I don't like
I hate to keep bringing up the price, but it is a real concern for most shopping for a sax, and this model is a bit pricier than most beginner options.
Pros
Has a great sound
Extremely durable
Easy and comfortable to play
Cons
The Etude EAS – 100 has a beautiful finish that makes it quite a looker. It is built with high-quality materials that make it sound smooth and rich. It is also easier for a beginner saxophonist to play without any problems.
Overall Score – 4.3/5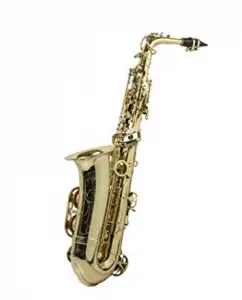 Eb Alto is one of the more affordable saxophones out there, and that's one of the reasons why I fell in love with it. Though it's meant for beginners, it is made of quality materials and has a marvelous ring to it.
Features
Key height can be adjusted
Features a gold lacquer on the body
Hard case; sturdy design for travel and storage
Includes a cleaning rod for the pads and keys
What I like
This sax has a golden lacquer that makes it an absolutely beautiful piece to look at. It is surprisingly well built for its price, and so you can expect a couple of years of service before you progress on to an intermediate or professional saxophone.
I love the zippered case that comes with it. It makes it so easy to transport and store your saxophone more securely. Other than the carrying case, a mouthpiece, neck piece, cleaning rods, and gloves, among other accessories are included.
What I don't like
The sax itself is impressive, but the accessories leave a bit to be desired. That isn't a deal breaker as you can always replace them, but it is a downside.
Pros
Reliable and durable build
Easy to hold and play
Comfortable key arrangement
Beautiful gold lacquer finish
Cons
If you are looking for an affordable saxophone that just sounds right, this the one you want. It has some really nice options that come with it as well a great arrangement of keys. It was designed to be played for many years without wearing out.
Overall Score – 4.3/5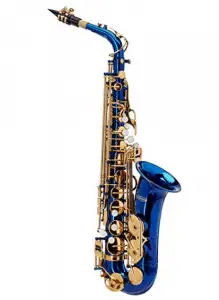 This brass beginner saxophone has one of the most striking looks. It features a dual-toned color of royal blue lacquer and brass. It has some pretty decent features at an affordable price.
Features
Blue Lacquer plating
Tuned to an E flat key
Hard casing zipped with velvet lining
Ten bonus reeds
Accessories; screwdriver, gloves, cleaning kit, etc.
What I like
The Merano alto saxophone for beginners is one of the most beautiful and unique of all beginner saxophones. It has a lovely, deep blue lacquered finish on top of the brass which gives it a beautiful contrast. It has a rich, deep, incredible sound that is unbelievable at that price.
Designed for beginners, it just feels comfortable in your hands. You will have an easy time during your practice sessions, perfecting your technique over the conveniently laid out keys. It comes with a bunch of accessories to make your life easier, such a carrying case and reeds among many others.
What I don't like
While visually striking this is definitely a beginner's model, and if you decide to stick with the sax—or your child does—you'll need to upgrade eventually.
Pros
Beautiful dual tone finish; brass and royal blue
Durable build
Great sound quality
Fairly affordable price
Cons
For an alto saxophone beginner, this is the perfect saxophone to start learning. It has a simple key layout with a great sound. It also looks great on any occasion.
Overall Score – 4.2/5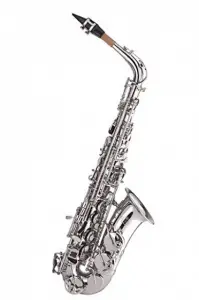 The Kaizer ASX-1000NK offers unbelievable quality, comfort, and professional level sound to beginners at a budget-friendly price. It is built to withstand the tear and wear of the most demanding sax play without compromising on portability.
Features
45-day money-back guarantee
Accessories; polishing kit, ligature set, gloves, mouthpiece, and mouthpiece lubricant
E flat key
Features leatherette pads
Warranty
What I like
This sax is built with the absolute best materials that promote a great sound. It is made of solid brass with a nickel lacquer. One of the highlights of using this sax is the level of sensitivity and responsiveness it has compared to other beginner models.
It features a beautiful leatherette pad that ensures the longevity of your sax as well as giving you a great tone control.
It comes bundled with great accessories that help make your playing even easier. These include a sturdy carrying case, cleaning rod, gloves, and durable mouthpiece, among others. This model is reliable and comfortable for beginners and will be adequate even as your skill progresses.
What I don't like
While a step-up in quality, this sax doesn't have as full of a sound as you'd expect from such a well-made instrument.
Pros
Has a beautiful look
Somewhat lightweight
Includes a bunch of accessories
Has warranty
Cons
The sound is not as full as you would expect
The Kaizer student alto sax is a trusty companion for the beginner saxophonist. It is lightweight and belts out some wonderful sounds. It is made from quality materials and includes some great accessories to spice up your playing.
Overall Score – 4.2/5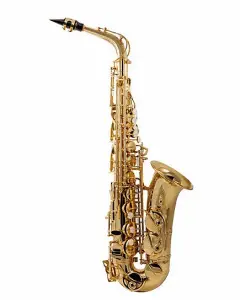 The Allora AAS-250 is just a beautiful piece of work. It looks refreshing and has an excellent sound that rises above many other saxophones. Its high-quality build status ensures it will serve you for many years to come.
Features
Has a premium gold lacquered finish with a yellow brass body, bell, and neck
Tuned to hit high F# scale
Thumb rest can be adjusted
Contains Pisoni pads
Has screws to adjust upper as well as lower stack
Has durable polyfoam case built with nylon
Comes with a three-year warranty
Lacquered Keys
What I like
This sax has a special place in the hearts of aspiring saxophonists. It is one of the few entry-level saxophones that is well engineered and manufactured. It not only features a sturdy build but a beautiful golden color that is timeless.
We love the nylon case that comes with it. It ensures your instrument remains secure whenever you are traveling with it.
What I don't like
You might be noticing a trend here, but the price is a bit higher on this one. When it comes to saxophones, it seems price does matter.
Pros
Has a beautiful sound
High-quality finish
Extremely durable
Has some decent features
Cons
A bit expensive compared to other saxophones
The Allora AAS-250 is a top-end student saxophone that spares little cost to bring you a perfect saxophone for beginners. It has a great sound that rivals many beginner saxophones. If you don't mind the price, this is a greater starter sax.
Overall Score – 4.4/5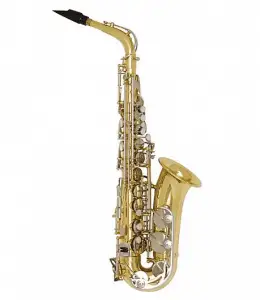 The Bundy BAS-300 sax winds up our list of the best saxophones for beginners. It features a durable design with crisp tones and overall sound. It is one of the few beginner saxophones that eliminates the need for an intermediate sax.
Features
E flat key
Lacquered finish
Leather pads; includes plastic resonators
Stainless steel screws
Firm bell attachment
What I like
The first thing you notice about this saxophone is the sturdy build quality. It has a firm bell attachment that increases the overall longevity of the saxophone. It also features a yellow brass build with a durable yellowish lacquer that makes for easy cleaning and maintenance.
You will also almost instantly notice the unique key arrangement. It has a right hand and left-hand thumb hook that makes it easy to hold and play. The padded leather keys are also responsive to touch and feel great.
What I don't like
This sax is the most expensive model in our review, enough so it may be out the average beginner's budget.
Pros
Has a beautiful sound
High-quality finish and design for beginners
Extremely durable
Has some decent accessories
Cons
This is one of the few beginner saxophones that features a premium build and finish quality. It is a nice sax with a beautiful sound that can be used by both complete beginners as well as intermediate level players. If you don't mind the price, it is a saxophone that will faithfully serve you for many years.
Overall Score – 4.3/5
Saxophone Buyers Guide for Beginners
We know how hard it is to pick a sax if you don't know anything about them and choosing on appearance alone can be a disastrous—and expensive—mistake. So, what should you know when buying a saxophone?
Saxophone Types
Unlike the piano that has plenty of options when it comes to the sound, a saxophone is limited to particular tones. As a newbie, you need to be able to differentiate between these so that you can learn a bit faster. Some types are a bit hard for beginners, while others are just perfect.
Alto Saxophones
This type is by far the best for beginners and students. It is specifically tuned to an Eb, unlike the tenor saxophone which is a couple of steps lower. An Eb requires less air, and so alto saxophone will have a smaller form factor making it easier to use and carry around.
One other reason to go for an alto saxophone is the reference music available for it. There are a lot of musicians and classical pieces that make use of alto saxophones not to mention its versatility in terms of music genres.
Tenor Saxophones
If you have watched many jazz players, you've seen a tenor sax. This is a Bb tuned monster that is the favorite of the jazz genre. It is slightly bigger than the alto and also two scales and a half higher.
While not common with beginners, it doesn't mean you can't try it out. It will be more challenging but worth the shot, especially if you are more inclined to jazz music.
Soprano Sax
Compared to the alto, the soprano sax is small. It is actually the smallest of all the sax types. A lot of people are tempted to buy the soprano as their beginner sax because it is cheaper. Its pitch is higher than other sax types at Bb and requires more precision when playing. This aspect makes playing it somewhat complicated, not something for absolute beginners.
A soprano saxophone is brilliant for concert performances as well as orchestras. It adds a rich and fuller flavor to these acts. It is not uncommon to find these saxophones being used in jazz as well.
Baritone Sax
The baritone is on the opposite side of the soprano saxophone spectrum. While the soprano has the highest pitch, the baritone has the lowest, which is basically set at Eb. The good thing with this type of saxophone is its versatility. It is played in almost all major genres like classical, jazz, and R&B, among others.
Being so big, it is not the best sax for a complete newbie. It makes for a slightly awkward playing experience with restricted movement. It is not impossible to start learning with this, but it will take you longer and make it harder to adapt to other saxophones.
Bass Sax
The last type is a bass saxophone. This is the biggest of all saxophones in size. It is also not that popular except in some classical performances and a saxophone ensemble. The bass saxophone is so big it requires you to sit down when you are playing. This monstrosity is not great for newbies. However, if you want to expand your playing skills, you can still have a go.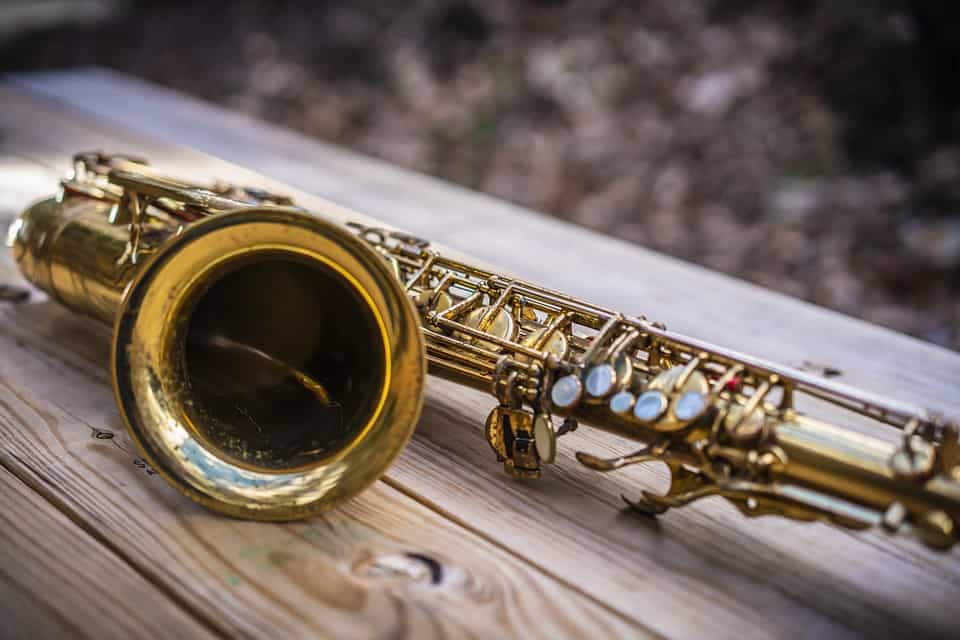 Saxophone Player Levels
Now that we have covered the types of saxophones and the best saxophone for beginners, it is also good to note that there are specific saxophones for different levels of players. There are three main categories
Student/ Beginner saxophones – These are designed specifically for the learners. They come at a budget-friendly price and are quite easy to play. It doesn't matter whether you have mastered your playing techniques yet, your student saxophone by design will sound good.
Intermediate saxophones – These, on the other hand, are meant for those that have a rudimentary grasp of saxophone techniques and are advancing to the professional stage. The sound, keys, and appearance are much more refined, and smoother compared to the student level. If you are a beginner, you can also start with an intermediate model.
Professional saxophones – These are usually the best, and most are reserved for professionals. They look, feel, and sound great. Unlike student and intermediate saxophones, you will find professional saxophones full of extras such as engravings, gold, or silver plating among other fancy touches. They are also quite unforgiving if you have not mastered your techniques. Don't buy one of these if you are a complete beginner.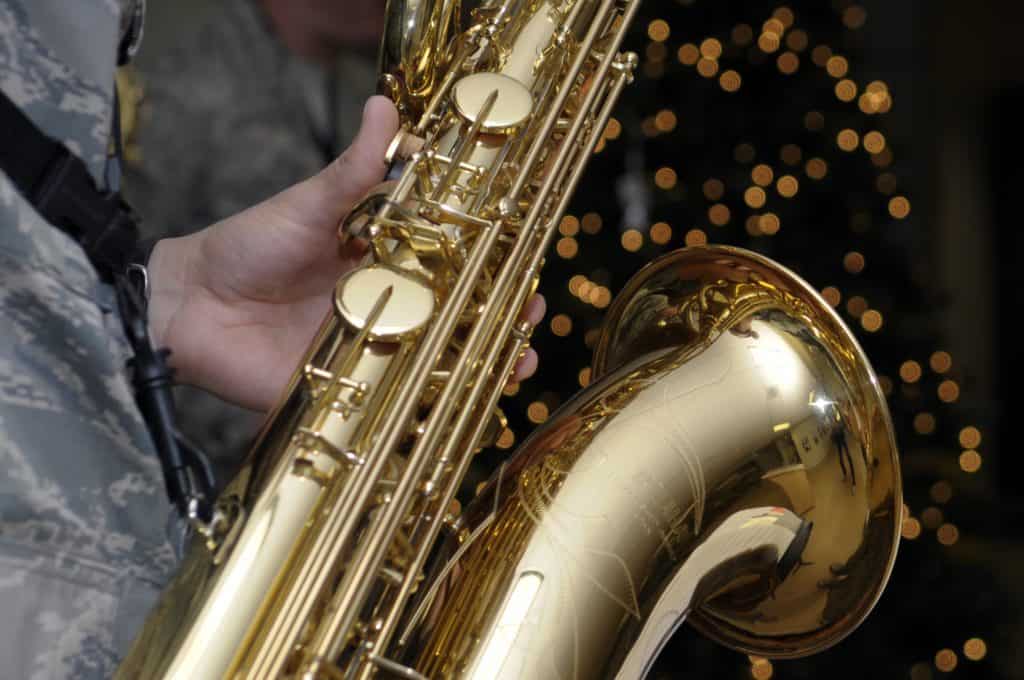 Sax Material and Fittings
A typical saxophone is made from brass—yellow brass to be specific. On premium products, you will find the brass has been coated by other metals such as copper, bronze, or even gold. It is also not uncommon to find the neck, and curved belly of the sax is made of different materials.
How does all this affect you as a beginner? The heavier sax is more pronounced in the sound it gives. For a beginner, these sounds may be a bit confusing. The best alto saxophone for beginners is probably one that comes in yellow brass. If you want something flashier, get one with a different neck.
Used or Brand New?
When you are on a tight budget, you will always be on the lookout for a cheaper deal. One of the most popular routes is to go for a used saxophone. They are by far less expensive than their newer counterparts. In most cases, I wouldn't recommend going for a previously owned sax, though. The reason is quite simple. It will have a reduced lifetime compared to a new one.
A used saxophone may also have some wear and tear that a beginner may not know about and end up costing you more to repair. If you are going for a beginner saxophone, go for a new one. There are plenty of student or beginner saxophones that are quite affordable and durable. If you must go a previously owned saxophone, get a technician to verify it is working well before you throw your money in the wind.
Final Thoughts
Saxophones are one of the most popular musical instruments. They add soul to every song they play. That rich sound will blow away your audience whether you are going solo or in a band.
If you are starting your saxophone career today, we have included a list of the best saxophones for every budget, build, and sound quality. Some of these don't even require another level of saxophones like intermediate when you progress with your technique—and if you don't find what you like, use our buyers guide to find the best alto saxophone for beginners.