Among the different sound effects that are available in the arsenal of guitarists, none is as familiar or impactful as the delay. Delay, also known as the echo, is that sound you hear when you're in a vast space, and the sound repeats itself after bouncing off surfaces. You can think of delay as that not-so-secret ingredient that makes our music sound immensely better!
Our Top Picks
If you're looking to improve upon your music with a delay pedal, we'll help you out on your quest to find the best delay pedal for you. Our journey will take us from the straightforward analog units to the new mixes of digital and analog and to the powerhouse behemoths that manufacturers have spent years experimenting to perfect.
If you're short on time, skip straight to the winner's circle for our top picks.
Last update on 2023-04-16 / Affiliate links / Images from Amazon Product Advertising API
Our Review of the Top Delay Pedals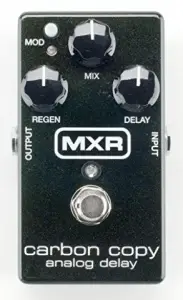 Old school bucket-brigade technology with true bypass made us instantly fall in love with MXR's M169 Carbon Copy Analog Delay pedal. A successor of the past MXR Analogue delays from the 80s, the M169 produces authentic analog delay tones that no other pedal at this price point can match.
Key Features
Authentic analog tones featuring a delay time of 600ms
Bucket-brigade technology
Three triangular knobs (Regen, Mix, and Delay)
Emulates tape echo tones
What We Like About the Product
We're going to be straightforward here, we love old school, and the warm delay by the bucket-brigade technology sends shivers down our spines. We have nothing against digital but the high-quality analog delay sound is just amazing. It not only sounds great it looks great too improving upon the old design with shinier metallic shade.
What We Don't Like About the Product
If you've gotten used to having tap tempo on your delay pedal, then you'll need to purchase a pedal separately. Changing the battery on this pedal can be troublesome as well.
Pros
True High-quality Analog tones
Bucket-brigade technology
Battery-powered
True bypass
Cons
You need to purchase a separate pedal for tap tempo
Other pedals can't touch the authentic analog delay tones produced by the M169 Carbon Copy Analog pedal at this price range. The clear and warm tones paired with the impeccable natural decay makes this a great purchase for anyone who appreciates analog sounds.
Overall Rating – 4 of 5
Listen to those sweet analog tones on the demo video by Jim Dunlop USA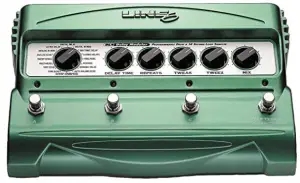 They say nothing beats the classics or old school, and we tend to agree. A stompbox that generates those vintage sounds entirely is something musicians yearn for. The Line 6 DL4 Stompbox Delay Modeler answered our craving. The design alone has that classic golden age rock feel to it.
Key Features
Features fifteen vintage delay effects such as space echo, analog, reverse, tube echoplex, and more
Three programmable presets and a built-in tap tempo control
Stereo input and outputs
True bypass
Input slot for an expression pedal for full control of all effect settings
What We Like About the Product
The ability to mimic vintage sounds is nothing short of amazing. The design of this stompbox also matches what it was created to do. The true bypass also ensures that It will be an easy addition to your pedalboard.
What We Don't Like About the Product
The limited number of presets (three) and the low loop memory (14 seconds) are what keep this vintage modeler from being great.
Pros
Multiple vintage delay effects
Sweet design
True bypass
Cons
Limited memory for presets and loop recording
No power supply included
We love the Line 6 DL4, but it could have been better, an improvement in its built-in memory would have pushed this thing to be the go-to vintage delay pedal. We do have to mention that this model is now two decades old which is why the memory is like that, but that doesn't remove the fact that it can still make fantastic vintage music to this day.
Overall Rating – 4 of 5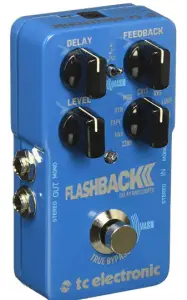 The Flashback was already a robust, easy-to-use, and straightforward pedal, but TC Electronic decided that they wanted to make it even better by improving the footswitch through MASH technology, effectively turning into an expression controller. The MASH footswitch allows you to control feedback and effect-specific mixes.
Key Features
New ethereal crystal delay effect (shimmer)
Improved footswitch with MASH technology
TonePrint App allows you to update the pedal with tones with three dedicated slots
Eight delay types
What We Like About the Product
The Flashback was already a great pedal, to begin with at its price, but TC Electronic decided to up their game and improve by turning the footswitch into an expression pedal and adding a new delay. '
What We Don't Like About the Product
The tap tempo on this pedal needs some work, which wasn't a problem in the original. It can be problematic to the point that you might opt to get a separate tap tempo pedal.
Pros
Excellent Audio
Improved Footswitch with MASH technology
A wide variety of effects
TonePrint to import tones
Cons
Tap Tempo function needs some work
The Flashback 2 offers a comprehensive array of delay types in a compact and easy-to-use pedal. The sound quality, number of effects, and the improved footswitch are enough to justify its price, but the addition of the TonePrint App that allows you to update your presets is what places it above the other similarly priced pedals on the market.
Overall Rating – 4 of 5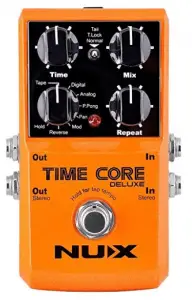 To continue with the budget-friendly delay pedals, we have the Nux Time Core Deluxe. We consider this to be the best bang for your buck delay pedal out there. With multiple delay types, a looper and true bypass, this pedal can give higher-end stompboxes a run for their money.
Key Features
Features seven delay types (analog, digital, tap, pan, mod, reverse and ping pong)
Includes tap tempo to customize delay speed
Two stereo inputs and outputs for a better sound and easy chaining with other pedals
True bypass
What We Like About the Product
The value we get from this pedal is just absolutely amazing, and it can beat pedals that are twice its price. Having nearly all the delay types in an affordable pedal makes us question just how much Nux can do if they create a higher-end model.
What We Don't Like About the Product
The only thing we don't like about the Nux time core is that it doesn't come with its power supply, you'll need to buy a 9V AC adaptor for it if you'll be using it consistently.
Pros
Has all the standard effects you'll need
Two stereo inputs and outputs
True bypass
Battery-powered
Cons
Doesn't come with a power supply
If you're looking to try your hand out at a delay pedal, then the Nux Time Core Deluxe is worth a try. At its price, we can say that it is an entry-level pedal, but its features say otherwise. With its only problem being the lack of a power supply, it's easily offset by how cheap it is.
Overall Rating – 5 of 5
This pedal can't be as good as we say, right? We'll let you be the judge of that, watch the Nux Time Core Deluxe in action.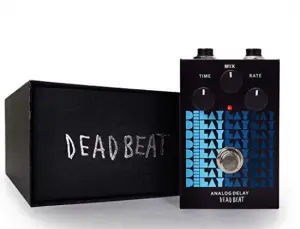 We like to start our reviews with budget-friendly and beginner options for all the newbies out there that are looking to get their feet wet with guitar effects. For delay pedals, we're kicking it off with the DELAY Lay Lay stompbox by Deadbeat Sound. The original name aside, this is a great entry-level delay pedal for your consideration.
Key Features
Create warm, haunting and lush tape-like echo effects
Allows for infinite repeats and self-oscillation
True bypass
Features three knobs for mix, time and rate
Ultra-compact at 60mm width by 96 mm depth and 55 mm height
What We Like About the Product
The Delay Lay Lay effect pedal is what we'd consider as a starter kit. For a reasonable price, the sleek and compact design and good audio-quality give you precisely what you need to get to know the delay effect.
What We Don't Like About the Product
This pedal has limited effects, and for its price point, you can't expect that much from it. Deadbeat has also stopped including a power supply in future orders, which is a bit of a downer.
Pros
Great design and compact build
True bypass
Allows for infinite repeats and self-oscillation
Cons
Limited features
No longer comes with a power supply
The DELAY LAY LAY analog delay effect pedal provides excellent quality audio and flexibility with its standard effects of the mix, rate, and time. We're probably not going to find another analog delay effect pedal this effective and clean-looking at this price.
Overall Rating – 4 of 5
Think this is the one for you? Check out the demo video by Deadbeat Sound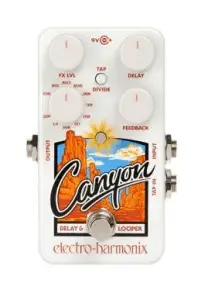 Looking for more effects including some of those more unique ones that you can't find on standard delay pedals? Well EHX likes to tickle those creative bones, and they came up with the Canyon Delay and Looper. If you're looking to add a delay and looper onto your pedalboard with unique effects and doesn't take up a lot of space, then this is one you should consider.
Key Features
Features eleven effects including deluxe memory man, tape delay, shimmer, reverse, reverb, digital delay, and more
Delay time of 5ms and up to 3 seconds
Tap tempo controlled by the footswitch
Compact build
What We Like About the Product
The added effects on the Canyon Delay and Looper Pedal amazing. It's packed with features and some unique tones that you can't find on other pedals at this impressive price.
What We Don't Like About the Product
Some settings on this pedal aren't easy to access. The "hidden" parameters need you to go through the secondary knob mode, which can be a bit off-putting. You need to get used to the tap tempo on this pedal.
Pros
Lots of built-in features
Includes unique tones
Affordable price
Cons
Hard to access "hidden" parameters
Tap tempo can be confusing
If you're looking to add that extra layer of unique rhythms to your music at an affordable price, then you should consider EHX Canyon. This compact multi-delay pedal will be a great addition to the pedalboard of any guitarists who want those unique effects that only the eccentric minds at EHX can produce.
Overall Rating – 4.5 of 5
Listen in on those unique effects we've been going on about on this demo by EHX.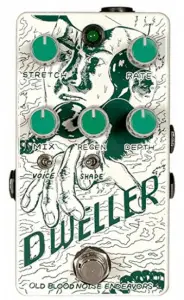 Let's continue this trend of unique sound-producing pedals with the Old Blood Noise Endeavors (OBNE) Dweller Phase Repeater. Described by OBNE as a modulation and delay phase repeater, this stompbox can help you create some genuinely out-of-this-world sounds.
Key Features
Two phaser voices (a four stage and eight stages) and three wave shapes (random step, triangle, and sine)
Has three control settings (rate, depth, and intensity) that shape the sound of the phaser
Innovative Stretch control that sets the delay time of each phaser stage
Expression jack for an external pedal to control stretch.
What We Like About the Product
If you're looking for the inspiration for your next song, then you might get it from this unique little stompbox that married modulation and delays to create an entire gamut of exciting and enthralling sounds. It also comes with a sick design.
What We Don't Like About the Product
Not for beginners and even advanced guitarists can get lost with these features or get turned off by its uniqueness.
Pros
Two phaser voices and three wave shapes to tinker around with
Rate, depth and intensity control
Stretch control for delay
Battery-powered
Cons
You'll need an expression pedal to maximize the stretch feature
If you like to experiment and push the boundaries of the sound that you create and want to impress your listeners with some genuinely innovative music, then you should consider the OBNE Dweller Phase repeater. If you'd like to stick to the standard delay pedal, then this probably won't be a good fit for you.
Overall Rating – 4 of 5
Check out what this pedal is capable of in OBNE's Dweller Demo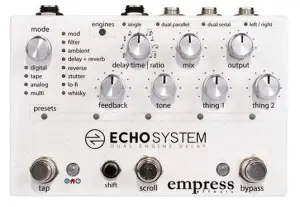 Moving on from the more exotic pedals, and on to higher-end pedals that look to provide all the delay and echo features that you could ever possibly need as an artist. The Empress Echosystem combines delay and echo effects to create a range of incredible sounds limited only by your imagination.
Key Features
36+ high-quality delay and echo effects
Effectively emulates classic analog and tape delay tones
Clean interface with everything visible on the pedal
Can store up to 35 presets
Can switch between buffered and true bypass modes
What We Like About the Product
This pedal impressed us with the dual-delay engines feature that allows you to use different effects on top of each other or synchronize them to make some genuinely complex delays. If you're also one to innovate to the extreme the number of available effects on this pedal will help feed your creativity.
What We Don't Like About the Product
While there are no hidden menus and every option is laid out on the board, you want to keep that manual in your back pocket because this pedal doesn't have the LCD that we've come to expect on higher-end delay pedals.
Pros
An impressive number of effects built into a relatively compact build
Clean white design and easy to read
Buffered and true bypass mode options
Dual engine mode lets you create excellent delays
Cons
No LCD screen so you'll need an excellent memory
Can be difficult to master
Pricey
If you're looking to add a bit of delay into your music, then this is probably not the choice for you. The Empress Echosystem was made to be a cut above other stompboxes in the market as it provides you a great deal of freedom to express your musical genius by creating some truly unique rhythms.
Overall Rating – 4.5 of 5
Sneak a peek at royalty and watch the Empress in action!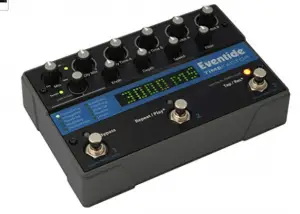 Looking for that studio-quality warm natural sound with multiple built-in delays, and an easy to read LCD? Then look no further with TimeFactor, the pedal Eventide built for the producers and touring musicians alike. With a sleek and compact yet reliable build, this great delay pedal is for the professional on the go.
Key Features
Produces studio-quality sound
Real-time control through ten knobs or optional MIDI or expression pedal
Memory for 100 presets
Features top tempo and MIDI clock sync
True bypass
What We Like About the Product
The number of effects on this pedal is impressive, considering how compact it is. Eventide built this for the professional music producer and traveling musicians. The display is also bright enough to be used in dimly lit stages, and the straightforward controls make it a great and powerful pedal.
What We Don't Like About the Product
You can't power this pedal with batteries, and the fact that it needs a high-power PSU makes it an even bigger issue.
Pros
Studio-quality sounds
Compact and easy to carry around
Can save up to 100 presets
Bright display
Straightforward controls
Cons
This pedal has high power usage, and batteries can't power it
Multiple ranges of effects and settings can overwhelm even professionals
The Eventide TimeFactor is an excellent example of what a high-end delay pedal should be—a clean, compact and robust build, great studio-quality sounds, an easy to read dot-matrix display and multiple presets. The TimeFactor is a great sounding, powerful, and flexible pedal that would be a great purchase for professional musicians and producers.
Overall Rating – 4.5 of 5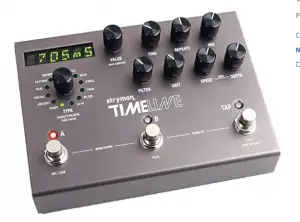 Michael Crichton would be proud of this iteration of the Timeline. Kidding aside, Strymon's Timeline Multidimensional Delay is a beast of a delay pedal with over twelve different types of delay and a 30-second stereo looper. With over 200 presets, 100 for each bank, and a ton features to create truly fantastic music.
Key Features
Twelve "delay machines" or types of delay
Memory for 200 presets and a 30-second looper
MIDI synchronization
True bypass
Slot for an optional expression pedal
What We Like About the Product
The range of sounds you can create with this delay pedal is just fantastic. Whether you're into modern sounds, vintage music, or you'd like to experiment with a mix of both, this pedal can do it all. The tape and analog sounds are as close as you can come to the real thing.
What We Don't Like About the Product
It is up there in terms of price, and we don't recommend this pedal unless you're a professional or a true enthusiast. The number of features can overwhelm beginners and can be difficult to master even for advanced musicians.
Pros
Twelve types of delay
Multiple effect knobs for absolute control of the music you create
200 presets to save all of your creations
Can be used to mimic authentic vintage sounds
Cons
Pricey
Geared more towards professionals
Just how amazing is the Strymon Timeline Multidimensional Delay Pedal? Well, we can say that it's up there battling for the top spot for thebest guitar delay pedal.
Overall Rating – 5 of 5
Do you want a sample of what this beast can do? Here's a demo video from Strymon.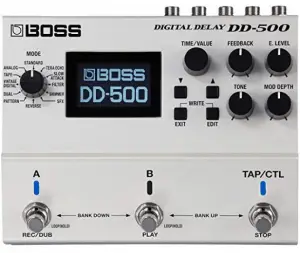 No list of the best guitar delay pedals can ever exist without an entry from the BOSS of effects. Boss' high-end delay pedal, the DD-500, is a prime example of a manufacturer that always pushes the envelope of their products to be at the top of their game. With twelve different delay modes, pristine audio-quality and sophisticated editing options, the DD-500 is a formidable pedal indeed.
Key Features
Studio-level audio with 32-bit floating point processing 96 kHz sampling rate
Twelve delay modes that range from vintage to modern
LCD monitor for easy use
Includes phrase looper, MIDI, and USB slots
Runs on batteries or a PSA-series adapter
What We Like About the Product
The DD-500 is an impressive pedal, to say the least, with its twelve delay modes that include vintage and modern delays— you can create a whole host of unique sounds to add to your arsenal. With 297 memory slots to save the different tones, you've created. You also have two dedicated footswitches to access two memory patches at a time.
What We Don't Like About the Product
The tone quality isn't perfect, which is what we expect from Boss' high-end state-of-the-art pedal. The tone quality is probably its one weakness when compared to other high-end pedals available on the market today.
Pros
High-quality and pristine delays
A myriad of options and editing features available
Built-in Looper with up to 120 seconds of recording time
Cons
Tone quality could use some improvement
Pricey and limited to professional use
We're nitpicking when it comes to the DD-500 as we're looking for things to not like about it. Boss went all out in making sure that their high-end delay pedal muscles out other products in the market, and yes, they did.
Overall Rating – 5 of 5
See the Boss DD-500 in Action; you may want to hang on to your seat!
Buying Guide
What is a Delay Pedal?
Delay is one of the most important effects that you can find in the guitarist's arsenal, and along with reverb, it's been around for a while. Delay pedals allow you to take the signal from your guitar and repeat it again and again, hence the other name for the delay being echo.
Like all pedals, this will be on your pedalboard chained to all your other effects pedals with one end being your guitar and the other end plugged into your amplifier.
How Do You Use a Delay Pedal?
Delay pedals, particularly the basic models, are far simpler to use compared to other effects pedals, but it does take some getting used to and a fair bit of tinkering before you get that the right sound you want. If you're only starting here are a couple of tips and tricks from us that will help get you on your way.
If you're already using multiple effects pedals, then it is essential that you remember that your delay pedal should come last on your chain before the amplifier. Why? Well if you're going to repeat a signal or sound, you'd want to use the one where all the effects are applied already. Let's say you place it ahead of the distortion or reverb pedal the final signal going out will be messy and unclear.
On most models, you'll have three essential knobs or dials, time, feedback and level and you need to know more about what these do as they are vital in getting that sound that you want to produce. Note that these options will have different names depending on the model, but we're sure you'll be easily able to figure out which one is which.
The level option controls how loud each of the succeeding signals is, so if you maxed out the level knob, you're going to get the subsequent signal that is as loud as when you struck that string.
The time dial controls the amount of time between each subsequent signal. Analog models have a faster interval between signals and produce that sweet, warm sound that we all know and love, while advanced digital delay pedals can have longer intervals between each repetition of the signal.
Finally, we have the feedback dial with allows you to set the number of times a signal repeats. This setting starts at one and up to an infinite number of times in more advanced delay pedals.
Knowing Your Needs
There are a lot of delay pedals in the market today that produce multiple delay effects and thus finding the best delay pedal is no easy task as it has to fit your needs as an artist. There are various features to look into and multiple factors to consider to help you zero in on the stompbox that will meet your needs.
Before we go diving into the different factors to consider what you have to understand is that delay pedals come in a multitude of sizes and features. Some can be for beginners with one footswitch and one or two effects while some have five or six footswitches with 36 effects, presets and mix of settings that you could go through for days!
The latter is why you have to ask yourself, what are your needs? Do you require a delay pedal with a lot of flexibility or just something simple? Is it vital that you have all the bell and whistles in terms of effects or looking for that one unique effect that you want to work with right now?
The answer to these questions will differ from one person to another, and that's why the best pedal is ultimately the one that works for you.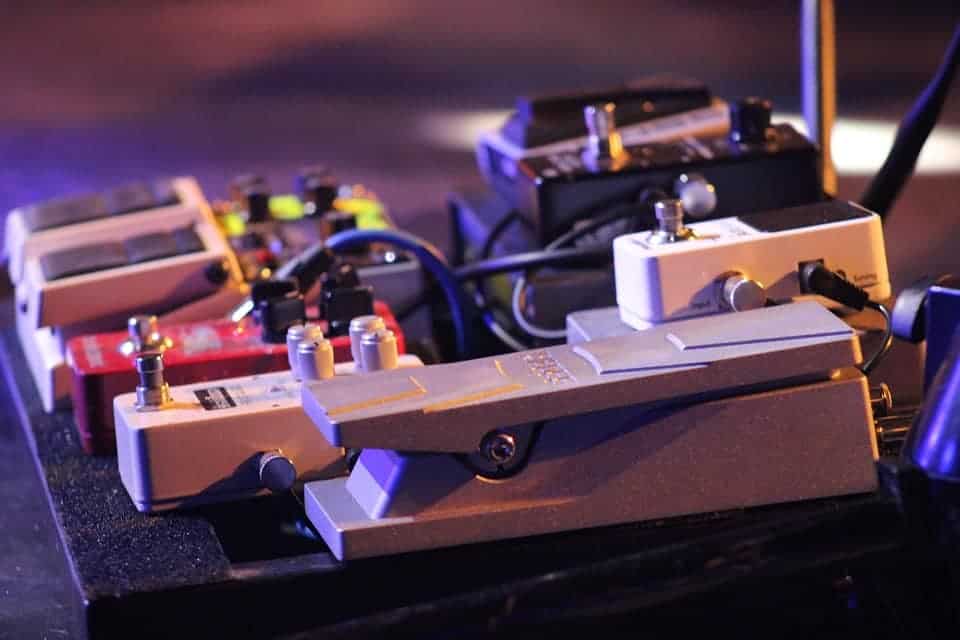 Factors to Consider
Price – Up to how much are you willing to spend on your delay pedal?
Quality – Are you willing to pay more for the best quality of products, or are you ok to settle for a so-so quality pedal for a fair price?
Ease of Use – Are you looking for a straightforward stompbox or go for that studio-level pedal with all the dials and knobs?
Size – Size does matter if you already have other effect pedals on your board, you have to check the dimensions carefully, or you might have to do some rearranging or switching out other pedals just to fit your new one.
Flexibility – How many delay types do you want to use? Are you going to use just that one type or do you want to mix it up and let loose your creative spirit with multiple delay types?
Venue – Will you be using your pedal at home, at a studio, or will you be doing live performances?
Answering each of these questions will help you zero in on your ideal pedal, but before you make that decision, you should also consider the different features that you want on your delay pedal.
Analog vs. Digital Pedals
Let's get this biggest question out of the way first as this is probably one of the most critical considerations in narrowing down the pool of choices for your pedal. What is better analog or digital delay pedals? Well, the answer isn't so simple, and we'll have to look at what each pedal brings to the pedalboard.
Analog delays first came to the scene during the Golden Age of rock and roll. At the time, delay and reverb were THE effects on campus, so they were vital for that added flair in performances during the period when digital circuitry came out the industry almost instantly veered towards digital pedals with all the fancy new effects that artists could achieve with them.
Today, it is a different story; musicians have started going back to analog delay pedals because of their natural and warm tone that you can't reproduce effectively with digital pedals. If that analog tone is what you've settled on you, you need to know that analog pedals are more expensive compared to digital pedals.
Digital stompboxes, on the other hand, have that precision that can't be matched by their analog counterparts. When an analog signal runs through the digital pedal, it converts the signal into digital, and the processor can do anything with the sound it gets. What the latter means is that the number of effects that you can use with a digital pedal is impressive. Moreover, they are cheap, more complex, and the sky is the limit with what you can create. If you're a beginner and want to wade in and try out the delay effect, then you should go for the delay pedal.
Delay Types
If you chose an analog device with only one delay type, then you can probably ignore this section, but if you're going digital and want to create some fantastic combination of effects then delay types will be a critical consideration for you. Choosing the delay pedal with the specific outcomes you're looking for will significantly narrow down your choices.
Control Settings
The typical delay pedal has three basic controls: delay time, feedback, and level. While these settings will do for the needs of budding guitarists, you would probably want to have more control over other vital settings on your delay effects. Being able to control different parameters such as depth and speed, give you so much command over the tones that you can produce.
Delay Time Precision
While most guitarists won't need to deal with this, professionals will have to consider this if tap tempo (we'll discuss this next) is not enough for them. If you want your delay effects to match the song's tempo perfectly then, you'll need to set delay time down to the millisecond.
Note that this is mostly limited to the high-end pedals that have LCDs that let you set the delay time. However, there are exceptions to this, such as the TC Electronic Flashback 2 that we reviewed which comes with a separate app that allows you to set the delay time independently.
Tap Tempo
You've probably seen this as an essential feature in the different reviews we made, and the reason behind this is that the tap tempo feature lets you control delay time. The reason it's called tap tempo is that you have to tap the footswitch or the button repeatedly to set the delay time (other pedals have a knob). While tap tempo is an optional feature that you can live without, it is vital if you want to create rhythmic effects that match a specific pace.
Remember how we asked you to consider your venue? If you're going to be performing live a pedal with a footswitch that allows you to control tap tempo will be the superior choice compared to a knob. Bending over each time you want to set the delay time is backbreaking.
Looping
Looping is another effect that gives you an extra layer to your performance, and you can get a separate pedal specifically for it. However, why would you spend money on a standalone looper when many delay pedals already include one built-in. Depending on the delay pedal, some may have all the features of a high-quality loop pedal while others may have a single effect.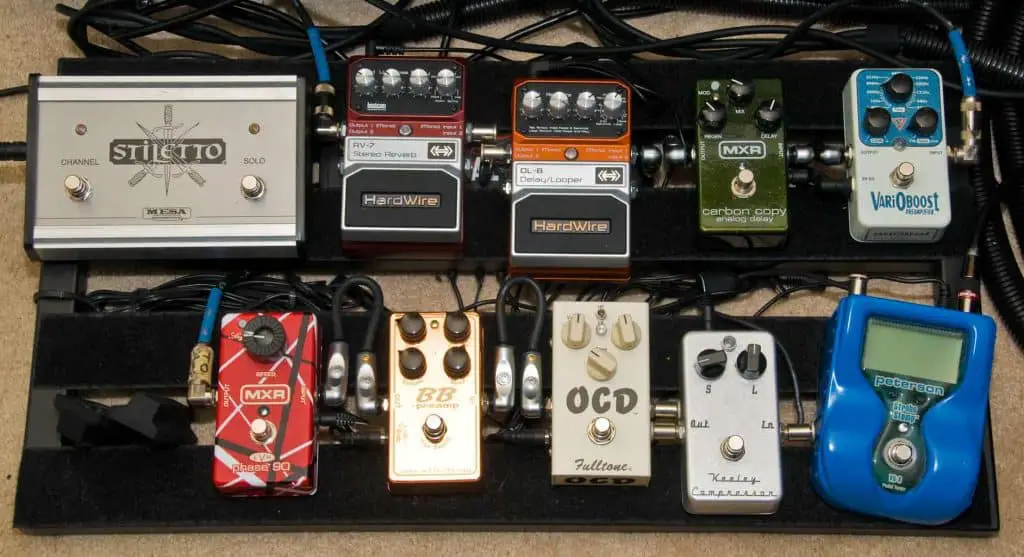 Presets
If you play a wide range of musical genres, presets are a vital consideration as they will let you switch between different settings that you've previously saved to your pedal. If you're a budding musician, this probably won't be as important as you can bend down to switch your settings and you're ready to go again.
If you're a professional musician, producer, or even composer, you'd want your settings to come in handy if you're going to push the boundaries of sound and create jaw-dropping music.
Dedicated App or Program
Modern delay pedals have USB ports that allow you to plug it into your computer to adjust your settings easily or set and even store your saved presets to your computer so you can clear its memory. Other delay pedals have apps that allow you to remotely control your settings on your smartphone or even upload new presets. If you're one that wants absolute control over your delay pedal, then this is a feature that you should include in your list of considerations.
The Best Pedals According to Category
Now that you know what you want and need for yourself, let's take a look at our top picks for the best guitar delay pedal according to each category.
The Best High-End Delay Pedal: A Deadlock between the Strymon Timeline Multidimensional Delay Pedal and the BOSS Digital Delay (DD)-500
We know you're crying out for blood for this verdict, but to be honest, we couldn't decide between ourselves which of the two had the upper hand, they're both fantastic high-end delay pedals! The BOSS, DD-500, makes an excellent case for itself by continuing to innovate and push the boundaries of new technology for delay pedals.
The DD-500 comes out ahead when it comes to multiple effects, custom rhythm details, and control. The Strymon TimeLine has been around for a while now and still has specific features that place it ahead of the DD-500 such as the reverse pitch shifter, diffusion, and Lexicon-style delays.
We could go back and forth for days and not come up with the clear winner, so we're calling it a draw, but if you're a professional and you can afford them both then, by all means, purchase them as they're probably the only two boards you'll ever need.
The Delay Starter Pack: Nux Time Core Deluxe
The starter pedal was a no-brainer choice for us; you can't possibly go wrong with starting with the NUX Time Core Deluxe. This delay pedal is packed with value with seven delay types, tap tempo, two stereo inputs, and outputs. The sheer value that you can get from the Time Core is similar to features you get from delay pedals that are twice or even three times its price.
Some may argue that with its multiple effects wouldn't it be the wrong starter delay pedal as it can overwhelm a newbie? Well, that's true, but if you're serious in your art, you'll eventually move on to experiment with other delay types. Why spend money on multiple pedals when you can begin with one pedal that you can keep on using as you grow as a musician.
Final Thoughts
To wrap this up, we'd like to reiterate one thing; there is no product out there that can claim to be the best delay pedal because a pedal has to fit the guitarist' needs. The list we've provided here for you is simply a guide to the different products out there that we think are a cut above the rest and give the best value.
In the end, your specific needs and situation are what dictate what the best pedal is for you. Chances are you'll need multiple delay pedals to match your different needs; we hope that we were able to help you find a stompbox that you can add to your pedalboard.