Are you looking for a better instrument or trying to find the BEST banjo to kick-start your music career? Then you've landed on the right page!
There are two styles of banjo, open back and resonator. Your choice of music will decide which style of banjo is better for you—and there's more to it than that. Even within each sub-type of banjo, there are a variety of aspects to consider. Finding your perfect match is a bit of a challenge.
Worry not, though, that's why we have decided to make this guide providing in-depth reviews of the best banjo brands to ease your burden.
Our Top Pick

Searching for a banjo available at an affordable rate while offering jaw-dropping features at the same time? Look no further for we have found the best banjo available.

The manufacturers of the Deering Goodtime 2 Five-String Banjo have made it easy for us to choose our top pick by providing a durable, premium quality product with a changeable feature to switch the styles of the banjo to your liking.

Not only does it excel in its build, but the design is also excellent, and the sound it projects is warm and tuneful.
The Best Banjo Brands Reviewed
Last update on 2023-05-21 / Affiliate links / Images from Amazon Product Advertising API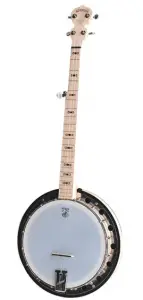 Our first product in this line up is the Deering Goodtime 2 five-string banjo. This option is suitable for customers looking for a resonator-styled Banjo. It is a simple yet intricate instrument that comes with a slender rock maple neck.
Key features
Slender rock maple neck
Sealed geared tuners
Adjustable Tailpiece
Single-bound maple resonator
What I like
This piece is built with quality materials. Maple wood is a strong, lightweight wood which allows you to carry the banjo with ease.
The geared tuners make sure that you end up with clear upper and lower notes, making this product an excellent choice for beginners. It looks aesthetically pleasing with a natural feel too.
What I dislike
There's not much to complain about since this product packs a powerful punch; however, the price could stand to be a little lower. This banjo is one of the more expensive we found.
Pros
Maple wood offers a durable design
Geared tuners allow better notes
Comfortable to hold
Adjustable Tailpiece
Cons
The Deering Goodtime carries many exciting features along with valuable advantages, which is why this product is included among the best banjo brands. Of course, whether the price tag is reasonable or not is a valid concern.
Overall rating – 4.7/5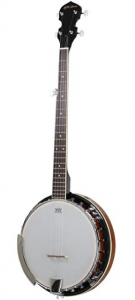 There are always customers who wish to buy the cheapest product available to fulfill their desire of having whatever that product may be, and this is where this five-string banjo pitches in. Coming with a nut width of 1.25 inches and mahogany back, this is a sturdy yet elegant looking instrument.
Key features
Geared 5th tuner
Maple bridge
Right-handed
Five-string banjo
What I like
The most noticeable feature of this banjo is the price charged for the product, but along with that incentive, the maple bridge and adjustable hinged tailpiece deliver a melodic sound, and the geared 5th tuner adds to the value of the product.
The product is lightweight and can be carried easily without causing discomfort. The armrest adds on to a better experience altogether. I prefer an instrument I can take with me wherever I go.
What I dislike
The type of wood used in making this instrument is mainly maple, which, although a popular choice, is more commonly coupled with a stronger wood for better durability.
Pros
Affordable
Maple bridge makes it sound excellent
Lightweight instrument
Cons
Visually seems simple
A single type of wood used
Providing these many features at a low price is not an easy task to shoulder. This product may seem simple and less reliable compared to others, but you know what they say, you can't have your cake and eat it too!
Overall rating – 4.5/5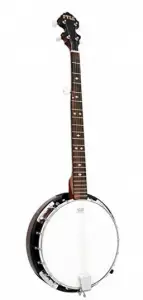 The Pyle-Pro PBJ60 five-string banjo goes over the top by being premium in quality, having a rich wood-like texture, and a high-gloss finishing making it an attractive instrument. Having a Remo drumhead with a mahogany build along with a high-quality maple wood bridge and a rosewood fingerboard, this is a model sure to stand the test of time.
Key features
Chrome-plated hardware
Mahogany build
Geared 5th tuner
Sounds warm and sweet
What I like
Coming in at an affordable price, the Pyle-Pro promises to deliver in every aspect, whether its quality, sound, or aesthetics.
The materials used in constructing it make for a sturdy banjo with a melodious sound. It has a geared 5th tuner, which makes tuning a breeze, improving playability and being a unique feature at the same time.
It is also lightweight, making it easier to hold for a long time or take along on your next adventure. The chrome-plated hardware, rosewood fingerboard, and maple-wood bridge allow you to have a soulful experience with a warm sound.
What I dislike
The overall look of the banjo is a bit dated with a 20th-century style that may not appeal to all musicians.
Pros
Materials are of high quality
Sounds nice, fabulous tone
Durable
Lightweight
Cons
Although this banjo has a traditional, time-worn look, it makes up for this drawback by providing many features at a very affordable price.
Overall rating – 4.6/5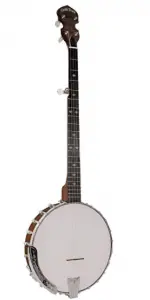 Claimed to be unique in terms of features and tone, this model has five-strings and is customizable to the extent where it can be changed to an open-neck banjo. This feature sets this product apart—and is part of why we named it the best banjo overall.
Key features
Curly maple headstock veneer
Straight-line tailpiece
Two-way adjustable truss rod
What I like
This product provides a light experience weighing only 6.5 pounds, and the armrest provided will let you hold the instrument without causing discomfort. The maple wood used not only offers a pleasing look, but its physical properties also add toughness and create a sweet sound.
It also has a two-way adjustable truss rod, curly maple headstock veneer, dual coordinator roads, and a straight-line tailpiece that add on to its value. The resonator supplies warm and brighter volumes making your experience even better.
What I dislike
Although it proves to be our top pick, it can be argued that this instrument won't meet the liking of professionals who look for multiple advanced features in one single product without caring much for the price. The product suits beginners but may not be the preference for an expert.
Pros
Low string action provides a better experience
Changeable to open-back banjo
Armrest provides support
Maple neck makes it strong
Cons
Might be too simple for professionals
If you require a banjo with a comfortable feel, suitable design, and stronghold that allows you to switch styles, there's no better product out there. The factor of your skill level needs to be considered before you take the leap of faith, though.
Overall rating – 5/5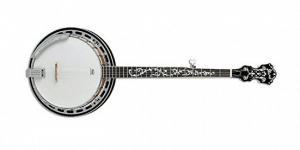 To satisfy customers searching for a different looking banjo, the Ibanez B200 five-string banjo takes up that requirement with ease. It has a chrome armrest to offer you comfort and delivers a little extra pop to it, owing to the material used. The rosewood fingerboard and Remo Weatherking head are the icings on the cake.
Key features
Five-string banjo with Mahogany bowl and neck
Remo Weatherking head
Rolled-brass tone ring
What I like
Offering a rich, delicate sound, this is a top-class five-string banjo with its neck and bowl made from high-quality mahogany, making it look and sound pleasing.
The armrest makes sure that you are always comfortable, and the roll brass tone-ring adds to the already melodious experience.
What I dislike
The design is simple, and there's no proper attention paid in the structuring of the product. Even though the contents, materials, and features are appreciable, the manufacturers have stepped back in, making it look like it's worth the price.
Pros
Made from quality materials
Sounds warm
Durable
Comfortable
Cons
The simple design doesn't appeal to everyone
The Ibanez B200 is a delicate yet sturdy banjo available at a fair price while offering many interesting features with excellent sound quality, but does that make up for its looks?
Overall rating – 4.2/5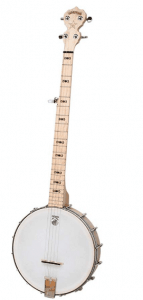 This American-made banjo comes with five strings, a maple neck, and hardwood bowtie inlays. The neck can be easily held, providing a better experience all around. The geared tuning machines are sealed, making tuning easier, and the Deering tailpiece is adjustable to your liking—customization has never been this simple to manage.
The Deering Goodtime not only sounds warm, but it also looks beautiful owing to its blonde maple appearance enriching by satin finish. It also comes with a three-ply, 11-inch maple rim with steel tension hoop and high-crown head to offer a better grip.
Key features
Blond Slender Rock Maple neck
Sealed, geared tuning machines
Three-ply, 11-inch maple rim with steel tension hoop and high crown head
Adjustable Deering tailpiece
What I like
Not only does the banjo look elegant, but it also offers a soothing sound due to the maple neck with hardwood bow inlays. I also appreciate that it comes with a six-year warranty and the adjustable Deering tailpiece that can be moved to your liking with ease.
Unlike most banjos, it provides a sharp yet warm resonating sound due to the tailpiece and ebony bridge.
What I dislike
Although the product seems to be flawless, there is one factor I want to point out. The credibility of the quality of the material used can be questioned. The manufacturers have not paid much attention to the quality of the components that make the product.
Pros
Comes with easy tuning
Adjustable height
Visually stunning
Sounds terrific
Cons
Quality of materials used is questionable
Fairly expensive
If only all banjos were like this instrument and catered to all types of musicians. This is undoubtedly one of the best banjos available out at this price point.
Overall rating – 4.3/5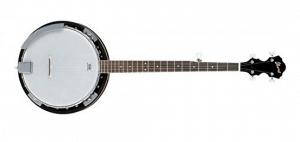 This banjo packs too many features to ignore! It comes in a five-string design with a 24-lug configuration while the back, sides, and the neck have been crafted from mahogany.
Key features
Five-string Banjo Design
Mahogany build
Remo 11-inch coated Weatherking banjo head
Open-gear tuners
What I like
Ibanez is a well-loved company that provides quality instruments— like the Ibanez B-50. This option has a warm and a mellow sound thanks to the materials used in its construction. It has open-gear tuners with a rosewood bridge.
What I dislike
There have been some complaints about the durability of this product. While no company can make every player happy, that there have been some issues is worth mentioning.
Pros
Delivers a melodic sound
Strong build
Fairly less expensive
Lightweight, easy to carry
Cons
Features may be too basic
If you want a budget-friendly banjo with sizeable features, then this product is tailored to your needs and gives quite useful incentives along with a renowned name attached.
Overall rating – 4.6/5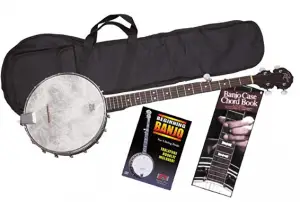 The ultimate beginner's bundle, this starter pack from Rouge offers everything you need to get started playing the banjo, including the banjo itself, padded carrying case, educational book, and DVD.
Key features
Open back
Satin finish
18-bracket head
Includes accessories
What I like
I love that this product comes as a package deal, including everything you'd need to get started. The banjo provided is also decent quality and lightweight, making it easy to travel with if you're taking lessons someplace.
This package would also make a fantastic gift for any music lover in your life looking to branch out.
What I dislike
As this is a beginner's pack, it's simplistic in design and indeed not professional quality. Experienced players would not be pleased with this banjo.
Pros
Tuning is easy
Comes with a padded gig bag, banjo chord book and a banjo DVD
Sweet melody
Cons
Designed for beginners
Not a professional model
To sum up this product, it has a few incentives, but don't expect professional-level quality or sound. If you're looking for a child's banjo or just want to try it out, this might be a suitable choice, though.
Overall rating – 3.4/5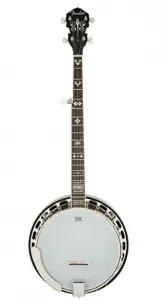 Fender has reigned as one of the best banjo brands for a long time and is popular among enthusiasts, owing to their devotion to producing quality instruments of all types. The Fender Concert Tone starts with a five-string banjo and a rolled-steel tone ring—not the finest available but good enough to project a clear and warm sound.
It has a mahogany resonator with a gloss finish, aged-white binding, and black trim–all features enriching the product's quality and making it durable in use.
The multi-ply mahogany rim will ensure a better-quality sound overall. The appearance of this banjo is also above average with acrylic white pearl inlay work, allowing you to enjoy a smooth feel over this delicate instrument.
Key features
Five-string Banjo
Rolled steel-tone ring
Mahogany build
What I like
This banjo comes at a price that's not too heavy on your budget while being sufficient for use. A mahogany build makes this a durable model and allows it to sound with resonance.
It is also light weight, which means it can be easily transported and isn't tiresome when used for long gigs. The sound it offers is rich, and it has an attractive design to boot.
What I dislike
Although the banjo has a low price, it may suit beginners and not professionals looking to broaden their expertise level. This banjo does offer quality components and good design, but it is still far away from being an advanced instrument with remarkable features and an outstanding look.
Pros
Mahogany built will increase the durability
Fine-looking Banjo
Low price
Cons
May not cater to all types of customers
Having a low price with some quality may please beginners, but this type of banjo will not appeal much to people who wish to expand their career in this field by choosing a banjo offering many features, even at a high price.
Overall rating – 4.3/5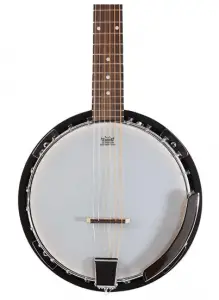 The next product in line to be reviewed is offered by James Guitars. This guitar—er, I mean—banjo-like guitar allows you to tune it like a guitar but play it like a banjo. This banjo is a six-string with a maple neck and mahogany resonator with 24 brackets and diecast enclosed tuners.
The nickel-plated armrest will allow you to have an enjoyable experience without feeling discomfort throughout your play. Even though these features are usually linked to expensive models, this six-string banjo guitar is available at a low price.
Key features
Plays like a guitar
Maple neck
Mahogany resonator
24-Bracket
Diecast enclosed tuners
What I like
What I find engaging is the fact that it allows you to have the experience of a guitar and a banjo in the same instrument— and at a low price!
Not only is that feature prominent, but the manufacturers have also used a mahogany resonator and maple neck, and the addition of two separate kinds of wood will ensure a melodious sound to occur as soon as the instrument is put into action.
The sound it creates is warm and vibrant, not too sharp but like a gentle breeze. The materials used will surely increase the durability of the banjo and make it last for a long time. This product will look captivating owing to the use of mahogany and the adjustable, tinged tailpiece contributing to a better-looking instrument.
What I dislike
It seems that the product is only available with a left-sided model, not considering or catering to customers having different requirements is a negative aspect the manufacturers need to consider.
Pros
Durable
Has a gentle and a warm sound
Low price
Cons
Available in left-side models only
Confused about whether to buy a banjo or a guitar? Then this product will match your needs! It is affordable, durable, and can produce quality sounds.
Overall rating – 4.6/5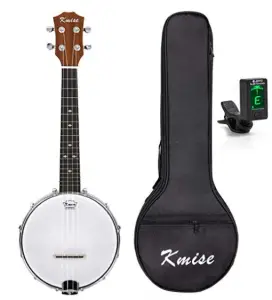 The Kmise four-string banjo has been popular among people due to the value, quality, and features it offers all at a low price.
A four-string instrument with a banjo-like body and a fretted concert size ukulele neck allows a mixture of both the instruments not just in design but in sound as well! The drum head is made of polyester and is equipped with Aquila strings and high-quality geared tuners offering a distinctive tune to enjoy.
This product has a rosewood fingerboard and a delicate touch to it.
Key features
A Banjo and a Ukulele available in one instrument
Sapele built
Rosewood fingerboard
Come with 18 frets with copper fret wire
What I like
This particular instrument is already the talk of the town by being a banjo and a ukulele at the same time. It features 18 frets made of copper along with chrome tuners leading to a mellow sound. The frets allow beginners to adjust with ease, and the low action helps to hold the banjo in an ideal manner.
The manufacturers also offer a 90-day warranty and lifetime string replacement—certainly a bonus for any player and a sign this is a company that stands behind their products.
What I dislike
The concept is interesting in its own right; however, the wood used to make the product is not up to standard. The wood used to construct a banjo not only affects how the instrument sounds but the way it looks and is carried as well. Sapele is not the preferred wood for banjos as it offers some quality but not what is ideal or desired.
Pros
Sounds excellent
Low price/affordable
90-day warranty with lifetime string replacement
Easily tunable, ideal for beginners
Cons
Sapele is not the preferred wood to be used in crafting
There is no doubt that this ukulele-like banjo is a unique creation and will appeal to people who search for something new and exciting to try. It offers high value with interesting features and a low price, but will the effect of the wood used be so significant that it reduces the quality of the instrument altogether?
Overall rating – 4.6/5
Buying Guide
As necessary as it is to keep the best products in mind before making the final decision, there is another step. It's essential to understand key factors you will need to remember to avoid falling for the wrong product.
Visiting a shop is never easy and talking about musical instruments, there is a lot to consider and think about before you even enter the market, let alone choose to buy a product.
As an example, a person going for a banjo with a sharp look might compromise upon the appearance of the instrument if they offer interesting features at an affordable price. We will take you through this buying guide for an enlightened view on banjos.
Quality of the Banjo
A factor often overlooked by customers; the quality of the banjo matters significantly in how your instrument will pan out. People might go for a cheap product, but how long will it last? If it lacks durability, and you choose to play on the long-term, two cheap banjos will cost you as much as one quality model.
How to measure quality, then? The strings on the banjo should be checked again and again. If they break or manage to hurt you, then this points towards the direction that the instrument you hold in your hand is faulty.
In modern times, the presence of a tune ring alongside the banjo is an excellent indication to measure the quality of the product. You can also check the quality of the wood used by gently passing your hand against it.
Price
One of the most concerning questions that spin in the minds of customers, what price is the right price? The price which fits in your budget is always the option to go for.
Banjos are available at all price points. Of course, banjos starting from $150 will be expected to have low-quality components, and highly-priced banjos are often handmade, crafted with the best wood, tuners, tune ring, and finish available to offer the best value for a high price.
However, there are mid-range banjos too. They come with interesting and unique features at times, which might just be the perfect instrument suiting your tastes better than an expensive one would.
A banjo available at any price is playable. The reason why you choose to play the banjo in the first place is a key question, and this brings us to our next point.
Reason for buying banjo
Are you a spirited weekend individual hoping to play a little Banjo to have some fun? Or do you plan on building your music career built upon banjos? No matter what skill level you possess, you will always find a suitable banjo for your needs.
It is not advisable to buy a complex banjo if you're a beginner as it will only demotivate you from learning to play—almost no one starts out a good player.
Types of Banjos
There are various types of banjos available on the market. These banjos will either have four, five, or six strings and even though different genres of music can be played on any type of banjo, learning how the strings function is crucial.
As explained earlier, banjos are of two styles, open back and resonator. The resonator has a sharp, fulfilling sound, whereas open back banjos have a mild, gentle sound. Which is for you will greatly depend on your taste.
Four-string banjos are usually played with a pick, and popular for musicians interested in a jazz sound.
Five-string banjos are mostly recommended to beginners, as they learn this type of instrument the quickest, so if you're a beginner, you might want to check out five-string banjos.
Six-string banjos use a blend of the abilities offered by a banjo and a fast-paced guitar, leading to a greater package overall. However, this type is not recommended for beginners and is generally preferred by people who can jam in speed.
There is another style of banjos called travel banjos as well.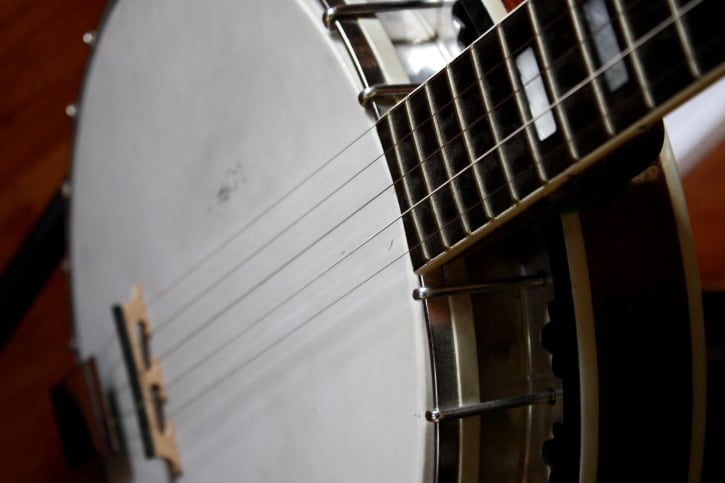 Speculation
It doesn't hurt to scan through the market one or twice to know how things function. Remember, you are not going with the intent of buying. This thought will relieve you of any stress related to buying, and the next time you go to buy the product, it won't be a new situation for you.
Ask around and talk to sellers. These people are the ones who walk around banjos every day. Taking opinions and insight is always beneficial.
If you're up for it, then you can also try out some banjos to see how they fit in your hand. This can offer some insight into which type or style of banjo will suit you best.
Warranty
It might come as a shock to you that a lot of consumers end up messing up their new instrument due to lack of experience in handling the product, and this is where the warranty given by your seller comes in play.
You can easily make a warranty claim for a product you broke to return it to the seller, and in exchange, you can have a new one.
Take your time
This might seem like the most basic idea, but it is not to be ignored if you want to buy the right product for yourself. Customers are quick in buying products because they wish to try it as soon as possible and, in this attempt, it is quite easy to fall into the persuasive words of the salesperson.
A decision taken in haste will damage you later. Music instruments are a long-term investment and often heavily used. If you make a poor choice when purchasing your new banjo, you're sure to notice all the little things you overlooked in short order. This leads us to the next factor to be considered.
Research
Perhaps the most important step before buying anything is research. Properly educating yourself before going shopping is always a good way to control your budget, know what you're going to buy, and not become a target of impulse buying.
Narrowing it down to musical instruments makes it even harder because these products are more sensitive to the preferences of the user. While one reviewer may feel a product is amazing, another may hate it. Be sure to seek a wide range of opinions on any model you may be considering.
However, no amount of research can beat simply trying an instrument out. That's where you're going to notice how it sounds, how it feels in your hands, and ultimately decide if it's the right banjo for your needs. Even a beginner can strum the strings and decide if they like an instrument or not.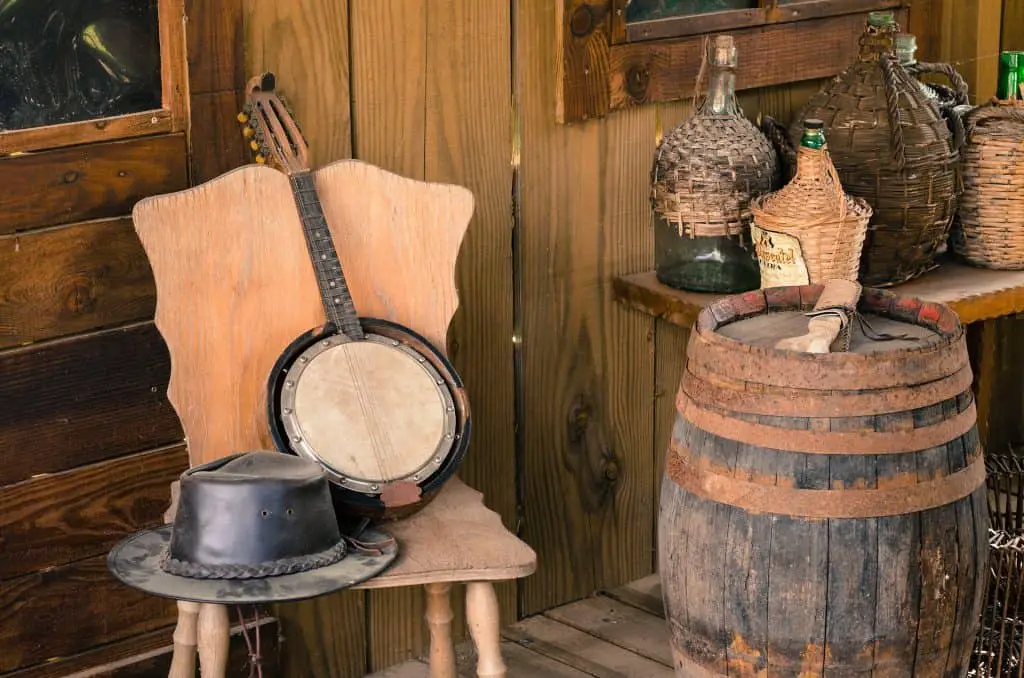 Finding the right one that suits your needs
There are specific needs in your mind based on the skill level, budget, requirement, and the objective you wish to pursue. For example, going for a high-end ukulele-styled banjo even though you require a simpler one will not bear you much fruit.
Keeping your needs in mind will guide you to the right product, and even if it doesn't, at least your choices will be narrowed down by a lot.
Don't fall for the obvious trap
Sellers love to make their product sound the best out of all others in the market by boosting the number or name of specs they have.
In this era, it is becoming increasingly easy to buy a product just because it has fancy specifications attached. In reality, most banjos in a certain price range have the same specifications—as you likely noticed in our banjo reviews.
Consulting an Expert
It is always a good idea to approach an expert on the matter before you make an expensive purchase. Especially in the case of Banjos, which are technical in use and need analysis from an impartial yet knowledgeable party to reach the right decision.
The buyer
The type of buyer needs to be taken into account. Are you going to a local retailer or a specialist company? Are you interested in buying online?
If your needs aren't much, and your budget is limited, then buying online is your best bet, but if you believe only a specialist company can meet your needs, then proceed to their doorstep.
Components
The banjo has many components ranging from the peghead, fingerboard, neck, head, tone ring, resonator, and others, and their quality is not to be compromised upon.
They will either affect the look, sound, and grip of your banjo. It is also necessary to ensure that the banjo you are going for has a comfortable armrest provided to avoid future discomfort. With an armrest, you can easily hold a banjo for long without experiencing pain.
All the components are vital in one way or the other, and you will likely not meet the desired objective if either one of them is faulty or not up to the mark.
Craftsmanship
The skill level of the person crafting your instrument will have possibly the greatest effect over how the banjo turns out to be in its shape, size, sound, and grip.
An artisan with poor skills can even ruin the best quality of materials used to construct a banjo, and similarly, an artisan can end up making the best piece possible out of low-quality materials.
Wood
A lot of critics argue that the wood used in a banjo does not have any bearing on how the banjo will sound, but this is incorrect because the quality and the type of wood determines how the sound will turn out to be.
A general rule of thumb is the wood used in a Banjo should be strong but not heavy. If the wood is strong, then the instrument will not fail under wear and tear, and it can last a long time. The durability of the banjo depends upon the wood used in crafting it.
A dense wood will, in turn, make the Banjo heavy and difficult to lift and maneuver, harming the playability of your instrument overall.
The ideal types of wood recommended by experts for banjos are maple, walnut, and cherry. They offer a strong foothold for the banjo and are not that heavy. Whereas woods like oak are strong but heavy, and pine, cedar, and spruce are light but weak, and this reduces the lifetime of the instrument.
Mahogany, on the other hand, is the softest of hardwoods. It carries with itself a gentle, warm sound, and is built upon soft edges, suiting the banjo well. Mahogany offers a mild sound, so if you're searching for a piece of wood that gives a sharp sound, you might look to maple banjo instead.
Maple is an acidic type of wood as it creates a bright and vibrant sound suiting to some customer's needs. Walnut is harder than mahogany but considered to be softer than maple.
The use of a particular kind of wood affects not only sound but the appearance of the banjo too. Different types of wood will suit the color you desire. A warm, light color or a dark, sharp color depends on you.
Final Thoughts
This concludes our review featuring the best banjo brands. I hope that these in-depth reviews and buying guide have helped you feel more at ease with the idea of buying a new banjo. If you've stuck with me this long, as a quick recap, for most players, the Gold Tone CC-100+ Cripple Creek Banjo is going to be an ideal place to start your search.