Mandolins have always been popular, and artists of all music genres have incorporated mandolins into their work. These little instruments have a warm and captivating sound that adds a lot of personality to any performance.
If you want to start playing the mandolin, the first thing you have to do is choose one that meets your budget and playing style. As a beginner, you can choose from many different styles of mandolins.
In this guide, we will be reviewing some of the best beginner mandolins available today. We will also provide you with some insight into the different styles and parts of a mandolin so you can make an informed decision.
Our Top Pick
While all the mandolins we reviewed would be excellent choices, one rose above the rest—the Kentucky KM-256. This model is affordable, versatile, and produces a wonderful tone. It's sure to please players of all skill levels. If you'd like to know more we've reviewed it first below.
Last update on 2023-05-21 / Affiliate links / Images from Amazon Product Advertising API
Review of the Best Beginner Mandolins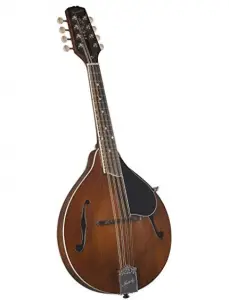 The KM-256 mandolin from Kentucky's KM line provides an authentic tone and a high sound quality. It also has a reasonable price, making it a viable option for the beginner.
Key Features
A-Style mandolin
Solid wood construction
Solid spruce soundboard
Maple back, sides, and neck
Dovetail joint at the neck
Rosewood fretboard and bridge
What I like
The KM-256 is an A-style mandolin that features solid wood construction throughout. The soundboard is made of solid Sitka spruce that not only helps achieve a clean articulation, but that also gives the mandolin a bright and pleasant tone.
The mandolin's back, sides, and neck are maple to for added strength. The fingerboard and adjustable bridge are made from rosewood. What makes this model especially suitable for beginners is the dovetail joint at the neck that allows for comfortable and easy playing.
This mandolin's tone is resonant and warm and, as a student, you will likely have no problem with your intonation when playing this instrument.
What I don't like
The only drawback of this instrument, if you can call it that, is that you may have to get a professional's help for setup.
Pros
Mandolin produces a warm tone and authentic sound
Solid wood construction adds to the durability and deep sound
Dovetail joint makes playing easier
Sturdy adjustable rosewood bridge
Cons
Setting the mandolin up may be a challenge for beginners
The high sound quality, smooth playability, and solid build make the Kentucky KM-256 one of the best mandolins for beginners.
Overall Rating – 5 of 5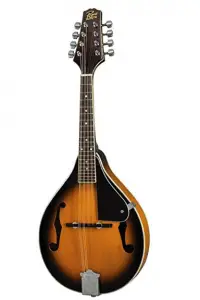 When it comes to value for money, finding a mandolin that beats the RM-100A from Rogue can be a challenge.
Key Features
A-style mandolin
F-shaped sound holes
Adjustable rosewood bridge
Maple neck
Rosewood fingerboard
What I like
Despite its relatively low price tag, the Rogue RM-100A is not cheaply made. This mandolin comes with several high-end features that you will typically find with higher-priced models. These features include an adjustable rosewood bridge, nickel-plated frets, gold tuners, and solid wood construction.
The RM-100A has a bright and clear tone and a decent projection, making it ideal for bluegrass. The maple neck contributes to the mandolin's build, and it is comfortable to hold, especially for beginners.
The RM-100A is a suitable option for beginners who want to transition from a guitar, violin, or ukulele and learn the mandolin. This instrument is easy to play, it has a beautiful finish, and it has a bright sound.
What I don't like
The mandolin's build is not on par with that of higher-priced mandolins, which is perhaps the only problem it has. However, if you take proper care of your RM-100A, it can last for many years while maintaining its authentic sound.
Pros
Excellent value for money
Easy to play for beginners
An authentic tone that is ideal for bluegrass
Electric tuner included
Cons
Build quality can be improved
The Rogue RM-100A is ideal for beginners because of its affordability, smooth playability, and rich tones. If you don't want a budget model without compromising quality, the RM-100A may be the mandolin for you.
Overall Rating – 4.1 of 5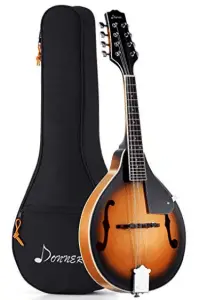 Like the RM-100A, this A-style mandolin from Donner is a high-quality instrument but at a reasonable price.
Key Features
A-Style mandolin
F-shape sound holes
Comes with additional accessories
Mahogany body
Sunburst finish with white binding
Chrome-plated tuning machine
What I like
The Donner DML-1 is a conventional A-style mandolin with classic f-shape sound holes. This mandolin is easy to play even for beginners. Because of its mahogany body, the Donner DML-1 has a warm and vibrant sound that projects well through the sound holes.
The instrument has a solid build and a beautiful sunburst finish that, in combination with the white binding and chrome tuner, gives it a striking appearance.
When you purchase the DML-1, you will receive several complementary accessories, including a gig bag, picks, a tuner, extra strings, and a polishing cloth to maintain the appearance of your mandolin. If you are a beginner, these accessories are worth their weight in gold.
What I don't like
For the price, the DML-1 has minimal drawbacks. One minor issue with this mandolin is that it has trouble staying in tune, especially if the strings are new or if the instrument is exposed to changes in temperature.
Pros
Great value for money
Comes with many handy accessories
High-quality strings
Electric tuner to help you find the right pitch
Striking appearance
Cons
Mandolin has trouble staying in tune
The Donner DML-1 is a high-end mandolin, but at an affordable price – suitable for the beginner or casual mandolin player.
Overall Rating – 4.6 of 5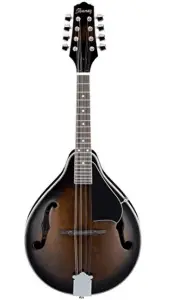 The M510 from Ibanez is a classic A-style mandolin with a beautiful dark violin sunburst color. This mandolin's appearance is not its only attraction, however.
Key Features
A-Style mandolin
Truss rod with adjustable neck
Solid mahogany back and sides
Chrome tuning machine
Pearl dot inlay
What I like
The Ibanez M510 is a conventional A-style mandolin with two f-shape sound holes that offer decent projection and volume. According to the manufacturer, this mandolin has a "select spruce top," which essentially means that the top is laminated.
The back and sides of the mandolin are solid mahogany, however, which contributes to its decent sound. The tuning machine and other hardware are made of chrome, and the neck has a pearl dot inlay.
What I don't like
This mandolin offers a decent balance between affordability and quality. The select spruce is incredibly durable and resistant to abrasions, but it doesn't enhance the sound quality in the same way as solid spruce. You may also have to replace the included strings in due course as they are not of the best quality.
Pros
High-quality construction
Decent sound quality and projection
Ample aesthetic appeal
Pickguard protects the soundboard
A balance between affordability and quality
Cons
The top is not made of solid spruce
You may have to replace the strings
The Ibanez M510 is a decent and attractive mandolin for the beginner. If you want to get your feet wet without spending an arm and a leg, this model may be ideal.
Overall Rating – 4.4 of 5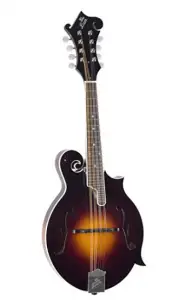 The LM-520-VS from the Loar is the first F-Style mandolin in our list, and it stands out head and shoulders above other options when it comes to playability.
Key Features
Hand-carved construction
Solid spruce top
Solid maple back and sides
Adjustable ebony bridge
The maple neck has a rounded V-profile
Bound Rosewood fretboard
What I like
The LM-520-VS is one of the more expensive instruments in this review guide, but when you look at its features, it is clear why. This mandolin features a robust, handcrafted top, back, and sides. The spruce and maple are fully graduated, which means that the top is thicker in some places to produce optimum sounds.
What makes this model suitable for beginners is its easy playability. It features a rounded V-profile neck that is easy to handle, as well as a bound rosewood fretboard to make pressing down on frets more comfortable.
What I don't like
One issue with this otherwise high-end instrument is its adjustable ebony bridge. The quality of the bridge itself is sufficient, but beginners may have difficulty adjusting it and will have to consult their local music shop for help.
Pro
Beautiful, rich sound
Handcrafted solid-wood construction
Easy playability
High-quality strings and tuning machine
Suitable for a wide range of music styles
Cons
Relatively high price
Adjusting the bridge can be a challenge
If you are a beginner with a sizable budget, the LM-520-VS may be a suitable option for comfortable playing and long-term value.
Overall Rating – 4.8 of 5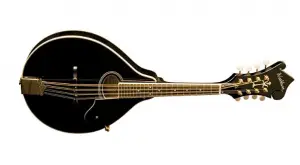 If you are looking for ample aesthetic appeal, a deep, rich sound, and Italian style music, take a look at the M1SDLB from Washburn.
Key Features
A-Style mandolin
20-fret fingerboard
Maple neck, back, and sides
Oval sound hole
Florentine headstock
Pearl inlays in a rosewood bridge
What I like
This mandolin has a combination of features to ensure a unique, loud, and beautiful tone. These features include a solid spruce top and an oval sound hole for optimal projection and volume. The oval soundhole also gives the mandolin a nice and rounded sound, which is great for individual, unamplified performances.
Because of the mandolin's volume and unique tone, it is an excellent option if you need a mandolin for tradition lute- or Italian-style music.
In addition to adding to the mandolin's structural integrity, the solid spruce top and maple neck also give it an authentic and classical appearance. Since this model is durable, you will be able to play it for many years to come.
What I don't like
One issue with this mandolin is that the quality of the strings is somewhat lacking. Fortunately, changing the strings is quick, easy, and affordable.
Pros
Durable construction
Unique sound for traditional-style music
Easy to play and suitable for beginners
The mandolin has a classic look
The sound hole allows for maximum projection
Cons
You may have to change the strings
The Washburn M1SDLB is a high-end traditional mandolin with its round sound hole and solid wood construction.
Overall Rating – 4.2 of 5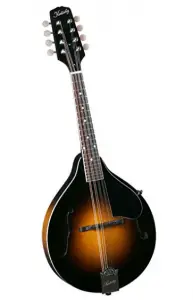 The KM-150 from Kentucky is a straight-forward A-style mandolin that brings ample quality in terms of sound and construction to the table.
Key Features
Solid German spruce top
A-style mandolin
Solid Alpine maple back, neck, and sides
Adjustable truss rod
High-gloss sunburst finish
What I like
Like the LM-520-VS from the Loar, the Kentucky KM-150 is one of the more expensive mandolins in our review guide, but this is because the instrument is packed with value.
One of the first things you'll notice is that it has a solid top made from German spruce. As a result, it has a rich, authentic sound that is well-rounded, even though the f-shaped sound holes. The Alpine maple back and sides also contribute to the mandolin's resonance.
The Alpine maple neck is durable and resistant to the string's tension. Because the KM-150 features a truss rod, you don't have to worry about gradual warping.
What I don't like
Despite its focus on quality, the instrument's lower register has a somewhat dull tone. The quality of the plastic components, for example, the strap button can also be improved.
Pros
Beautiful high-gloss sunburst finish
Solid wood top, back and sides to enhance the sound
Durable construction with Alpine maple and truss rod
Produces an authentic, well-rounded sound
Easy to play and suitable for beginners
Cons
Quality of plastic parts can be improved
The lower register may sound somewhat muddy
The Kentucky KM-150 mandolin is a high-performing mandolin can provide you with years of playing enjoyment, even if you are no longer a beginner.
Overall Rating – 4.5 of 5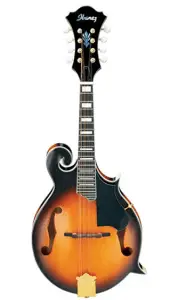 The M522 from Ibanez is the second F-style mandolin on this list, and it is very similar to the LM-520-VS from the Loar in terms of sound and durability.
Key Features
F-Style mandolin
Solid mahogany neck
Flamed maple back and sides
Solid spruce top
Golden diecast tuning machine with Pearloid knobs
What I like
The M255 is a suitable mandolin for beginners who value sound quality, aesthetic appeal, and durability. This F-style mandolin checks all these boxes with its solid spruce top, flamed maple back and sides, and solid mahogany neck.
The solid woods used in this model's construction not only enhance the structural integrity and life expectancy of the instrument, but they also result in a bright, high-volume sound. The f-shaped sound holes do an excellent job of projecting the music from the chamber to the world, and the wide neck improves playability for beginners.
What I don't like
The tuning machine's quality is not on par with the rest of the mandolin, and the bridge's adjustability is somewhat volatile, which can be a source of frustration. Other than these minor issues, the M255 is a high-quality and suitable mandolin for players of all skill levels.
Pros
Solid spruce top and maple back and sides improve the tone
The f-shaped holes project the sound well
Simple, yet aesthetically pleasing design
Wide neck for comfortable playing
Solid and durable build
Cons
Lacking tuning machine quality
The bridge can be difficult to adjust
The Ibanez M522 is a high-end F-style mandolin for the beginner who wants the best in terms of quality and sound.
Overall Rating – 4.3 of 5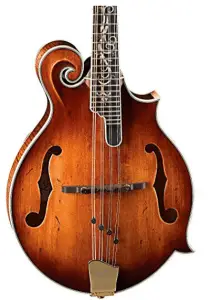 If you have a generous budget and don't want to forgo quality, the Legacy Dragonfly Flame mandolin may be worth considering.
Key Features
F-style mandolin
Dovetailed instrument
Flamed maple body
Solid spruce top
Radiused rosewood bridge and neck
What I like
The Legacy Dragonfly Flame mandolin stands out from other options in its featured category in several ways. Firstly, it has a unique appearance. The instrument has a subdued antique violin satin color and a lot of detail work that involves binding and inlays.
Thanks to its solid spruce and flamed maple body, this instrument has a warm and rich tone, and its intonation is as close to perfection as it gets. The f-shaped sound holes do a great job of projecting the sound from the hollow chamber, giving it a balanced tone.
This mandolin is fitted with high-quality phosphor-coated bronze mandolin strings that stay in tune for long periods and that contributes significantly to its high sound quality.
What I don't like
The problem with this mandolin is its lack of issues, which means it has a high price. The mandolin is suitable for you as a beginner, but only if you don't have any budgetary constraints.
Pros
Beautiful design
Solid, yet lightweight construction
Produces a versatile and full sound
Fitted with high-quality strings
Cons
Might be too expensive for some beginners
The Legacy Dragonfly Flame Mandolin from Michel Kelly provides everything you want in an entry-level mandolin.
Overall Rating – 4.9 of 5
Mandolin Buying Guide
The mandolin or mandoline, as it is sometimes spelled, is a small string instrument and part of the lute family. This instrument, as we know it today, evolved from the mandora during the 18th century in Italy and Germany.
The mandolin is the soprano member of the family, but you also get:
Sopranino mandolins
Alto members, for example, the mandola,
Tenor members like the octave mandolin or Bandol
Bass members such as the mandocello or mandobass
The Anatomy of a Mandolin
If you plan on playing the mandolin, learning the basic construction of the instrument and acquainting yourself with its different parts is essential. Understanding the anatomy of your mandolin will enable you to perform tasks like replacing the strings, tuning, and general maintenance.
Understanding the construction and quality requirements of a typical mandolin will also help you make an informed buying decision when researching mandolins.
Body
The central part of a mandolin is called the body, and it consists of a hollow chamber that amplifies the sound that the strings produce. The piece of wood at the top of the mandolin body is called the soundboard. Some mandolin bodies are also fitted with pick guards that protect the wood from scratches as the result of picking.
Sound Holes
A mandolin has one or two holes carved into the body that is called sound holes. These holes project the sound from the inner chamber outward.
Not all sound holes are the same. F-style mandolins have two f-shaped sound holes similar to those found on violins, whereas bowl-backed mandolins have one single round hole in the center of the soundboard.
Bridge
A mandolin's bridge has essentially two functions: to keep the strings in position and to carry the vibrations that the strings produce to the top of the mandolin.
Tailpiece
At the bottom of the body is a basis to which the mandolin strings are attached. This base is called a tailpiece, and it can either be a stamped or cast piece of metal. The tailpieces of most mandolins are both functional and decorative.
Neck and Fretboard
A mandolin typically has a short neck, and it consists of two components: a fingerboard and frets. The fingerboard is a flat piece of wood that is fitted to the neck, and that covers the neck's entire front. Frets are thin pieces of metal that are fitted to channels cut in the fingerboard.
The function of the frets is to stop the vibrations at specific points along the string. When you press on a fret, you essentially make the string shorter to change its pitch.
Head and Tuning Machine
The strings extend along the mandolin's neck to the head. A mandolin's head is a solid piece of wood that is fitted a tuning machine, which is a set of eight pegs – one for each string. The pegs are attached to gears, and when you turn the pegs, you tighten or loosen the strings and raise or lower their pitch.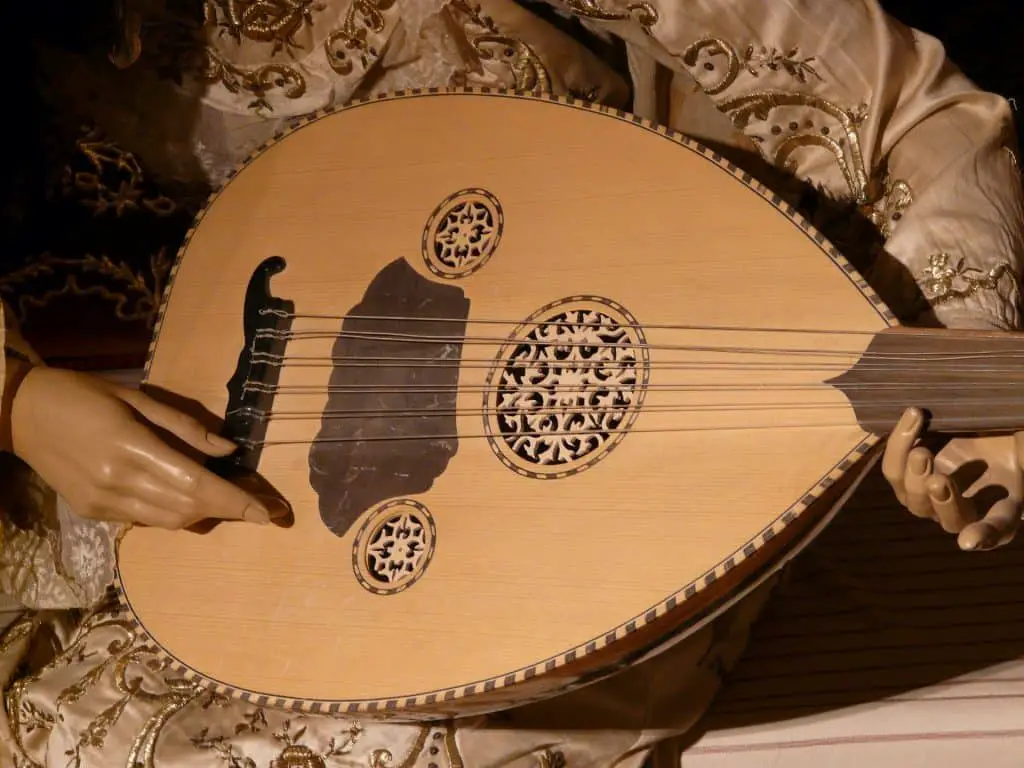 Buying Considerations
Wood
The wood used in the construction of a mandolin is significant as it determines the instrument's sound characteristics, sound quality, and the durability of its construction.
One mandolin can consist of several types of wood, as each component has a different function and, as a result, different wood density requirements.
The soundboard should ideally be made from a lightweight, but durable wood type. The most suitable and popular type of wood for this component is solid spruce. Entry-level or intermediate mandolins may have bodies made from mahogany or cedar.
Many budget models feature laminate bodies, which consists of wooden layers that are pressed together. While laminate bodies are stronger than solid wood ones, they don't offer the same high sound quality.
However, if you are a beginner who doesn't want to spend a lot of money on a mandolin, a high-quality mandolin with a laminated body may be your best option.
The wood type used for the construction of the mandolin's neck is also critical, as the neck is under a lot of stress from the tension of the strings. The most common wood types for necks are maple or mahogany.
It is not uncommon for high-end mandolins to feature laminate necks for added structural integrity. The fretboard and bridge should ideally consist of hardwood like ebony or rosewood.
Mandolin Types
There are essentially three mandolin types to choose from A-style, F-style, and bowl-backed. The shape you should choose depends on your budget, preferred style of music, and the appearance you like most.
Bowl-backed Mandolins
Bowl-backed mandolins have a similar appearance to the traditional lute and are mostly used for classical music. The back of this mandolin type is round, and it typically has a dark tone that suited to classical music, mandolin ensembles, and traditional folk music.
A-Style Mandolins
Beginners often prefer flatback instruments like the A- or F-style mandolins because they are more versatile in terms of music style. The Gibson Company developed these mandolin types in the 1920s.
The differences between these two flatback styles have primarily to do with appearance. A-style mandolins typically have a pear-shaped body and one round- or two f-shaped sound holes in the soundboard.
F-Style Mandolins
F-style mandolins have ornately carved bodies and typically have two f-shaped sound holes instead of one round sound hole. Country and bluegrass artists prefer F-style mandolins because of their appearance and unique sound.
Electric or Acoustic
As a beginner, you may not be sure whether you should buy an electric or acoustic mandolin. Electric mandolins are typically more expensive than acoustic ones, as they are fitted with a piezoelectric pickup in the bridge. In all other regards, an electric mandolin is usually the same as an acoustic one.
If you need a mandolin to play in bands or orchestras, you may need an electric mandolin that can be amplified.
However, if you were to buy an acoustic model, the good news is that you can always have a pickup installed in the bridge at a later stage. You can also place a high-quality microphone in front of your mandolin to amplify its sound.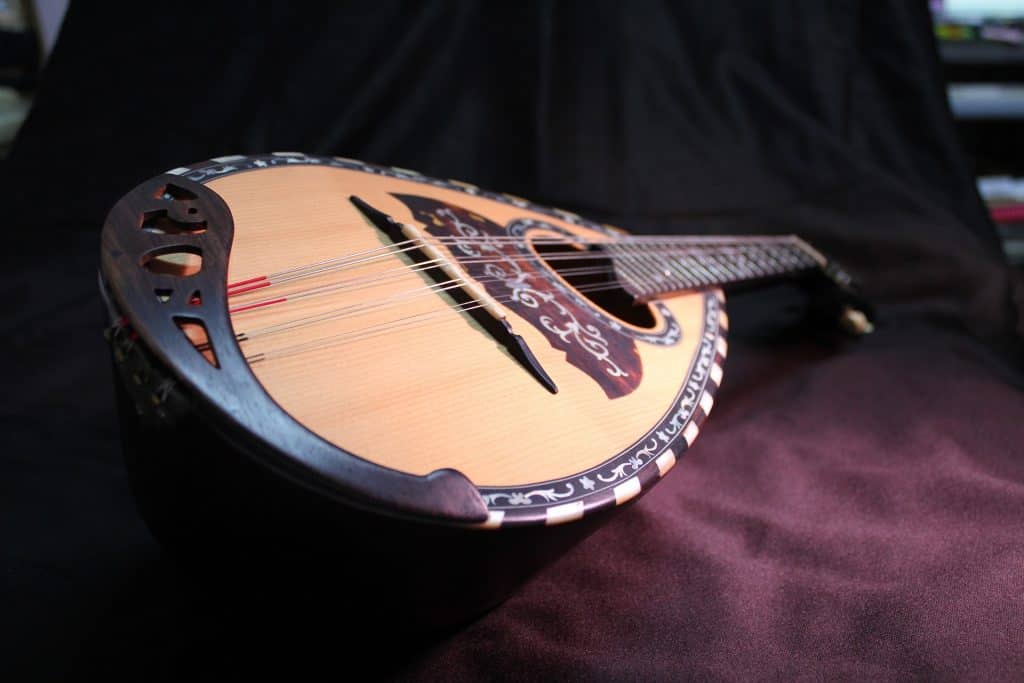 Caring for Your Mandolin
A mandolin is a fragile instrument that is sensitive to abrasion, extreme temperatures, and moisture. You have to actively care for your instrument and carry out maintenance regularly to extend its lifespan.
Tuning
A mandolin's tuning is the same as that of a violin or "G, D, A, and E." Don't tune a string higher than its appropriate pitch, as the string can break or you can damage your mandolin. If you can, use an electronic tuner to help you tune your mandolin correctly.
The placement of your mandolin's bridge is significant to ensure that your instrument is tuned correctly. After tuning, make sure that your bridge is securely in place.
Restringing
When you restring your mandolin, point the soundboard away from yourself to prevent injury in case one of the strings snaps. If you hear a metallic clatter, inspect your tailpiece to ensure that it is not grazing any of the strings.
Bridge Placement
Your mandolin's bridge should be in the proper place to ensure that your instrument stays in tune. If the bridge is too low to keep the strings in place, use the adjusting screws to elevate the bridge and bring it closer to the strings. The bridge should also be slightly tilted so that its treble end is closer to the nut and the bass end is next to the bottom.
Temperature
Extreme temperatures or rapid fluctuations in temperature can cause your mandolin's components to expand or shrink and lose their structural integrity. Refrain from exposing your mandolin to direct sunlight, cold or air-conditioned rooms, or leaving it inside your car on a hot, sunny day.
The best way to protect your instrument from harsh temperatures is to keep it in its case when you are not using it.
Humidity
Humidity can affect your mandolin's glue and cause wooden components, for example, the neck to warp. To protect your mandolin from moisture, place silica gel inside the case to absorb any humidity.
Cleaning and Polishing
Clean your mandolin regularly to prevent the accumulation of dirt and grime. When you clean your instrument, be sure always to use a soft cloth, preferably one that is cotton or microfiber. Wiping down the body and neck of your mandolin will remove any dust particles and restore its shine.
When it is time to polish the wood of your mandolin, for example, during a restring, use a polish that doesn't contain any silicone or wax, especially if you have a vintage instrument. Use a soft-bristle brush to access the hard-to-reach places to remove dust. You can also polish an unfinished fingerboard with almond oil during a maintenance session.
Price
Mandolin prices can range from as little $50 to as high as $10,000 or more. Entry-level mandolins can cost up to $500. If you purchase a more expensive mandolin, it should continue to serve you well even after you've become an accomplished player.
Final Thoughts
When shopping for the best beginner mandolin, you want the best in terms of durability, sound, and easy playability – without the high costs that are associated with these instruments.
Consider our top pick, the KM-256 mandolin from Kentucky with its authentic tone and high sound quality. This mandolin also has a reasonable price, making it a viable option for the beginner.
This instrument checks all the boxes for a high-end entry-level model, including a solid spruce top, a dovetail joint top that makes playing easier, and a sturdy maple neck with a rosewood fretboard and bridge. The result is a beautiful-sounding instrument that will keep its sound for years to come.