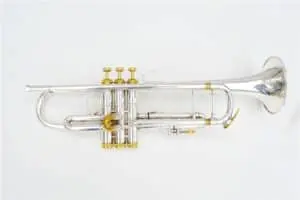 Good trumpets cost are not that easy to come by, and most brands are having to spend a lot of time and money on designing and producing one. That is why a good trumpet gets known rather quickly in the community.
Bach is a company which holds a very strong reputation among trumpet players, mostly because of their dedication to perfection, and pursuit of creating the best possible instruments they can.
One of their most popular trumpets, which also happens to be among the most popular professional trumpets in general, is Bach Strad 37.
>> Check Out Current The Bach 180S37 Stradivarius <<
This thing has been around for a while, which gave the professional players more than enough time to put it through its paces. Needless to say, no one spared it in any way, yet it passed all the tests with flying colors. Bach Strad 37 has become the go to model, the golden standard of current trumpet design.
Today we are going to talk about this instrument and introduce you to what it has to offer.
The Golden Standard
Bach went all in when they designed the Stradivarius 37. Their goal was to create the best instrument they possibly could, with whatever resources they had available.
The R&D portion of the job took some time, but once they have selected the materials and designed the whole trumpet, it was up to their master craftsmen to turn a blueprint into something tangible.
The moment this trumpet hit the market people realized it is the real deal.

  Features
Bach Strad 37 comes in key of Bb and packs a .459 inch bore. The leadpipe is number 25 Standard Taper, which is made of yellow brass. Bell was cearefully crafted out of a combination of yellow brass and gold brass, which offered a more reliable and efficient performance, especially considering the bell is a 4.8inch one piece, number 37 taper.
Everything about this trumpet is top notch. The valves come in form of fine Mone pistons, with the first valve featuring a thumb saddle or a trigger, and third one sporting a fixed ring or a trigger.

The mouthpiece is Bach's in-house design, and it carries the name Bach 7C. Compared to some other aftermarket mouthpieces, this one actually does a great job at allowing you more control over the instrument and the flow of air.

  Performance
Bach Strad 37 is just impressive in any and every aspect. Sound is very bright, rich and overwhelming. You could say it goes perfectly in line with the type of tone Bach is known for. The fit and finish are great, and the valves are just smooth as they can be. The bracing on the horn is rather solid, and inspires confidence when you start playing.
Speaking of which, a lot of other manufacturers copied Bach's bracing patterns over the years. They say that plagiarism is the ultimate form of flattery and this Bach trumpet is a perfect example of that. One of the best things about this trumpet is that Bach didn't overly complicate its design.
Using that approach, they have made the Bach Strad 37 user friendly both for professionals and beginners alike. The mouthpiece is great, and will get you far if you haven't yet figured out your personal preference, however switching it out for something that is more up your alley is definitely recommended.

  What we like
A great performer that is built like a tank, and offers the type of sound a professional needs, and a beginner wants.

  What we don't like
There is really nothing we can find on this trumpet that can be categorized as a flaw. It's a proven design that has been around for quite a while now, and the pros seem to like it just fine.
Conclusion
Bach Strad 37 is one of those go to models that many trumpet players gravitate to. The quality of build and sound is impressive. If you are looking for a well balanced trumpet that is easy to use and doesn't require complex maintenance, Bach Strad 37 is the way to go.
>> Check Out Current The Bach 180S37 Stradivarius <<
On top of that reliability, you also get Bach's trademark tone which has been described as impressive more than once so far.