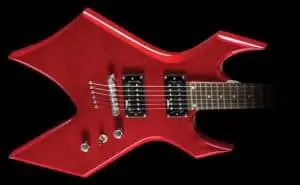 Unlike those shopping for a medium to high tier guitar, newcomers looking for a cheap first axe don't have that many options to work with. At this level, all of the guitars are somewhat the same.
They are mostly made in China, sport in-house electronics, and generally offer an entry level experience into the world of guitars. As such, the performance of affordable guitars doesn't vary too much. What does vary a lot is their appearance. If there was one guitar which really stood out in this department, it has got to be the B.C. Rich Warlock One.
>> Current Price & Customer Reviews On Amazon <<
This guitar has been around for a while now, and it was the only alternative for those who wanted a more flashy instrument as their first one. In all honesty, this guitar alone has created a big divide in the guitar community. One praise it because of its unusual and in-your-face design, while others despise it for that same reason.
Today we're going to talk more about the B.C Rich Warlock One, and see what it really has to offer.
What it really has to offer
They say a very specific type of people go for these guitars, and that is somewhat true. B.C. Rich Warlock One has that kind of an appeal where it draws you in purely based on its weird shape. With that said, these guitars were never praised too much for their performance. The reason behind this hides within the components used on this model.

  Features
Starting from the most apparent thing, we see a body made of basswood. Many people dislike basswood since it's soft, but it has some tonal properties which make it a decent choice for a guitar in this price range. The finish is black, and every edge on the guitar is beveled. Neck is a bolt on design.
It's made of maple and comes with a standard rosewood fretboard. Speaking of which, it's a 25.5 inch unit with 24 jumbo frets and standard dot inlays.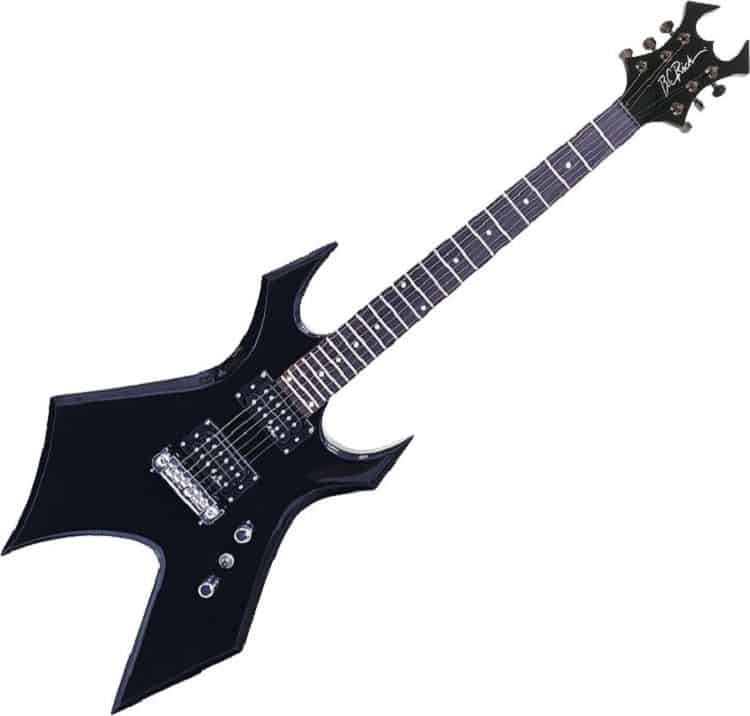 Moving on to electronics, we find two B.C. Rich B.S.D.M humbuckers which are controlled by one volume knob, one tone knob, and a three way switch. Hardware comes in form of a BC Rich Quad fixed bridge and a set of standard tuners.
The quality of these components is decent, and doesn't stand out from the competition that much.

  Performance
Before we start talking about the sound, we need to address playability. The Warlock shape is a tough one to get used to. At first everything seems to be in the way somehow, which causes a lot of new owners to question their choice. However, after a few days of playing, you get used to the body and it ceases to be an issue.
In terms of sound those B.C. Rich humbuckers are pretty decent. It's no secret they are optimized for heavier genres of music. When you're dealing with affordable guitars and equally as affordable humbuckers, you will need to accept some compromises. B.C. Rich B.S.D.M pups have a good amount of output, but not that much definition.
Although, considering the price it's a decent deal.

  What we like
B.C. Rich Warlock One has that shock factor, which is one of the main reasons why this guitar is still being made. We definitely appreciate the variety it brings to the market.

  What we don't like
For a very affordable guitar, this B.C. Rich can't really be criticized much. It does what it advertised, and does it well. If you want more range and more flexibility, you will definitely need to add some money to your budget.
Taking everything into account
B.C. Rich Warlock One is declining in popularity as time goes by. These guitars were super popular back in the late '80s and '90s when they first appeared, but today things are changing. Other manufacturers are offering a lot more flexible designs, causing Warlock body shape to slowly fade away.
>> Current Price & Customer Reviews On Amazon <<
Whether or not you should get one of these mostly depends on your ability to deal with the unique appearance of this guitar. Otherwise it's a decent instrument that offers the performance proportional to its price.