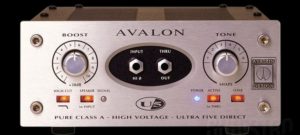 Dedicated pre-amp boxes are something you start looking at when you want to get to the next level of recording and tone shaping.
Avalon U5 DI is one of those models which have made a lot of noise in the community.
Avalon has always been known for delivering great audio equipment to those who needed great sound but didn't want to compromise. U5 DI pre-amp follows that policy to the fullest. It's currently one of the most popular pre-amps, especially for use with bass guitars.
>> Check Out Current Price On Amazon <<
Today we are going to take a closer look at this model and talk about just how wide the spectrum of its use really is. This particular model comes with a somewhat steeper price tag, but as you are going to find out soon, it's more than worth the money you are asked to pay for it.
If you are trying to get your home recording studio to a new level of quality, this is exactly the kind of box you want to have at your disposal.
Overview
Avalon U5 DI is a legit piece of recording equipment. This apparent even from the way it looks. Its brushed aluminum face gives you that nostalgic feeling only vintage studio gear could.
The build quality is impressive. This thing can withstand just about any kind of abuse that can happen in a studio environment. It's built to last, that is for sure.

  Features
The core of this pre-amp is the pure class A operation. In order to provide this, Avalon has installed a larger than normal power supply which is capable of delivering high voltage and current where it is needed the most.
In terms of power usage, Avalon U5 DI is inefficient. However, the resulting performance makes up for everything. The front panel sports a very clean layout, with every control highly visible and easily accessible.
The center of the panel is where you will find your input and output ports. It's worth mentioning that these are hand soldered units, meaning that you don't have to worry about being gentle when plugging things in and out.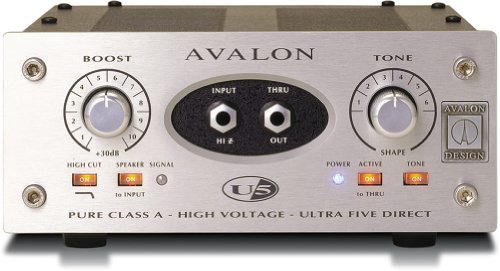 On each side there are two knobs followed by several buttons. The left knob is your boost control. There is 30dB of variable gain at your disposal, which is more than enough for any kind of use you have in mind. The right one is the tone control knob you can use to shape the tone. It's worth noting that the input on this pre-amp box offers 3,000,000 ohm input impedance.
Avalon U5 DI comes packing DC coupling at the preamp stage. This is an old-school way of doing things, but it definitely has its advantages. Having DC coupling allows you to get more dynamic bass range and an increased quality of sound. There is a High Cut feature that is useful when you need to shave off some parts of the trebles.

  Performance
The consensus is that Avalon U5 DI is a perfect bass pre-amp. It's just built that way. With that said, you can use this box with any kind of passive or active instruments, microphones and headphones.
It's a very versatile pre-amp box, which you would definitely want as a part of your home recording setup. Bassists who need that additional layer of tone quality will instantly fall in love with this box. It is just that good.

  What we like
Great versatility combined with no-nonsense design is what really makes this pre-amp box a true workhorse. It's not cheap, it's not power efficient, but it packs a mean punch that is capable of transforming a bass guitar signal into pure bliss.

  What we don't like
There isn't much to criticize about the Avalon U5 DI. Some would argue that it's priced a bit too high, but the performance it offers definitely makes up for that.
Overall, it may be said
Finding a decent pre-amp box is neither easy, nor cheap. There are better models out there than the Avalon U5 DI, but those are also going to cost a lot more money.
>> Check Out Current Price On Amazon <<
For what it is, U5 DI offers a type of performance which punches above its weight class. Avalon went the old school way when they designed this unit, and it definitely shows once you flip the on switch.