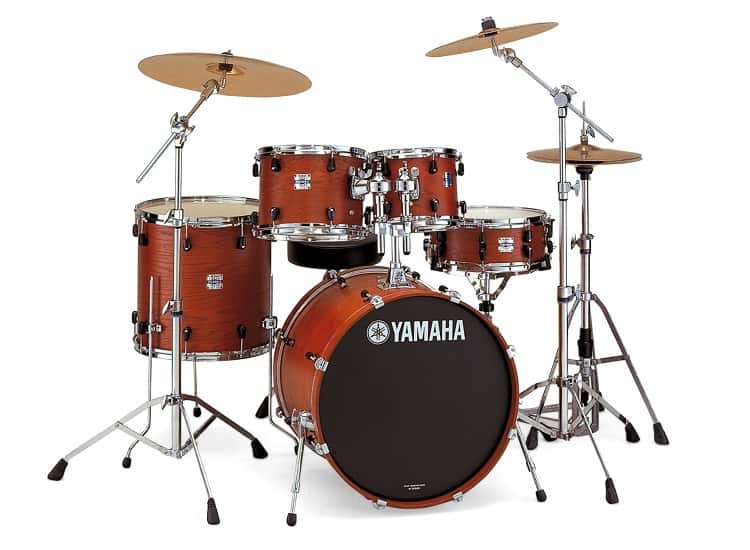 Drums are hard to shop, that is a fact. Unlike guitars and other popular instruments, drums have so many different things you need to pay attention to if you want to be completely satisfied with your purchase.
If you're looking for some of the best drum sets on the market, Yamaha's stage custom advantage line is a great place to start. Those of you who are familiar with their drums know that Yamaha offers a consistent high quality across all of their drum sets. Even their entry level models have the core performance that is always going to be the best you can get for the money. Read on to find out more about the Yamaha stage custom birch, stage custom hip, and stage custom advantage drum sets.
The Yamaha Stage Custom Birch is an excellent drum set for live performances. That is because this kit packs a punch. It's sound is loud, explosive and energetic. The drum shells are made of 6 ply birch wood and 45-degree bearing edges. Yamaha drum shell construction ensures great durability and sound quality. The drum kit normally comes as a shell pack only, but there are options on amazon to purchase hardware and a drum throne along with the drum shells.
This drum kit is perfect for energetic players looking for a fun drum set, or anyone playing drums live and looking for a drum kit that cuts through the noise during a live performance. The drums aren't too expensive but are high quality and sound great.
A quick overview of each drum: The bass drum is deep and has a lot of attack. The snare drum has a nice punch and decent sustain for an overall loud and clear tone. The toms are bright and have low sustain for a quick, energetic sound.
Set Includes
20×17 kick drum, 10×7 rack tom, 12×8 rack tom, 14×13 floor tom, 14×5.5 snare
Pros & Cons
Explosive sound cuts through during live performances

Options to purchase with hardware

You're going to annoy the neighbors with this one
The Yamaha Stage Custom Birch is a lively and fun acoustic drum set to play.
Overall Rating: 4.5 / 5
Any drummer knows that one of the biggest pains is moving a drum set. The Yamaha Stage Custom Hip is essentially a compact version of the stage custom birch. The stage custom hip mirrors many of the same features as the stage custom birch, including the 6 ply birch shells as the stage custom, but due to the thin drum shell size the sound is a bit higher and thinner. Overall this set is a great option for any musician doing a lot of traveling and hauling their kit around.
This drum kit is perfect for anyone looking for a high energy drum kit that is easy to transport
Set Includes
20×8 kick drum, 10×5 rack tom, 13×8 floor tom, 13×5 snare
Pros & Cons
Same Features as Stage Custom Birch

Compact and easy to transport

Slightly lower sound quality
Overall Rating: 4.2 / 5
Yamaha Stage Custom Advantage – A Great Value Option
The Stage Custom Advantage offers a great balance of price and performance. Unfortunately the drum kit is no longer in production. However there are plenty of similar kits on the market, such as the Yamaha Stage Custom Birch and Hip. You can also probably find used models of the advantage at music stores or through private sellers. Below is a table of some products from the newer Yamaha stage custom line.
Yamaha Stage Custom Birch 5pc Drum Shell Pack - 22" Kick, Honey Amber
Yamaha Stage Custom Hip - Raven Black One-Box 4PC Shell SBP0F4HRB
Yamaha Tour Custom Maple 4pc Standard Shell Pack, Caramel Satin
Yamaha Stage Custom Birch 18x15 Bass Drum, Honey Amber
Yamaha Stage Custom Steel Snare Drum (SSS-1455)
Yamaha Stage Custom Birch 5pc Drum Shell Pack - 22" Kick, Honey Amber
Yamaha Stage Custom Hip - Raven Black One-Box 4PC Shell SBP0F4HRB
Yamaha Tour Custom Maple 4pc Standard Shell Pack, Caramel Satin
Yamaha Stage Custom Birch 18x15 Bass Drum, Honey Amber
Yamaha Stage Custom Steel Snare Drum (SSS-1455)
Last update on 2023-09-11 / Affiliate links / Images from Amazon Product Advertising API
Not a lot of drum sets in the same category could even come close to what this Yamaha set had to offer. Some attributed this to Yamaha's significantly higher standards of quality control in the entry level range, while others simply figured out that making a good drum kit is the best way to attract customers. Either way, this specific kit was a huge success.
Overview
Acoustic drums and the word 'affordable' don't mix very well. It's hard to compensate the quality of sound a good wooden shell can offer with something that costs a fraction of the price. However, from time to time, brands like Yamaha and other industry giants will get the formula just right. This doesn't happen very often, but when it does everyone finds out quickly.
Yamaha Stage Custom Advantage really pushed the limits of performance in its category. Those on a tighter budget now had access to a kit that punched a bit above its price range, and that is more than enough to attract a large crowd. What exactly made it so good? Let's find out.
Features
The first thing you notice when you start unpacking these drums is the great build quality. Every detail on the Stage Custom Advantage looks ironed out to perfection. The shell pack typically features a bass drum, snare, floor tom, two YESS mounted rack toms, and some hardware.
Next thing that immediately catches your eye are the shells. The Stage Custom Advantage comes with birch, mahogany and falcata 8-ply shells. The quality of wood is impressive to say the least. We will talk about the sonic effects this particular combination has.
The dimensions of the shells are interesting as well. The kick drum is 17 inches deep. That is one inch deeper than what you typically find on bass drums. Speaking of which, let's list the dimensions of each drum before we go any further. You have 5-1/2″ x 14″ wood snare, 22″ x 17″ bass, 12″ x 10″/ 13″ x 11″ toms, and a 16″ x 16″ floor tom. Aside from these, you also get two cymbal stands, a snare stand, hi-hat stand, and the kick pedal. Of course, if you're buying the set used you also might get some cymbals and extra hardware, depending on what deals you find.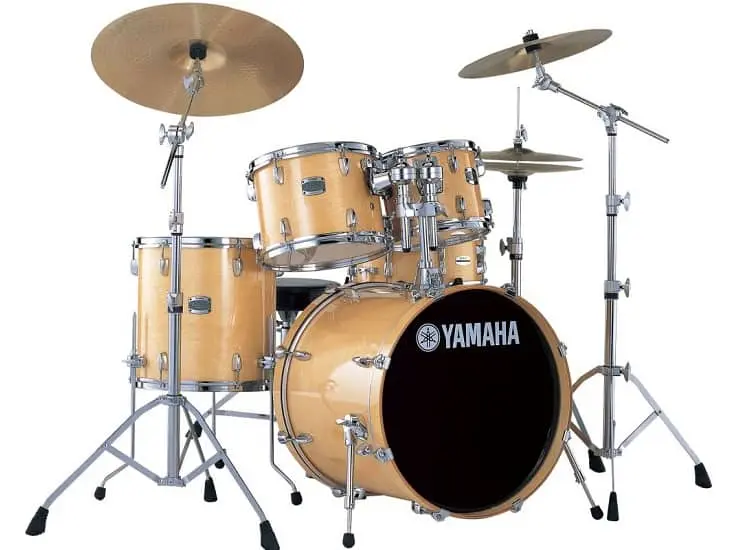 Hardware on this kit belongs to the 700 series. Those who have had some experience with Yamaha drums know that 700 series hardware is pretty solid, and offers more than enough support to the kit. Tom mounts are YESS type, and are much more effective than your average system.
Performance
The tone Yamaha offers is superior to a large majority of kits in its class. Simple as that. The combination of wood that Yamaha chose for this particular kit provides you with a warm and booming sound. The factory heads are average at best, and most users recommend that you change them for a better brand. Once you do, the true potential of this kit will become apparent to you.
Overall, there is a lot of sustain that adds substance to the superb tone of these drums. The snare is crisp, sharp and pierces through the mix with ease. That extra inch on the bass drum, whether it is the 20″ or 22″, adds more depth than you can usually find in this price range. The bass drum has a great boom with a lot of power in the lower frequencies. The toms have a warm tone but with enough punch so that they don't sound muddy or get lost in the mix.
Overall, the performance of Yamaha Stage Custom Advantage is outstanding considering it's price. The core sound is high quality, but it is the combination of those minor details that really make this a great drum kit over all.

  What we like
Impressive quality delivered in a price range where you don't expect this kind of package. Yamaha Stage Custom Advantage has it all – the performance, the looks, everything. Yamaha went above and beyond to provide the users of this kit with a great sound that can be built upon.

  What we don't like
There is nothing so bad about this drum kit that is worth writing about. The only weak point are the heads, although they are pretty average for a factory set. Once you change them, you will definitely hear a difference, and feel one as well. All things considered, the worst thing about this kit is that it is no longer in production. That is the only crime here.
Conclusion
Overall, the Yamaha Stage Custom line offers some superb products at a reasonable price. The brand's premium manufacturing and consistent quality really shines through, allowing their drum kits to achieve superior tone quality. On each of these kits, the drums sound great. While our top pick would have to be the Stage Custom Birch, each drum set has it's clear advantages. We hope this guide was helpful, and if you didn't find the kit you were looking for be sure to check out the other drum set buying guides we have!