Taylor guitars stand out as one of the finest and most renowned brands of acoustic guitars in the world. They are an epitome of quality on all fronts and a provider of an impeccable sound.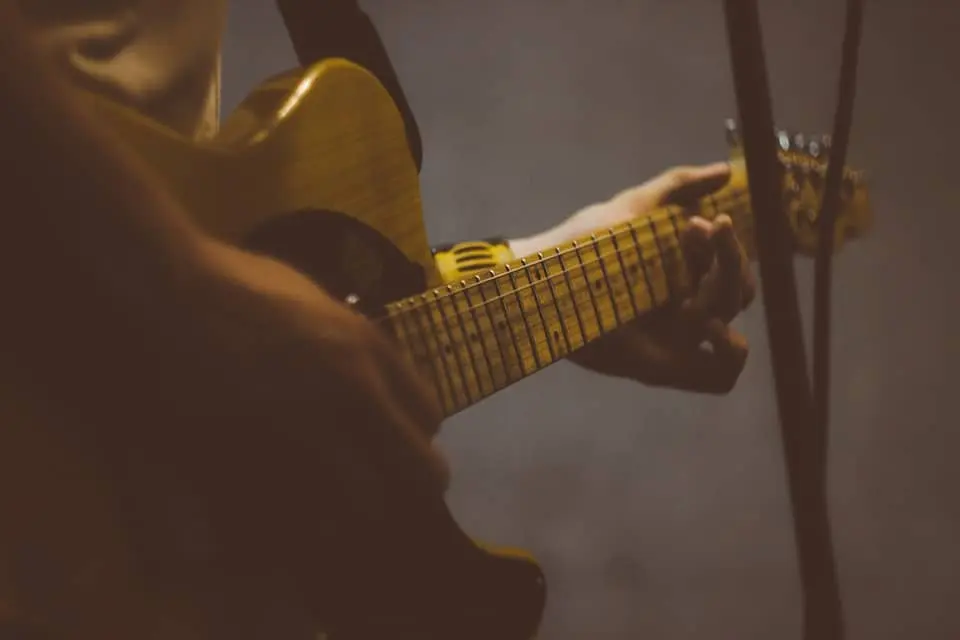 But what is the best Taylor guitar for strumming? Different players play by utilizing different techniques, and the one we'll focus on in this article is heavy strumming. These guitars require a different type of resonance and a bit stronger construction. More details in Taylor guitar reviews below.
What is the Best Taylor Guitar for Strumming?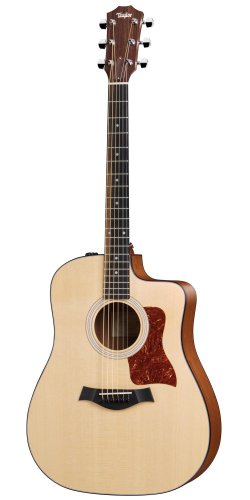 Kicking things off in the economy department, we bring you the 110CE model, the best budget Taylor guitar for strumming. This guitar has all the basic features you need packed in a nice economy package, by Taylor standards of course.

Features
This six-string utilizes a solid dreadnought body with a sitka spruce top and solid ovangkol back and sides. It also features a specially designed neck for maximum durability that rarely causes guitar tuning to get loosen, a prominent problem among heavy strummers.
The wood quality is what makes this one absolutely stand out. It is quite close to guitar models priced as much as two times more. Gorgeous looks, gorgeous feel, and even a hardshell case included in the price – what more do you possibly need?

Sound
The sound is very clear and well-rounded, but when it comes to heavy strumming it goes an extra mile because the guitar's high level of craftsmanship ensures that unnecessary, sound consuming buzz, fuzz and rattle are reduced to a minimum.
We're already in the luxury department for regular guitars, or an advanced level for Taylors. The 410CE offers an exceptional feel for heavy strummers, giving away an impression of an acoustic guitar that cannot be broken.

Features
The guitar features a dreadnought shaped body with a solid sitka spruce top, solid ovangkol back and sides, top of the line ebony bridge and ebony fretboard with 20 frets.
Also included in the mix is a tusq nut and saddle, an adjustable truss rod, and a set of chrome-plated Taylor tuners. The guitar is strung with Elixir Medium Gauge strings with nanoweb coating and utilizes cutting edge technology known as the Taylor Expression System, ensuring an incredibly natural and organic sound.
To sweeten the deal, we'll point out that a hardshell case is included in the price.

Sound
The sound is crystal clear, soft, gentle, roaring, ripping, strong, mellow – it's everything you want it to be. But for heavy strumming, the guitar stands tall even in the hands of the biggest hard hitters.
Finally, the one to rule them all, the best Taylor guitar for strumming – the 814CE. This deluxe guitar will blow your mind with quality, and we can easily say that this is one of the best musical investments you can make at the moment on today's market.

Features
This beauty features a Grand Auditorium body with a Venetian cutaway, a solid sitka spruce top with high-end Indian rosewood back and sides, plus maple binding and back strip.
Also included in the mix is a rosewood top edge trim, a classy rosewood pickguard, a marbled fretboard, an Expression System 2 set of electronics, and of course a luxurious Taylor deluxe hardshell case.

Sound
The sound of this guitar deserves an article of its own. So warm, punchy, bright, mellow, strong, soothing, raging, words are not enough to describe the beauty contained under these six strings.
That's why we'd like to encourage you to give the 814CE a spin whenever you can. When it comes to strumming, the guitar does an amazing job in presenting all the minute nuances of your performance and delivering every single detail. You will get to know yourself and your sonic capabilities with this one, better come prepared.
Conclusion
And we've steadily reached the end of our brief rundown. Depending on your budget, these three models are the ones you cannot go wrong with, and the ones that offer the best performance within their budget range.
Finally, we are talking about Taylor guitars after all, meaning that quality, durability and reliability are an absolute must.
Buy a Taylor today, you will cherish the moment when you introduced it to your musical life. Highly recommended!