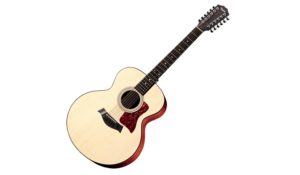 Taylor acoustic guitars are among the most wanted and most popular ones on the market.
Sure, there are other great manufactures, some of which are equally as good but way smaller so they get less attention.
However, the fact is that Taylor has become a name which inspires confidence and means quality. That is not something you can achieve over night by making mediocre guitars. No, this company has worked very hard to get where it is.
Needless to say, Taylor has a very wide range of acoustic guitars that feature a variety of different features. They pretty much have the whole scale of acoustic guitars covered.
Taylor even has some more unusual designs, such as the Taylor 355 12 string acoustic guitar. 12 string acoustics are slowly seeing a rise in popularity, but are essentially still pretty rare considering the rest of the market.
Our mission today is to talk about this Taylor model and see how good it is compared to other guitars in its class.
Overview
The whole idea behind 12 string guitars is to give the user a richer sound from a single instrument. If you know a thing or two about these guitars, you know that the standard six strings are tuned as you would any other guitar, while the courses (additional set of strings) are tuned in a very specific way.
Namely, the lower courses are tuned in octave, while the higher ones are tuned in unison. This creates a very interesting sound effect when you start playing that guitar.
On the other hand, building an instrument that is capable of supporting an extra set of strings and sounding good at the same time is not something everyone can do successfully, but Taylor is one of those brands who can.

  Features
What we have here is a very well made Jumbo sized guitar that features that shape with the addition of a cutaway. The top is a solid sitka design, while the back and sides are solid sapele. The neck is a mahogany piece with a very nice ebony fretboard. The hardware is pretty much standard.
There is an ebony bridge on one side and a busy headstock on the other. As you can imagine, 12 strings require the same amount of tuning machines. The tuners themselves are a set of Taylor's chrome plated tuners. So the headstock is a bit more chaotic than usual, but overall everything is intuitive.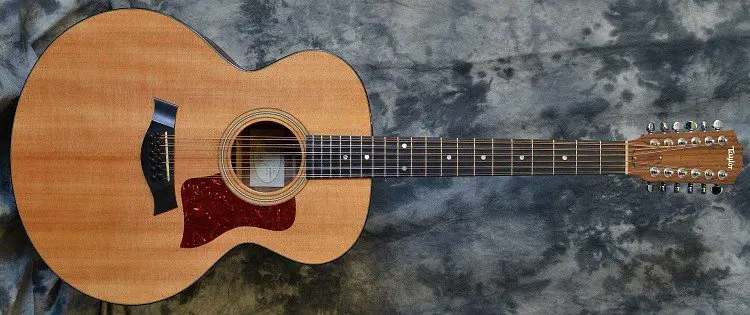 This Taylor comes with a very good electronics package. To be more specific, we are talking about Expression System electronics with tone controls and a lot of sound adjustment options available. Picking up the sound of a 12 string guitar is a bit more complex than your standard six string, so the having a decent set of electronics definitely helps.

  Performance
For one, 12 string guitars are a completely different beast than your standard six string acoustic. Not only does it require you to adapt to the extra set of strings, but the guitar itself needs to be able to cope with the increased tension on the neck. This is partially why you wont see too many affordable 12 string guitars out there. The one of this Taylor is very warm and just fuzzy enough.
Neck is very playable, and the courses are easy to manipulate without having any fret buzzing or similar effects. When you plug it into an amp, you get the same tone just amplified.
The amount of control you have on guitar's control panel is enough to shape the sound to an extent, but chances are the untouched tone will suffice.

  What we like
Very solid construction, a nice cutaway jubmo shape, and quality made electronics all imply we are dealing with a very serious Taylor. There is an abundance of crispiness and very saturated sounds when you strike a chord.

  What we don't like
There is really nothing to put here at the moment.
To sum up
Taylor 355 12 string is one of the best 12 string guitars on the market, that's a fact. It comes with all the right features, and most importantly the right build quality for the job.
The sound is great, and the electronics work incredibly well considering the setup. If you are looking for a great 12 string, this is it.