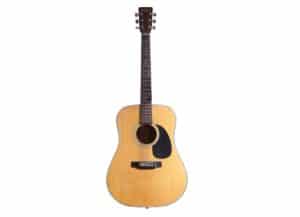 When a company reaches a certain level, their product becomes the standard. In other words, they have reached a point where they dictate the rules in their respective industry.
Taylor is definitely an authority when it comes to acoustic guitars. This brand has been around for a while, but not as long as some other players on the market. Their success is every bit as impressive as their guitars. Although Martin invented the already legendary dreadnought style of acoustic guitars, Taylor makes some of the best models.
Taylor DN5 is their flagship Dreadnought acoustic guitar, and it represents the accumulation of talent and skill this company has to offer. There are many guitars that sport this design, but rarely any can come even close to the level where DN5 is residing.
Even though this particular guitar needs no special introduction, we are going to do a review on it today and show you just what makes it one of the best on the market.
Overview
Quality of an acoustic guitar depends on numerous factors. Their nature is much more complicated than that of an electric guitar. Because of this, it takes a special kind of luthier to sit down and create an instrument that is near perfect in every aspect.
Taylor has gathered the best talent they could find in order to guarantee high level of quality. As we start looking at the DM5 a bit closer, you will see just what we mean by this.

  Features
Like we have mentioned above, Taylor DN5 is a Dreadnought acoustic guitar. The choice of wood they have selected for this model is Engelmann Spruce and mahogany. That's somewhat conservative, but also one of the most proven combinations. Needless to say, it's a solid top guitar with solid back and sides.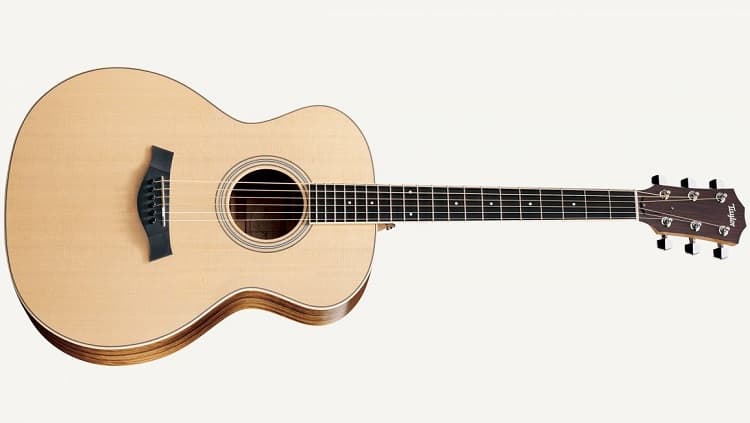 Body is accented by a very pretty Ivoroid binding. The neck is a tropical mahogany design that features an ebony fretboard that also features Ivoroid binding as well as abalone dot inlays.
The bracing on this guitar is impressive to say the least. We are talking about an advanced forward shifted pattern that is supported by a relief rout. In terms of hardware, the situation is somewhat standard.
The nut is made of Tusq, just like the saddle. Tuning machines are from Taylor's Gold series, and provide more than enough reliability.

  Performance
The performance of this guitar meets and exceeds what you would generally expect to hear from a hand made acoustic guitar. Simplest way to describe the sound is to say it brings that standard Taylor experience.
Dreadnought body style gives it a very balanced frequency range with crisp trebles and broader mids. With that said, lower end is very defined. Taylor DN5 simply doesn't lack any attributes of sound. The volume is there as well as projection. Depending on how aggressive you are on the strings, this guitar can easily break through the band's mix.
In terms of playability, things are stellar. Everything on this guitar was designed with playing comfort in mind. That becomes apparent as soon as you pick it up and start playing it. Neck is smooth and very playable, especially as you start walking up the scale.

  What we like
When you are dealing with high end Taylor guitars, there isn't much to dislike. The sound of this guitar is known world-wide. You can recognize it even if you've never played DN5, because it's that fine Taylor tone. Build quality, and overall playing comfort are on the highest level you can get.

  What we don't like
Like we have just mentioned, at this level of build quality and price you don't find flaws which are impacting the performance of the guitar enough to be mentioned in particular. It's one of the best Dreadnoughts out there, that's all that needs to be said.
Conclusion
Taylor DN5, just like the majority of Taylor guitars, costs a pretty penny. However, you definitely get what you pay for. This type of performance and build quality is not something you can find in categories below the one where DN5 is.
Exclusive? Yes, but very much worth the investment and effort.