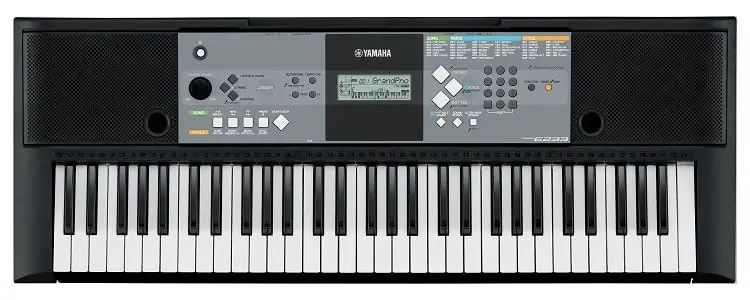 Yamaha is one of the leading manufacturers of keyboards and digital pianos, that is just the fact of the matter.
As such, they have all the necessary resources to make the best possible boards in the segment which is most critical to the community.
Entry level keyboards are numerous, but that doesn't mean that each and every one of them is worth getting. Some are down right toys pretending to be musical instruments. The choices are numerous, which only adds to the already existing confusion that is present in this price range.
>> Check Out Current Price & Customer Reviews On Amazon <<
Because of that, it's always best to stick to proven brands. Yamaha, along with Casio and others, has a very wide range of entry level keyboards which offer all the features that matter the most for beginner players. This company simply knows their customer base, and delivers performance according to those needs.
One such model that is definitely worth mentioning is the Yamaha E233. Today we are going to take a close look at this board and see whether or not it is something a budget user could benefit from.
A close look at this board !
Budget boards are defined by the features they offer and the quality of keys. Their sound, and the number of voices in the library is not that important. What you want is a solid foundation in an instrument that will allow you to develop your skills in right direction.
[su_youtube url="https://www.youtube.com/watch?v=jiAfY8RSdsc"][su_youtube][/su_youtube]
That means that a set of keys that is close to what you can find on acoustic pianos, is much more valuable than some space organ voice preset that will keep you entertained for twenty minutes at best.

  Features
Yamaha E233 belongs to the PSR series which are known for a couple of things. The most apparent one is their black color. There are 61 organ style keys on this board, along with a decently powerful sound engine. The most important preset in the library is the Stereo Grand Piano.
Combine the decent keys with this voice and you have a good piano practice setup. Aside from that, you get additional 374 voices, a number of sound effects, and 32 note polyphony to work with.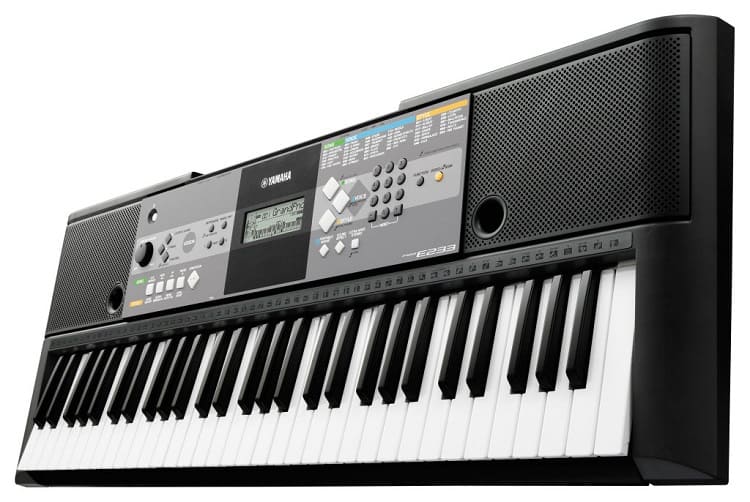 As many other Yamaha keyboards, Yamaha E233 comes with the Yamaha Education Suite. This is a system aimed at helping the beginners develop their skills using a number of tools.
You have playback with adjustable tempo, chord charts, and so much more. It is by far one of the most practical and effective on board learning tools in the industry. That says a lot.

  Performance
In terms of performance, things are pretty much in line with our expectations. This is an entry level keyboard, and as such you can't expect a perfect sound or best possible action. Everything works great, and the keyboard responds well to input. The only real issue here is the somewhat limiting polyphony.
32 notes is near the lowest limit you want to reach. If they went with something a bit more versatile, this keyboard would be a couple of times better. However, this type of polyphony is present in almost every keyboard in the PSR series.
The quality of voices available is average. You will find some which are alright, and others that are simply too artificial in nature. On the other hand, that is also to be expected.

  What we like
Simple and reliable performance that is packed with great learning features is what this keyboard is all about. It can be interesting to aspiring piano players due to its full sized organ style keys.

  What we don't like
A bit more versatile polyphony would be the first thing we would change on this board. On top of that, everything else matches the price range just fine.
>> Check Out Current Price & Customer Reviews On Amazon <<
To sum up
Yamaha E233 has established a decent following over the years, just like the rest of the PSR series. These boards deliver great performance on a budget, and offer all the right features the beginner crowd needs and wants.
If they wanted, Yamaha could have probably made this package a bit more tempting, but packing it more with various voices and other things wouldn't add that much substance to this model.
In its present format, Yamaha E233 is one of the best entry level keyboards on the market.