Agile guitars
Every new guitar player who is just starting out is looking for an affordable way to get into music. The only issue here is that affordable segment of the market doesn't always have a lot to offer. You will see attractive looking guitars, but the performance just isn't there. However, price isn't always a great indicator of quality, and lower brands can sometimes outperform top brands especially when it comes to value.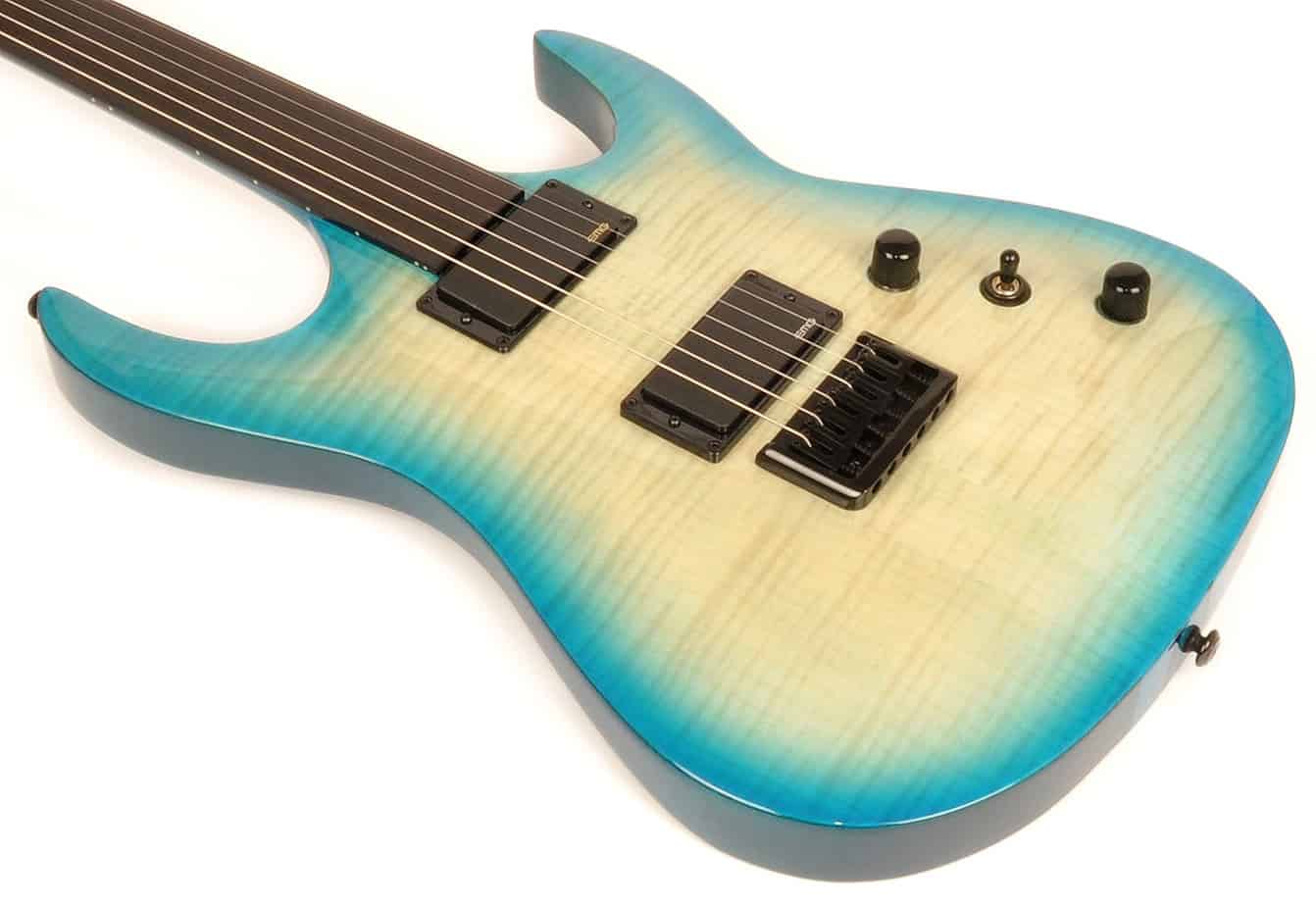 If you don't need all the bells and whistles, Agile guitars offers some of the most affordable electric guitars that you can get, with a reasonable performance. If you are wondering which ones are worth looking at, you are at the right place.
Today we are going to take a look at several Agile electric guitars, and try to figure out which one is the best.
Which one is the best ?
Agile AL-2000 – Best Overall Electric Guitar
For it's price, the Agile AL-2000 has amazing sound, feel, action, and overall quality. If you're a Les Paul fan, this is definitely the budget guitar for you. The materials and components are almost identical, with the main difference being that it is manufactured in South Korea. The electric guitar has a solid mahogany body, and despite it's low price doesn't feel cheap at all. the guitar sounds great with all of the stock features, but also serves as a great foundation to make changes and customize it's sound.
Pros
Great sound and playability right out of the shop
High quality Grover die cast tuners
Solid mahogany body
Ceramic humbucker pickups
Full body and neck binding
Cons
The guitars are quite heavy
Slight string buzzing on the lower frets
Agile AL-3000 – Highest Quality Electric Guitar
If you like the idea of the AL-2000 but are looking for something a bit more high end (and are willing to spend more) than the AL-3000 might be for you. The Agile AL-3000 features an ebony fretboard, a better string nut, and alnico pickups. Ebony is a harder wood and produced brighter tones when you play, while Rosewood sounds more balanced. While alnico pickups are more expensive that doesn't necessarily mean they are always better. The difference really comes down to tonal preference when comparing well made ceramics to alnico. Ceramics tend to have a high input sound with emphasis in the treble are. This creates an aggressive, punchy sound that cuts through other noise and works well with overdriven guitars. Alnico generally produces a much smoother, more balanced sound .
Pros
All the pros of the Agile AL-2000
Ebony fret board
Higher quality string nut
Alnico pickups
Cons
All the cons of the Agile AL-2000
Costs more money
Agile Interceptor 727 – Best 7 String
Six string guitars are so prolific that the technology and knowledge needed to build one isn't anything new. As you probably already know, there are numerous affordable six string guitars available on the market.
However, once you introduce the seventh string, things tend to change. This Interceptor is one of the rare seven string guitars that on the market that got some details right.
The body is made of mahogany and features a flamed maple top that actually looks decent. The color on this particular one is bright green, which gives it a bit of that Ibanez vibe. The neck sports a 27 inch scale.
[su_youtube url="https://www.youtube.com/watch?v=FFzZmJVft5o"][su_youtube][/su_youtube]
This is very important when talking about seven string guitars. Anything under 25.5 inches is useless, and even that is pushing the limits. In terms of electronics and hardware, we have Cepheus passive 7 pickups with a Floyd Rose FRT-2000 floating bridge.
  Pros
Decent sound
Fast and smooth neck
Pickups have quite a bit of range
Handles distortion well
27 inch scale allows for huge dynamic range
Cons
More expensive than the AL-2000
Frets may need to be dressed and leveled
Agile Interceptor 827 – Best 8 String
Now that we have shown you a great seven string model, let's take a look at one attractive eight string guitar from Agile. In this case it's the Agile Septor 827 that brings a lot of versatility to those who have reached the limits of a seven string guitar, and need something a bit more flexible. At this price, Agile Septor 827 is definitely a bargain.

  Features
Standard Super Strat body made of mahogany and featuring an arched top gives this Agile a pretty stylish look. the finish is nice and inspires confidence.
The neck is a three piece maple design with that same 27 inch scale we just talked about. There are no inlays but the edge of the neck is where the frets markings are. Pickups are Cepheus Alpha and Cepheus Beta passive humbuckers. Bridge on this guitar is standard fixed bridge that comes in black

  Performance
For having eight strings in this price range, you would expect questionable performance. Although the pickups are somewhat limited, this guitar actually sounds pretty good.
There is no muddiness in the lower range once you really get on that eight string, but it's not crystal clear. The neck is very smooth thanks to its maple fretboard. Overall, this is one decent eight string guitar for those on a tight budget.
Lastly we have another seven string that is worth mentioning. Agile Septor 727 is very similar to the Interceptor we talked about just a minute ago. The hardware is almost the same, although there are some significant differences.
With that in mind, it's worth mentioning that this guitar is the cheapest of the lot, and is really aimed at those who want to experience a seven string model for as cheap as possible.

  Features
One thing that is really neat about Agile Septor 727 is that Agile actually took in advice from their users, and based the whole guitar on the results of that interaction. We have a standard Super Strat body made of mahogany which also features an arched top.
The neck is again a maple unit with that same 27 inch scale and a nice rosewood fretboard. Electronics come in form of Cepheus passive 7 pickups, and the bridge is their own fixed model.

  Performance
In terms of performance things are similar to the Interceptor, but this guitar has a bit more sustain to it. Pickups are the same, so you can expect to hear the same range and color. Playability is quite decent, even though the fretboard is a rosewood one. With a 13.7 inch radius, you know you can start shredding and not feel it.
Overall, it's hard to say which of the two seven string guitars is better, but Interceptor does look a bit more refined. With that said, Agile Septor 727 comes with a nice lacquer finish, so it attracts the more conservative player.
In summary
An agile guitar is a great option for a beginner or intermediate player looking for a low cost decent to high quality electric guitar. They aren't made with cheap parts, have a good sound and high durability, and feel quite nice to play.
If you thought affordable seven string guitars were impossible to make, now you know the truth. Agile guitar may not be Fender level of quality, but you definitely get what you paid for.
The sound of their pickups is more oriented towards heavier genres of music, there's no doubt about that, but you can still pull get some subtlety in terms of tone. Quality control is a major issue with every brand that isn't widely popular. In case of Agile, things are positive. There are always going to be reports of faulty products, however those reports are rare when Agile is in question.
The only thing you won't have control over with these guitars is the shape. Almost all of them sport that modified Super Strat, and the only aesthetic detail that changes is the finish. However, it is what it is. Hopefully you were introduced to some guitar you didn't know about before. If that is the case, definitely check out Agile and their instruments.