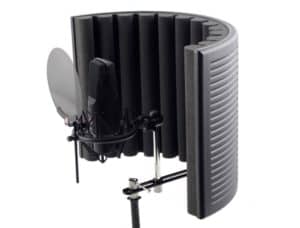 Voice recording is a lot more complicated than it seems to those who have no experience with this process. To most people, it's all about the microphone and what kind of specs it offers.
Truth is, you can have the best microphone in the world, but that won't help you much if you don't have a proper environment for recording.
Microphones are made to be very sensitive so they could pick up the smallest nuances in one's voice or other sources of sound. This makes them prone to picking up all the residual sounds which you definitely don't want to have on your recording.
>> View Current Price On Amazon <<
We are talking sound reflection, refraction, outside noises and similar. Professional studios mitigate this problem by having their recording rooms completely isolated with various foam padding and other special materials.
These are known as quiet rooms. The stuff they put on the wall is capable of sucking in the sound like a sponge so nothing comes back to the microphone. However, home users don't have that kind of luxury.
So what kind of solutions are available for this type of user? Something like RF-X Reflection Filter is a good start.
Let's dig in !
There are a lot of different reasons why soundproofing your home is a bad idea. Unless you are trying to make a recording studio in your home, and we mean a professional recording studio, installing soundproofing is a waste of money.
[su_youtube url="https://www.youtube.com/watch?v=e5DmY-Kh-bo"][su_youtube][/su_youtube]
These panels cost a lot, and there is simply no reason why you should go through all the trouble when there are other solutions on the market. RF-X Reflection Filter is a portable version of a recording booth. It is perfect for podcasters, or those who need to record voice on the go.

  Features
What RF-X Reflection Filter does for your recording quality can be compared to a total overhaul of the sound. As you can see from the pictures, there is a logic to the way this filter looks. The core of its design is based on a semi-cylindrical frame that is made of durable metal.
That frame is padded on the inside, or rather on the side the microphone will be facing, with a thick layer of ribbed foaming. Now, this foaming may not be the same quality or thickness as the stuff that pros use, however it gets the job done just fine.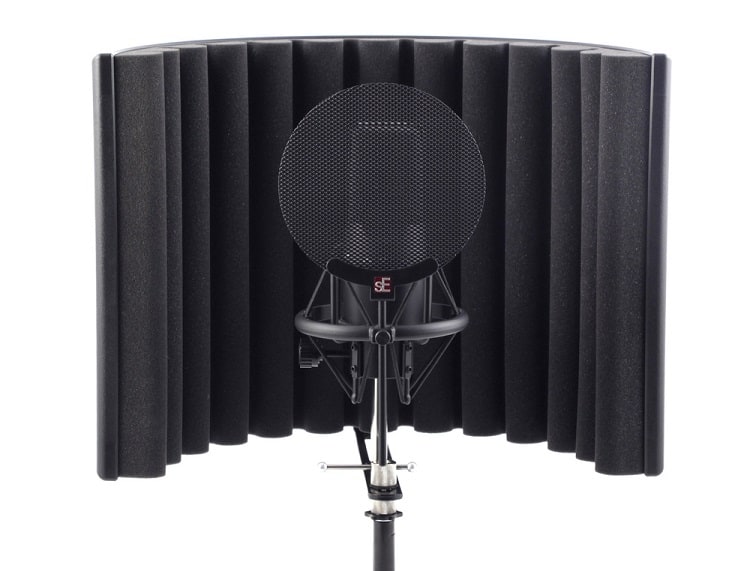 The whole thing is sitting offset on a stand. The stand is also where you mount your microphone and pop filter if you have one. One great thing about the microphone mount is that you can slide it closer or further away from the foam padding, which allows you to change the level of sound isolation to a certain extent.

  Performance
In terms of performance, RF-X Reflection Filter really helps clean up your tone. It's not the silver bullet of home recording, but it is way better than most of the other solutions that you can find on the market.
Setup Video  
This filter is very easy to set up, and that whole process takes just a couple of minutes. The level of control you have over the position of the microphone in relation to the filter is good enough to find a sweet spot in just about any type of room, no matter what kind of acoustic properties it has.

  What we like
The bet thing about RF-X Reflection Filter is its simple but smart design. sE Electronics devised a way that offers the best performance in a very reliable way. That is something we definitely appreciate.

  What we don't like
There is really nothing we can say is a flaw on this filter. It works as advertised.
>> Current Price & Customer Reviews On Amazon <<
In summary
Finding a cost effective way of enhancing your recording quality is imperative if you are using your microphone on a daily basis. For beginner podcasters, this could be the solution to your problem. It is also great for hobby music recording studios, as it gives you an acceptable level of sound quality for some light mixing and mastering.
You definitely can record vocals with this filter, and get a decent result on the other side. Some digital touch ups might be necessary, but you can shape the recording into something that you can work with.