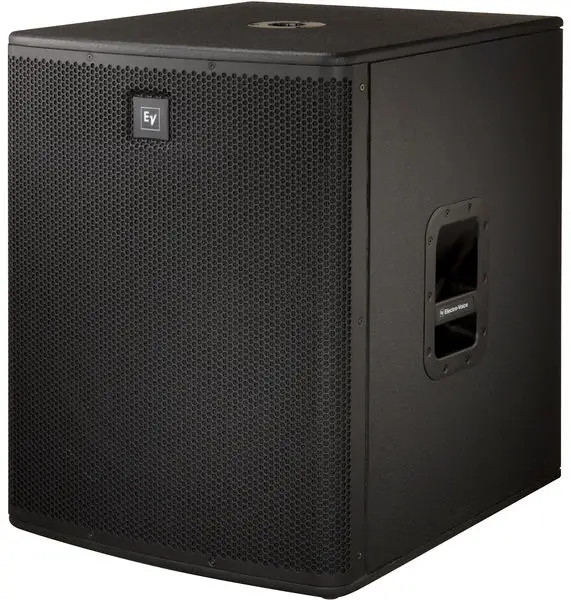 One thing about the nature of sound is that it can be shaped in many different ways. Depending on the genre of music you are listening to, different portions of the frequency range become more or less important.
The fact that most of the modern music heavily relies on bass, makes amplifying this portion of the frequency range that more important. This is especially true for live performances. In order to create a good low end sound in a venue, you are going to need a good subwoofer that has enough power and definition to move some serious air.
[su_highlight background="#fcfa8a"]Electro-Voice EV ELX118 on Amazon[/su_highlight]
Electro-Voice EV ELX118 is a good example of what kind of device gets the job done. This subwoofer was created to compliment several EV models, but it has a lot more to offer than just that. Our task today is to take a closer look at this brute, see how efficient it is, and what kind of performance you can expect to get from it.
An Overview
Getting some decent bass response on a budget is tough. Quality comes at a price, but sometimes you simply have to make due. Fortunately, there are companies out there who will get you the kind of performance you need within your financial capabilities. Does this mean that you are getting the best there is? No, but it does mean that you will get the job done in an acceptable way.
That is basically one way to describe Electro-Voice EV ELX118. It's a powerful subwoofer that has some range to it in terms of application and performance. It's not the most sophisticated piece of audio equipment, but it moves a lot of air and that is all that really matters at the end of the day.

  Features
What we have here is a rather large subwoofer that comes in a decent cabinet. Build quality is good, and can take the abuse that comes with transporting audio equipment on a regular basis. EV used 9-ply plywood to create a lightweight case that is still retains a lot of acoustic properties.
The only thing that really could have been done better is the finish. Some scratches are to be expected when you work with this type of equipment, but the finish on this subwoofer is so easily damaged it's ridiculous.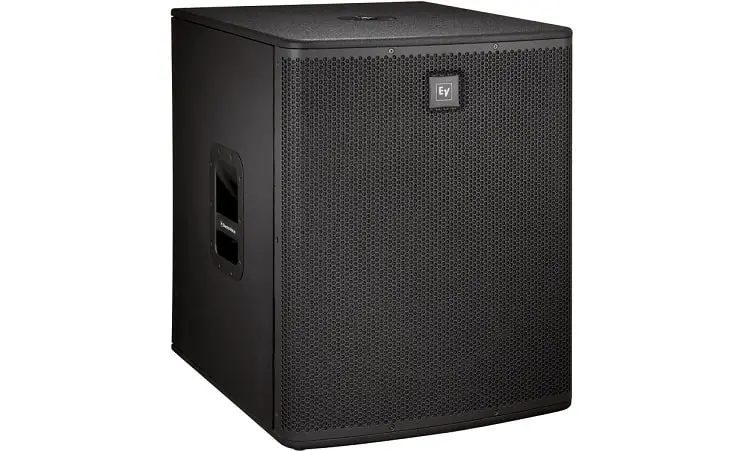 The overall design is pretty simple and practical. Handles that are installed on both sides of this subwoofer are relatively comfortable and are positioned low enough where you can control the center of mass with ease.
Electro-Voice EV ELX118 comes with an 18 inch speaker that has a frequency range from 50Hz to 200Hz. It's an omnidirectional design with the max measured SPL of 134dB. It's worth noticing that this is a passive unit that can handle 1600 Watts at peak, while 400 Watts is the median.
Max impedance is 6.7, which is pretty decent considering the price. Overall, the whole package seems minimal, but functional. It's the type of subwoofer you can work with no matter what your requirements are.

  Performance
Combined with adequate mains and a good amp, Electro-Voice EV ELX118 fits right into any setup. Since it has a somewhat limited frequency range, you would expect it to have issues with EQ adjustments. That is not the case with this subwoofer. It's actually pretty dynamic when it comes to sound shaping, while it manages to retain definition up until the point where you go into extremes.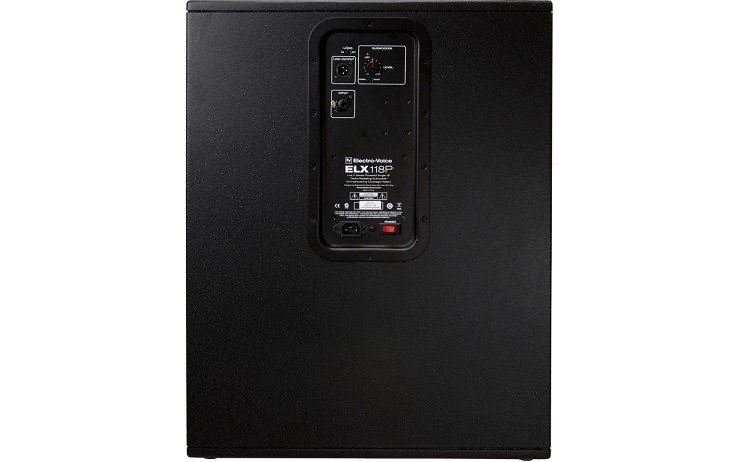 There is enough power in this unit to deliver a great low end in a variety of different venues. Small and medium spaces are not an issue. However, there are limitations.
At the end of the day, we are talking about a relatively inexpensive subwoofer that delivers a lot of power at an affordable price. This speaker is probably your best bang for the buck unit on the market.

  What we like
When you shop for audio equipment on a budget, the only thing that really matters is the core performance. This is something that Electro-Voice EV ELX118 delivers in abundance. It's not the most aesthetically pleasing thing out there, but it works and it works well. When your budget is tight, this is what you want to focus on.

  What we don't like
Certain tradeoffs are to be expected when you want great performance at an affordable price. In case of this subwoofer, it's the overall finish. The moment you even place something in contact with the case, you are going to start seeing scratches all over the place. Same goes for the grille. The paint is just too thin and is easily damaged. If this is something you can live with, Electro-Voice EV ELX118 is going to be a great addition to your setup.
Conclusion
Having a good bass output that can move a lot of air and retain definition can make or break a show. This is something that is definitely not easy to get right on a budget. When you are constrained by factors which are out of your control, having a company that can deliver a decent solution that fits your budget is a life saver.
[su_highlight background="#fcfa8a"]Electro-Voice EV ELX118 on Amazon[/su_highlight]
Electro-Voice may not offer the best audio equipment in the world, but they have established a very firm presence in the entry and mid level segment of the market. Electro-Voice EV ELX118 is all you need to understand why this is the case.
Whenever you go out to buy anything, your will always have a number of choices. There are things you need, and things you want to have. ELX118 is something that not many people generally dream about owning, but it gets the job done when you have no other options.
It's not a last resort option, and placing in that framework would be dishonest. It's an efficient tool that can give you what you need, with some tradeoffs, but ultimately well within the limits of what is acceptable. Whether or not this subwoofer will work for you depends on what your requirements are.
However, if you are on a budget, you should definitely check it out.