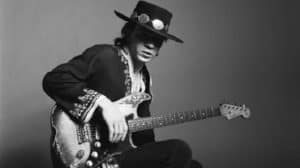 Steve Ray Vaughn was without a doubt one of the most talented guitar players to ever walk the earth. His style was pretty unique, and he gave us some of the best blues songs in history of music.
Like most famous guitar players, Steve Ray Vaughn had a very special guitar. It's no secret that Fender's Stratocaster is like made for blues and classic rock. Steve Ray Vaughn is one of numerous blues guitarists who chose the Strat as their guitar of choice. What makes his so special is the fact that he used it for the majority of his career.
When a guitar player achieves so much using just one guitar, he forms a very special bond with that instrument. They change what they don't like, and customize the guitar to a point where it becomes completely unique in the way it looks and sounds. This applies to Steve Ray Vaughn's Stratocaster that is now known as SRV Number 1.
Overview
SRV Number 1 was given to Steve Ray Vaughn by the owner of a music shop in Austin, Texas sometimes during the 1973. Ever since then, Steve used this guitar on all of his albums and most of the live performances.
[su_youtube url="https://www.youtube.com/watch?v=5rpn4Qc4WKw"]
While Vaughn claimed that Number 1 was a 1959 Stratocaster, it was later determined that the guitar was put together using '59, '62 and '63 components.

  Features
To an unsuspecting observer, SRB Number 1 may look like a complete mess. The body barely has any finish on it at all, while there are some deep scratches and all kinds of other damage. The pick guard has a similar look to it. Three big letters dominate the appearance of this guitar. The SRV printed on the pick guard will let you know whose guitar this was, and command respect from anyone in the room.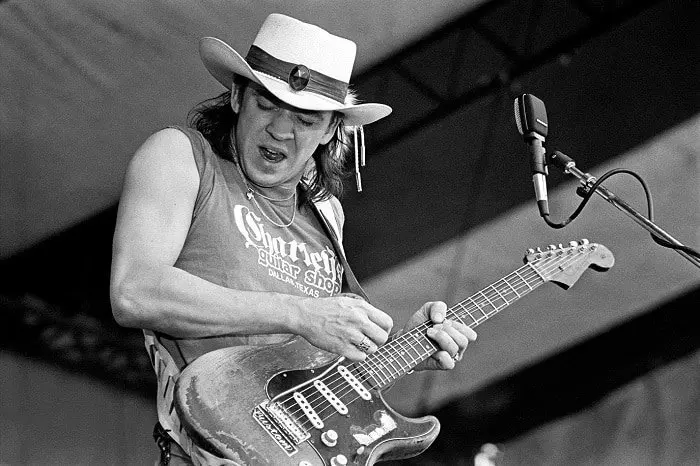 The neck is features a thick 'D' profile with a rosewood fretboard. The fretboard looks like it went through hell and back. Steve Ray Vaughn played this guitar so much and with such intensity that he had to refret numerous times. At one point it couldn't be refretted anymore. That tells you all you need to know about how much SRV loved his frankenstein Stratocaster.
One more interesting thing about the guitar is its tremolo bridge. If you look close enough you will see that it's a lefty tremolo that was inverted. Sometime during his career, Steve Ray Vaughn had to swap out the tremolo on SRV Number 1. First thing that he found was a left handed tremolo.
Even though it was not designed for a standard Strat, he liked it because it reminded him of Jimmy Hendrix, so he decided to install it on his guitar. Speaking of which, the guitar has seen many tremolo arms. SRV was known for breaking them on a regular basis.
  Sound
Just how unique this guitar sounds, you can find out by playing any of Steve Ray Vaughn's albums. Over the years it gained a very unique character as SRV modified and changed certain components. You could say it sounds warmer than a regular Stratocaster.
There are only a handful of people that can tell you exactly how the SRV Number 1 sounds in person. Even if you found a mint vintage '59-'63 Strat, you still wouldn't hear the exact sound like SRV Number 1 has to offer.
SRV Number 1 Replicas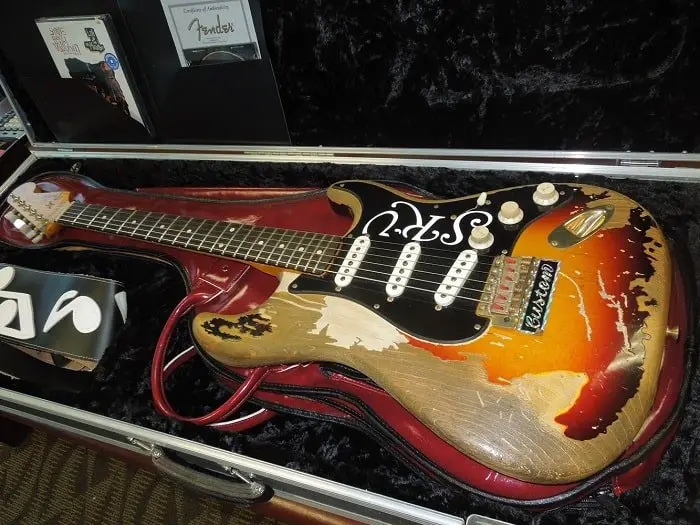 Back in 2003 Fender announced that they will be releasing a very limited production run of SRV Number 1 replica Stratocasters. These were all hand made by John Diaz of Fender Custom Shop, and they sold almost instantly. The asking price for one these days is around $50,000. That is five times the price Fender went with.
All in all..
In all essence, SRV Number 1 is probably the most unique and one of the most famous Fender Stratocasters on earth. Steve Ray Vaughn infused an otherwise completely worn out guitar with his own personal magic.
This guitar is also among the hardest to replicate. The amount of wear and the combination of components is near impossible to find these days. Now that Stevie is not with us anymore, SRV Number 1 is a big part of the legacy he left us with.