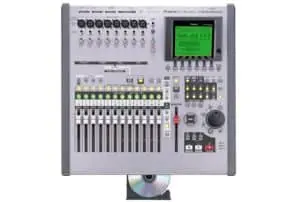 Studio workstations have always been the center piece of any recording studio. The evolution of the digital age has brought a lot of new features to this particular piece of gear, but most importantly, it allowed the manufacturers to make things a lot more compact.
One brand that took the lead in this area of the industry is Roland. Their Roland VS-2400CD was, and still is one of the most capable digital studio workstations you can get. It went out of production some time ago, but its performance is still very much relevant.

The purpose of a studio workstation is to finalize everything that has been done in order to record an album or a record. This is your final stage of production. With that said, the quality and capabilities of a studio workstation can have a serious impact on your work flow, and the type of results you will get in the end.
The topic of our article today is going to be the Roland model we have just mentioned. We are going to take a look at what it has to offer, and see why it is still relevant after all this time.
An Overview
Back in the day, having a 24 track recording was something that was strictly reserved for A rooms in large professional recording studios. The equipment that came with this feature was pretty expensive and bulky. Having that type of performance in the comfort of your home was something no one even imagined. However, the technology keeps evolving and things change over time.

Demo
Today we have digital studio workstations like this Roland VS-2400CD, which give you that 24 track recording capability and so much more. Best thing, you can put one or more in your bedroom.

  Features
The list of features for this particular model is pretty extensive. We are going to focus on the most important things for the sake of brevity. The overall design of Roland VS-2400CD is pretty clean and to the point. There are 13 motorized faders at the bottom of the console, which control up to 48 channels. This was achieved by having several buttons that allow you to select different layers of channels.
We already mentioned 24 track recording, which is the most important feature of this workstation. On top of that, you also have the 16 track simultaneous recording, and a variety of onboard effects .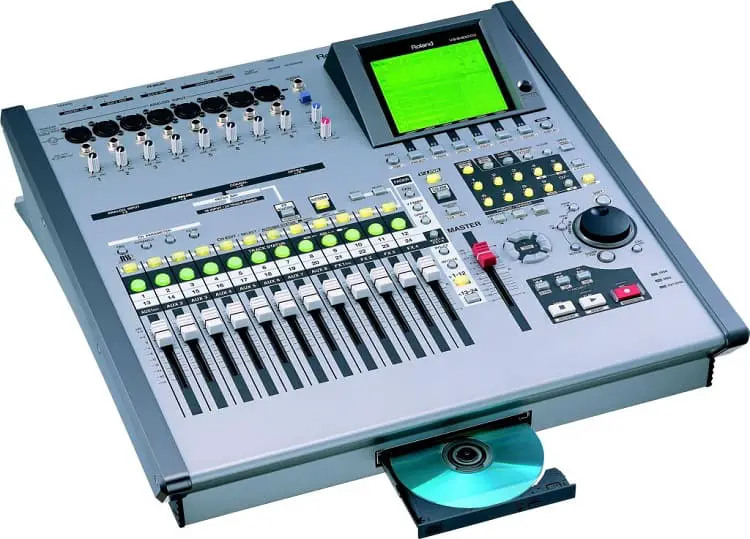 The LCD screen at the top of the unit is pretty big and designed in way that enables you to use this workstation as a stand-alone unit. On the other hand, you can connect a VGA monitor and have a much better overview of the software. In terms of file types, you can import.
WAV/AIFF and burn them directly on a CD or export them in .WAV format Also, there is an 8 channel R-BUS port if you need to extend the I/O capability.

  Performance
For a very long time, Roland VS-2400CD was the flagship model of the entire industry. This thing was compact, capable, and somewhat even affordable where every large studio found it cost effective.
The quality of performance was on a whole different level of its own. Just having a Roland VS-2400CD in your studio meant that your work flow was not limited in any way by your equipment. Multi tasking became the norm. The onboard COSM that is capable of speaker, microphone and guitar amp modeling just adds another layer of versatility to an already impressive platform.

  What we like
This was the most complex digital studio workstation you could get at one time, and it is still a pretty capable model. Everything about it screams quality, which is partially why it is still in use.

  What we don't like
As things usually go with older equipment, a lot of the features are outdated.
Conclusion
Roland VS-2400CD is one mean digital studio workstation. It used to dominate the industry back in the day when it was released, but its relevant value now is what shows its true quality.
You can get one of these at a very reasonable price, although you will have to turn to the used market since Roland VS-2400CD was discontinued quite some time ago.