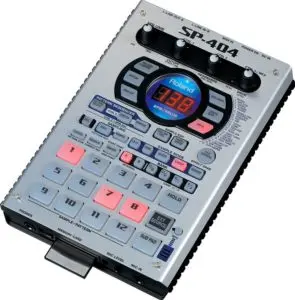 Roland is known for a whole variety of different musical equipment. Their electronic drum kits are probably the best in the world right now. Among this long list of great products are also some pretty obscure ones.
Samplers are not as popular as they used to be, that is for sure. The technology of digital audio workstations has made them almost completely obsolete. However, there are still people who appreciate dedicated standalone hardware, even for sampling.
Roland's SP303 was probably one of the best samplers on the market when it came out. That success was torch of success was supposed to be taken over by SP404, and taken to a new level. But did it actually happen?
>> Check Out Roland SP-404SX on Amazon <<
By all means Roland SP404 is a capable modern sampler that came packed with all kinds of features. They stepped outside of what defines a sampler, and made the SP404 a bit more flexible in terms of its abilities. All of this gave the SP404 a very noticeable head start over the competition.
However, the question that was on everyone's mind back then when it first came out was whether or not SP404 is just a repackaged SP303? Today we are going to take a closer look at this sampler, and try to find out the answer to that question.
Overview
Roland SP404 is a very DJ friendly sampler that was meant to be used on a set more than in a studio. Its form will tell you that right away. Compared to other samplers, this one wasn't really falling withing the brackets of what was considered standard.
[su_youtube url="https://www.youtube.com/watch?v=xYIjzUFt3vg"]
Roland's ambition to deliver a more evolved product led them to include new features that you just don't find in samplers, but also ignore some very important features as well. The logic behind such a decision is not really known, even to this day.

  Features
Once you get the box with your Roland SP404 in it and unpack it, you will be greeted by a very aesthetic piece of equipment. The case is made of high quality metal, and definitely inspires confidence when you handle the device.
The main controls are found on the top panel. Layout of these controls is somewhat unusual for a sampler, and definitely looks more like a drum machine.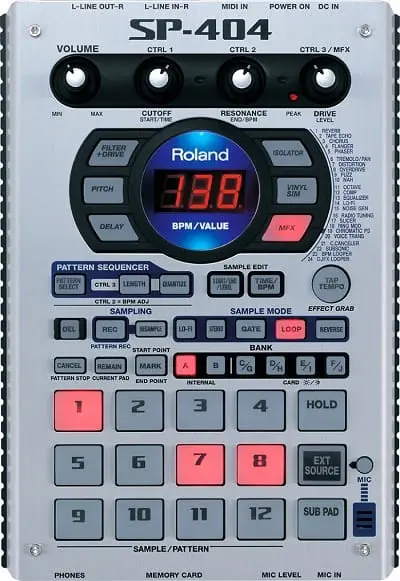 There are three main control clusters on the control panel. On the very top, you will find the effects controls that feature four knobs. These allow you to adjust volume, cutoff, resonance and drive.
Underneath those, there is a decently sized LCD display surrounded by six buttons. This section is what you use to select different effects and other parameters that impact the sample.
Next group of controls is very interesting. Roland SP404 comes with a pretty basic sequencer. It allows you to create pattern using the samples you have selected, although it is not too complex.
This sequencer is partially what gave the SP404 the edge over the competition. Next come the sampling controls which are pretty standard, lastly you have 12 large trigger pads on the bottom of the interface panel that you use to call different samples.

  Performance
Everything on Roland SP404 works pretty much flawlessly. There are three ways you can sample audio with this unit. The primary way is to use the line in, and connect some kind of media device to the SP404. This can be your MP3, CD player, deck or whatever you choose.
The other two ways mean using a microphone. Roland SP404 comes with an integrated mic that works decently enough, although you can always use a third party one and connect it to a mic input on the back of the panel.

Sample time you can expect from this sampler is 10 minutes at low resolution, and 5 minutes on high resolution. As you probably figured out by now, that's not a whole lot. Luckily, SP404 comes with an expansion slot that allows you to increase the sampling time to 386 minutes.
There are eight sample libraries that you can use with the expansion memory card, and two that work with internal memory. Each of the banks can hold up to 12 samples which can be called up using the 12 trigger pads we mentioned earlier.
The sequencer that comes with this sampler is pretty basic, but definitely works. You will be limited by the few controls it offers. It's not the most capable thing out there, but just having it is definitely nice.
Using and controlling effects is a breeze. With the LCD screen and four effects knobs, you can quickly and efficiently control the parameters of the effects you applied to the samples. Having said that, the same principle applies to the whole unit. Once you figure out how everything works, especially the sequencer, you will be able to see the full potential of this unit.

  What we like
Roland SP404 definitely brings a lot of good qualities to the table. It is not your regular sampler, that is for sure. However this is a virtue rather than a flaw. The whole unit is well made, and gives you that feeling of using a quality piece of equipment.
The sequencer, no matter how basic it is, or how frustrating it can be to use sometimes, is a big plus. Roland took all the good things a sampler should have, and added a few more for good measure. We can always appreciate that kind of approach.

  What we don't like
We gave a lot of praise to SP404, now it is time to address some things that definitely could have been done differently. First and foremost, even though it brings a lot of great features, Roland SP404 is not all that different from its predecessor, the SP303.
The core performance is too similar to consider the SP404 a legitimate evolution in this model's lineup. Another thing that needs to be addressed is the fact that Roland decided not to include a USB port on this sampler.
In this day and age, being able to connect your equipment to a computer, especially a sampler, is a must have feature. Why they chose not to do so is unknown.
Conclusion
Roland SP404 belongs to a dying breed of audio devices. Despite that fact, it shows that samplers in general are still useful. This is especially true when they offer more than just the ability to sample sounds. Roland was on the right track with the SP404, even though they dropped the ball in some aspects.
>> Check Out Roland SP-404SX on Amazon <<
Was it worth upgrading from SP303? In all honesty, probably not. However, for those who didn't have a sampler and wanted to get one, SP404 was the best option on the market by a significant margin.
Roland has since discontinued the production of SP404. A new model took its place and pushed this brand to a new level. Even so, SP404 is still very much a capable sampler that has a lot to offer to anyone who needs flexibility and quality.
If you can forgive it its shortcomings, this unit will serve you well no matter what kind of application you have in mind for it.