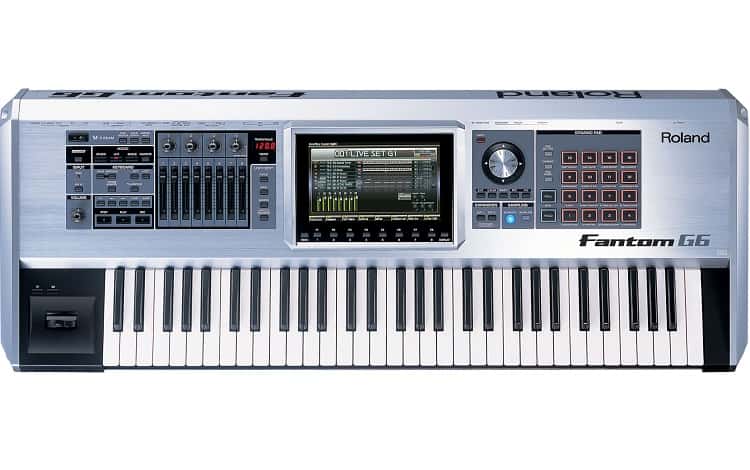 Roland's impact in the music industry is pretty significant. They became involved with digital instruments pretty much as soon as this became possible.
These days Roland is one of the largest and most respected manufacturers of keyboards, electronic drum kits, and other digital instruments.
With that said, they are constantly pushing the limits of the industry with new technologies and unique approaches to solving common problems. Because of this, Roland's products are usually found on top of any list in their respective segments of the industry.
When it comes to keyboards in particular, Roland has a very extensive range to offer. They make anything from entry level models to professional keyboards that are used by some of the most popular artists of today.
Our job today is to take a closer look at this model and see what kind of features it has to offer, and what makes it better than the competition. With that said..
let's get right in the thick of it.
Keyboards are one type of electronic instruments that has numerous sub categories. Even though to someone who isn't familiar with this instrument, all keyboards look the same, the truth is completely different. The distinction between various types of keyboards is pretty significant and obvious.We are talking various specialized features, sound engines, types of keys they use and so much more.
Workstation keyboards are generally considered to be among the most complex types of keyboards you can get. Their purpose is to offer a wide array of features and options, which makes them useful in a variety of applications. These are the keyboards you will usually find on stage or in a studio. Fantom G6 belongs to this category, and is one of the best models available.

  Features
Workstation keyboards are known to be very feature heavy in general. Fantom G6 definitely follows that recipe and offers a large variety of well implemented features that every professional keyboard player will appreciate. The keyboard itself comes in a nice case that sports a brushed aluminum texture.
Right above the keys you will find a decently large LCD display that allows you to navigate the software end of the business. The screen is a color unit, and working with it feels like using a tablet. On either side of the LCD screen are large control clusters with a multitude of buttons, knobs and faders.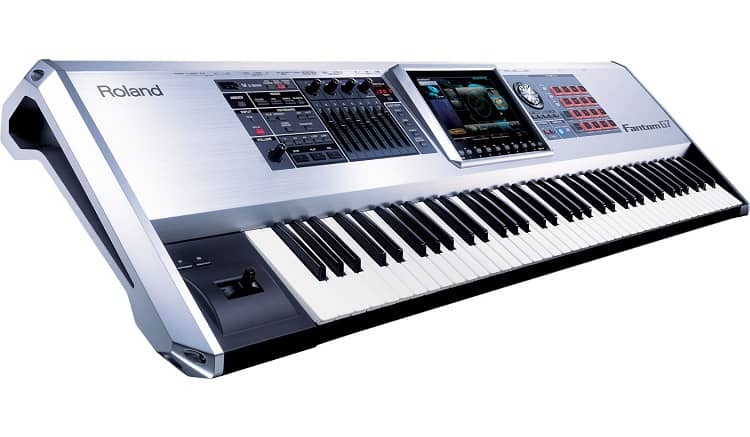 The core of this model is a very refined and powerful sound engine that was based on their XV5080 module. Needless to say, it's a powerful configuration. Roland used their SuperNATURAL technology with the brand new ARX expansion to bring Fantom G6 to a whole new level of sound quality.
On top of that, this keyboard packs one of the largest and most diverse preset libraries you can get at the moment. We are talking 1664 patches, some 75 rhythm sets, 512 live sets, and 128 studio sets. On top of all that, you have a lot of memory for your own creations.
Fantom G6 comes with a pretty decent sampling section. Sampling frequency it supports is 44.1kHz and you can record about 360 seconds of mono and some 180 of stereo with factory memory. If you decide to add a DIMM, you can record 108 minutes of mono and 54 minutes of stereo.
Aside from the sampler, there is also a sequencer station with a very extensive number of options at your disposal. But wait, there's more. Fantom G6 comes with an arpeggiater, chord memory, great selection of effects and so much more.

  Performance
In terms of performance, Fantom G6 packs a pretty powerful punch. The quality of sound is impressive, and that is not limited to just several presets. Almost every single one in the library sounds great. The only thing that Roland could have done better is to allow preset importing.
At the moment, you can only import .wav files. However, with such an extensive library, this isn't really much of an issue. There are so many voices to choose from that you are guaranteed to be kept busy for a long time.
The keys feel great. These belong to Roland's PHA II Ivory Feel series, and are generally considered to be one of the best in their class. You have all the sensitivity and velocity properties you would want.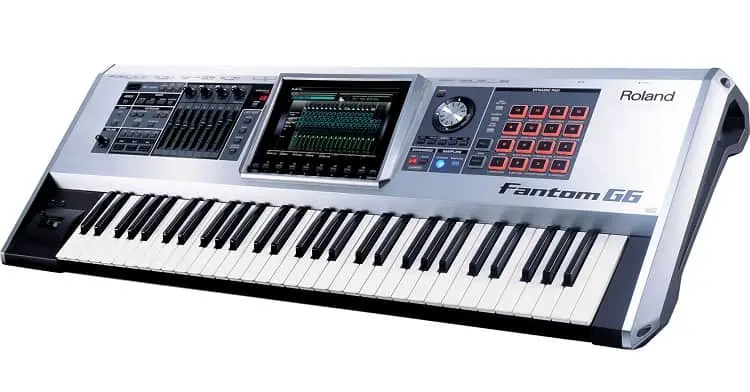 All the features on Fantom G6 are very well balanced and work good enough for you to use this keyboard for professional work. The sampler is pretty generous, although you would probably need to expand the memory if you really want to use the full potential it has to offer. The situation is similar with the sequencer and other features that are available.

  What we like
For a workstation, Roland completely hit the nail on the head with the amount and selection of features they deliver with Fantom G6. On top of that, they didn't ignore the core elements which define every single keyboard out there. Great sound engine combined with quality hardware makes Fantom G6 a true performer.

  What we don't like
The only thing that really doesn't make any sense is the fact that you can't import third party samples or libraries. Importing WAV files is possible, along with AIFF format, but if you want to import whole libraries you are out of luck.
All in all
Fantom G6 is definitely the Swiss army knife in Roland's range. The quality of every component on this keyboard is great. It is a jack of all trades that offers very decent performance across the range. One of the main issues workstation keyboards have is the fact that sometimes they try to do everything perfectly, only to achieve the opposite effect.
That is not really a problem with this Roland. The performance is well balanced, making every of the numerous features pretty useable. Whether you are a professional musician who needs a good stage instrument, or a music producer looking for a workhorse keyboard, Fantom G6 will get the job done.