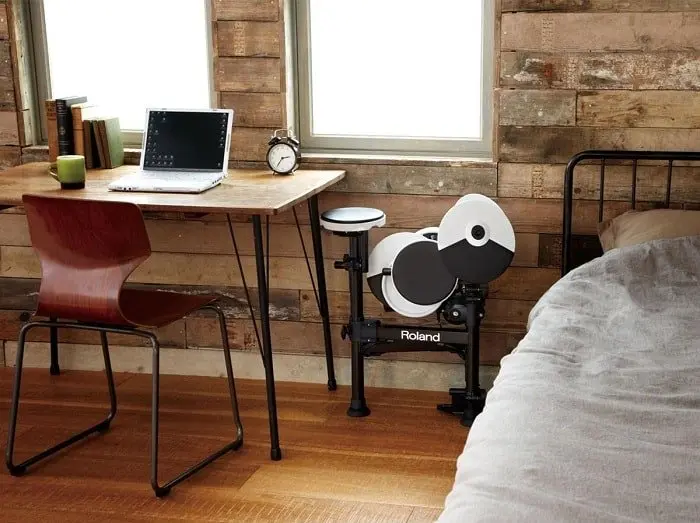 When electronic drum kits first appeared, most of the drum community labeled it as a fad. Something that will be popular for a short while only to fade away quickly.
Those who were in that camp were proven wrong. One of the few companies who spearheaded the design and development of electronic drum kits was Roland. They have always been on the very edge of this technology, which explains why they are the ones who offer the most advanced electronic kits today.
If we look the these modern instruments, their original purpose was to allow drummers to practice at home without having to build a quiet room. It's definitely not easy to silence a decent drum kit, no matter how much sound isolation you apply. Electronic drum kits solved this issue in a very practical way.
>> Check Out Current Price On Amazon <<
Sure, the sound you were getting wasn't on par with an acoustic set, but they could mimic the feel of an acoustic drum set completely. You could have a practice session in the library during a rush hour, and no one would be any wiser.
Today Roland makes some pretty impressive electronic drum kits. Their line of these instruments includes professional level sets that can easily be used on stage, and which offer an unprecedented level of sound accuracy.
[su_youtube url="https://www.youtube.com/watch?v=RpztJIEWKnA"]
However, they also have smaller sets that were specifically designed for practicing. Roland TD4KP is one such set, and to day we are going to take a closer look at what this model has to offer.
An Overview
When Roland's engineers were working on designing this kit, they had mobility and ease of use in mind. What makes this electronic drum kit so great is the fact that you can fold it up in a very compact package. This allows you to store it easily, and more importantly, transport it more easily.
Other electronic drum sets have pretty robust stands that are tricky to disassemble and assemble. Mostly because all the cables that connect different parts of the drum kit run through these metal pipes. TD4KP solves this problem in a very elegant way, allowing its users to carry transport the kit with little to no effort.

  Features
Roland TD4KP is a relatively small kit compared to other electronic drum sets. The main difference that is noticeable right away is the rack they used for this model.
It's not your standard design, but rather a unique one that allows you to fold this kit up into a very compact package. You can literally take the TD4KP with you to band practice, on a trip, or wherever you want really. It's that mobile.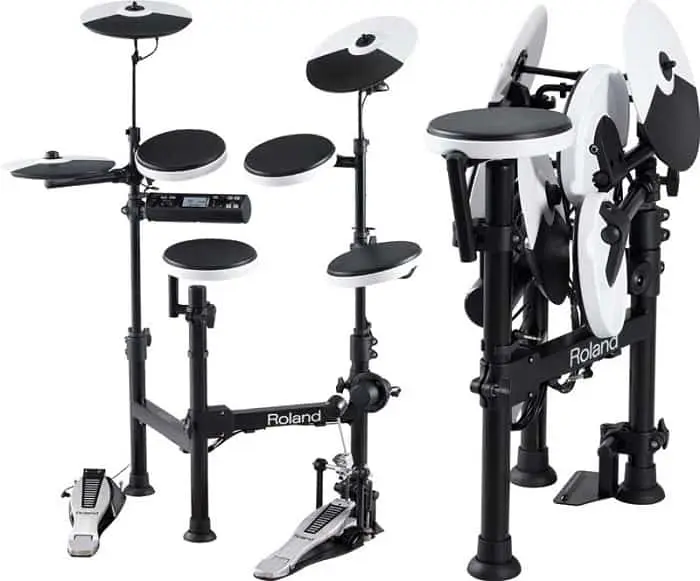 When it comes to pads that are available, there are four drum pads, three cymbal pads, a hi-hat pad and a small kick pad. Nothing extravagant, but a very practical setup. The pads can be exchanged for Roland's trademark mesh-head pads that you can find on their more expensive sets.
What runs this kit is a single TD-4 percussion sound module. It comes with a pretty decent sound engine that is loaded with expressive sounds and samples. The module is quite simple, easy to navigate, and overall pretty intuitive to use. It comes with the Coach feature which is a tool that can help you practice in a more efficient way.
There's quick record/play functions along with several other things. Overall the TD-4 percussion sound module is decent. It's not something that will blow your mind with some advanced features, but it does what it is made to do well.

  Performance
If you don't forget what this electronic drum kit was made to do, you will be more than satisfied with its performance. Remember, it's a highly portable electronic drum kit that is made for practice first and foremost. If you expect to experience a TD-30KV type performance, you are barking at the wrong tree. This is a kit in a category of its own.
Roland obviously sacrificed a lot in order to make this kit so mobile. There is no expansion options, and the layout of the kit may come across as bunched up. However that is the price you have to pay for increased mobility, which we are fine with. Once you set everything up and turn the TD4KP on, the show begins.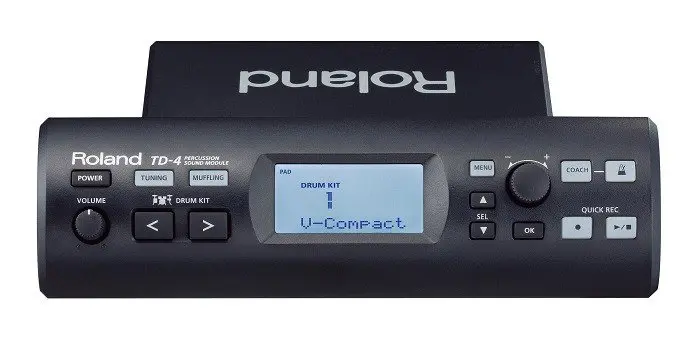 The samples that come with the TD-4 module are decent to say the least. If you are afraid of cheap, digital sounding samples, don't be. Of course it wont sound like an acoustic set, but it's pretty decent for what it is. You can actually use it for a stage performance if you had no other option.
The sound engine also allows you to shape the samples a little, so you can adapt them to your taste. The level of control is not too extensive, but you can definitely iron out the sounds of this kit to your liking.
What's most important is that there is no latency. The triggering on this kit is on point every time. What will take some getting used to are the basic pads that come standard with the kit. They don't feel quite like an acoustic set, and you will have to spend some time getting to know how they bounce.

  What we like
We finally have a fully portable electronic drum kit that is ready to go in matter of minutes. Roland TD4KP is compact, easy to use, and most importantly able to deliver a good sound. Sure, it comes with a limited package of features, but the core performance is there and it is impressive.

  What we don't like
The layout of the kit is somewhat bunched up too closely. This may take some getting used to. The pads have unique bounce to them, so expect to have an adjustment period if you plan on using this drum kit. Other than that we really can't find any flaws with this electronic drum kit.
Conclusion
Roland keeps delivering incredible electronic drum kits time after time. It's no wonder why they are the leading brand in this niche industry. The TD4KP is a great example of quality built and innovative engineering.
>> Check Out Current Price On Amazon <<
If you are in need of a mobile and compact electronic drum kit, there is probably no better option on the market at this point.