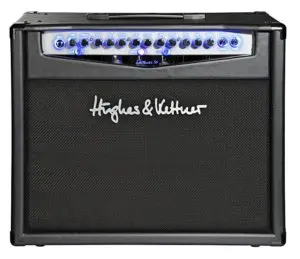 Following the rise of popularity of small and portable tube amps, Hughes & Kettner went on and designed one of their own. The name of the amp is TubeMeister 36 Combo, and it packs a big punch.
Everything started with TubeMeister 18 amp head, which quickly became very popular among those who appreciated a good tube sound. TubeMeister 36 Combo came as an extension of this range and it was greeted with the same enthusiasm as its predecessor.

Hughes & Kettner amps are definitely not cheap. Just about anything this company produces comes with a decent price tag. That includes the TubeMeister 36. It's not your standard low power affordable tube amp. It's much more than that.
>> Check Out Current Price & Customer Reviews On Amazon <<
Hughes & Kettner are one of those brands which deliver what you paid for, and often times even more than that. Today we are going to see why this policy is awesome, and why this brand is in such a high regard.
An Overview
If you have been following the amp market, you probably saw the vast amount of small tube amps which all try to capture that vintage aesthetic. Some pulled it off, others not so much.
[su_youtube url="https://www.youtube.com/watch?v=4DO9x1bxrRM" width="440″ height="260″][/su_youtube]
TubeMeister 36 Combo is definitely not one of those amps. On the contrary, its design screams modern from the moment you first lay your eyes on it.
In all honesty, this is a breath of fresh air.

  Features
The amps appearance is rather simple, at least at a first glance. The whole box is black, including the corner guards and front mesh. The only thing which are not black are the Hughes & Kettner logo on the front and the control cluster plate. Those come in brushed aluminum.
As its name states, this is a 36 Watt combo which uses four EL84 tubes in the preamp stage, and three 12AX7 tubes in the power stage.

There is power attenuation available, so you can choose to limit the power output to one, five, 18 and 36 Watts. The speaker tasked with delivering the sound is single 12-inch Celestion Vintage 30.

There are three channels on this amp, each with its own dedicated three-band EQ. These include clean, crunch and lead. There is also great FX loop integration, along with MIDI support which allows you to control the tube and use various devices with it. One of the best things about the TubeMeister lineup are the glowing controls. Once you flip that on switch, the whole panel goes bright blue.

  Performance
The sound of this amp is great to say the least. Cleans are crisp as only tube amps can make them, with a very punchy nature. Once you go to the crunch channel, you will experience that typical vintage British tone. Lead channel is a bit more aggressive, but very well-defined.
The range of tones you can dial in is very wide. Anything from a slightly fuzzy blues overdrive, to a more saturated distortion can be achieved with nothing but the controls found on the amp.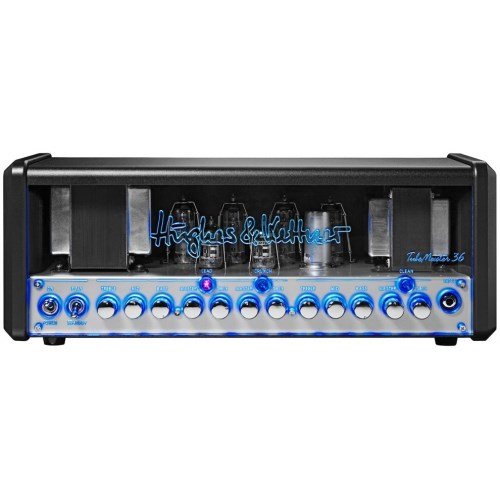 Speaking of which, everything is pretty much intuitive. Each channel has its own EQ section, which makes it a lot more versatile. These amps come with something called [su_highlight]TSC[/su_highlight]. This is basically a safety feature which monitors the state of the tubes, and prevents them from being overloaded. Pretty neat addition to an already impressive amp.

  What we like
TubeMeister 36 Combo is compact tube amp taken to a whole different level. The tone is there, but so are the advanced features you rarely see on the market. The fact that you have MIDI support makes this package even more attractive.

  What we don't like
There isn't a single flaw in this amp aside from its price. TubeMeister 36 Combo is not cheap, but then again you get what you pay for.
Final thoughts
Hughes & Kettner are masters when it comes to creating amps unique amps. TubeMeister 36 Combo doesn't only deliver a great quality of sound, but it also packs a whole bunch of features you won't find elsewhere.
>> Check Out Current Price & Customer Reviews On Amazon <<
It is expensive, but the high price is more than justified in this case. The range of applications this tube amp is suitable for is wide. Anything from home use to studio recording is more than possible with TubeMeister 36.