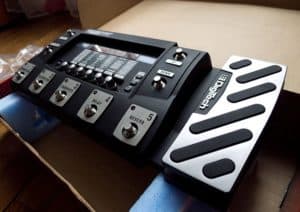 When modeling amps became mainstream, the technology didn't only impact amplifiers, it also spawned a whole new category of effects devices.
Back then owning a decent effects pedal chain was still pricey, and many people couldn't afford to spend that kind of money.
The answer to this problem appeared in form of effects processors which offered an affordable and practical way of accessing different distortions and effects. These units were fairly cheap which helped them burst in popularity in a very short time frame.
Today the situation is much different. The meta of guitar effects has returned to effects pedals as individual devices, and effects processors are largely ignored.
>> DigiTech RP500 – Check it on Amazon<<
However these devices didn't sit on the side lines doing nothing. They have also evolved. The one we are going to talk about today is one such effects processor that has a lot to offer.
Overview
[su_youtube url="https://www.youtube.com/watch?v=mC02w2-rtyw"]
There are guitar players who know exactly what they want, and there are those who like to experiment with sound. Belonging to the latter is hard if you don't have disposable income to cover for all of your interests. If that's the case, devices like RP500 offer a great way to bridge this issue.
Yes, it is a digital multi-tool. You could even compare it to having hundreds of VSTs in a standalone box, but it does the job.

  Features
When you first look at RP500, it may appear somewhat intimidating. It comes in a sturdy enclosure that is designed to be stomped on repeatedly. The layout of this processor is similar to that found on older devices of this type. You have an expression pedal to the far right of the unit that allows you to control anyone of numerous effects.
The main control panel consists of five stomp switches in the bottom row that mimic a pedalboard. You have a compression, distortion, chorus/fx, delay and reverb switches that activate their respective channels.
Above this cluster is an LCD display surrounded by a set of buttons and two pairs of secondary stomp switches which are all used to either select or control the presets available on this unit.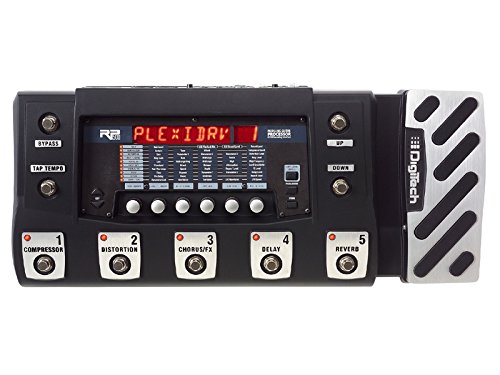 Speaking of which, there's many of them. You get to choose between 40 tone and 40 effects libraries. There are 200 presets available that you can program if you wish to. In terms of amp and stompbox emulation, there are over 120 models of amps and various effects to choose from.
Basically you have a all-in-one pedalboard that allows you to select different virtual effects pedals. With such an extensive library to play with, you can pretty much create endless combinations of various amps, distortions and effects.
Aside from all the effects, one of the great features of RP500 is the 20 second looper that allows you to select one set of presets, play a section you want to loop, and then select a completely different set of presets and overdub the original section.
One of the great things about this unit is the fact hat it acts as an audio interface. It allows you to plug it directly into your computer, and even comes with a copy of Cubase LE4 Music Production Software. So not only can you shape a great sound on the budget, but you can also record your guitars at home with this unit.

  Performance
In terms of performance DigiTech RP500 is a very comfortable processor. That is once you get a hang of how things work. The layout makes it very intuitive to use. It's almost like a regular pedalboard only in this case you have a display above it that allows you to change out the pedals. Stomp switches are high quality, which is a must for a device like this. They perform well and feel like they can take a lot of abuse.

The sound you get with different presets is digital, but the good kind of digital. Various distortions sound organic to a point where it's hard to distinguish if you're using something like RP500 or a dedicated stompbox.
Effects such as delay are decent as well, and don't sound artificial which is something you can expect from an effects processor. In all honesty we think RP500 does a good job at recreating all of the effects it offers. However the purist guitar players will definitely notice the difference. If this bothers you, and you simply must have the best sound gear, this processor is not for you.
Using this thing right out of the box is borderline impossible. You just have to take an hour or so to get familiarized with the layout and how the whole thing works. There are simply to many options. Chances are there will be days before you fine tune your own sound.
So if you wanted to take purchase this processor and head straight to your next gig, we would advise you to adjust your schedule accordingly.

  What we like
There's a lot to appreciate about RP500. It's a very flexible device full of potential that allows you to achieve just about any kind of sound you want, all while giving you the ability to record music on your computer.
It's somewhat complicated to figure out, but once you do it becomes a powerful tool. DigiTech RP500 is a perfect solution for those who don't want to commit to a full blown pedalboard just yet, but also need the flexibility of such setup.

  What we don't like
The complexity of this processor is not necessarily a flaw, but it does make using it that much more difficult. The manual that comes with it is pretty thick, which tells you that you will be spending days finding out new features and options on this processor.
For those that are not tech savvy, this might prove to be a nightmare. With that said, we can't fault DigiTech for this as being complex comes with the nature of effects processors in general.
Quality of sound you get is another thing that might irk some people. While it does a great job at reducing that digital signature, RP500 won't be able to give you the sound of fine analog effects pedals. If you have high standards in terms of sound, this processor will probably disappoint you.
Conclusion
At the end of the day, DigiTech RP500 is a great option considering its intended use and target audience. It brings the flexibility of a pedalboard in a single affordable package. This is something many people will appreciate and find useful.