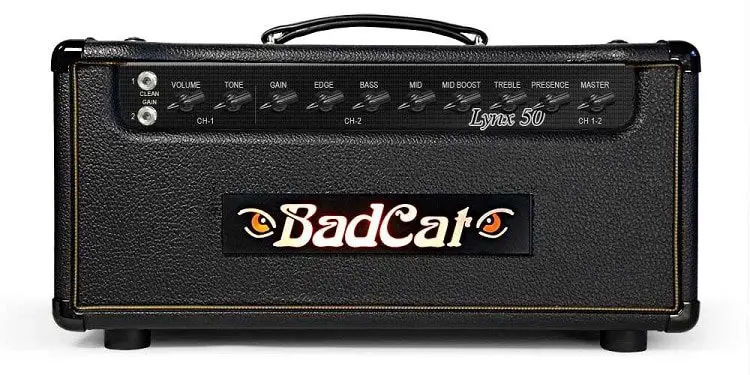 Tube amps are back in style, and have been for quite some time now. The only difference is that these days it's all about compact tube amps.
Powerful big rigs are not that common anymore, at least not in the consumer segment of the market. In modern day and age, it's all about having a relatively low power authentic tube amp that is capable of delivering some good tones.
If there is one company which understands what the market wants, it's the Bad Cat. These guys are not only capable of delivering a perfectly balanced tube amp that steamrolls over anything the competition has to offer, but they do it in style as well.
If you want versatile amps, Bad Cat is who you need to call. One of their more impressive offerings in the recent years is the Bad Cat Lynx. This mean little amp head packs a big punch. Our job today is to take a closer look at this amp and show you what exactly makes it so awesome.
What makes it so Awesome !
Whether or not Bad Cat is a boutique amp manufacturer or not is up for discussion. The fact is that they have a decent production capability, but they also offer a lot of things boutique shops often do. We are talking about you being able to choose which finish you want in detail.
[su_youtube url="https://www.youtube.com/watch?v=BI_WsWg5rXw"][su_youtube][/su_youtube]
Meaning that not only can you decide the color of the amp, but you can also pick the color of detailing and other minor things. Aside from this, Bad Cat also delivers the boutique amp level of perfection. All of this can be seen in the Bad Cat Lynx.

  Features
Bad Cat Lynx is a pretty compact amp head. Its exterior design is reminiscent of the vintage tube amps, and it's mostly covered in black vinyl. At least the default version is. Just like we mentioned earlier, you can pick and choose the materials for yourself.

Under the hood you will find a set of two EL34 power tubes, and two 12AX7 pre-amp tubes. Each 12AX7 is dedicated to one channel. Combined, these are capable of delivering 50 Watts of power through a Class A configuration.
In terms of controls, you are looking a two channel setup that comes with a bit of flexibility. For channel one, you have volume and tone knobs, while channel two comes with the gain, edge knobs, a four-band EQ with the addition of mid boost, and presence control knob. Finally there is a master volume knob. This amp can deliver 50 Watts, but it can be attenuated to 30 Watts as well.


  Performance
When it comes down to performance, Bad Cat Lynx is one of Bad Cat's most aggressive models. The tone is pure bliss, and is often cited as one of the best EL34 amps on the market. Clean channel is very crisp and defined, while the overdrive simply packs a mean punch.
It is quality distortion all around, which you can use for more aggressive genres of music, while you can also roll down on the volume and get that refined bluesy growl. In all essence, the performance you get from this kitty is top tier stuff.

  What we like
The versatility you are presented with is something that is rarely found on the market today. Bad Cat went above and beyond to give us the best user experience possible. Tone of this amp is just impressive, no matter how you look at it.

  What we don't like
There is nothing we could find as a flaw on this thing. It is just that good. Finding an amp that brings a similar type of performance won't be easy.
To conclude
There is a good reason why Bad Cat is regarded as one of the best amplifier manufacturers of today. Their dedication to quality is worthy of respect. Bad Cat Lynx is a perfect example of what they are capable of delivering, and what kind of tone you can achieve with tubes.
Some purists might not like the color of their tone, but that is a topic for another time. What is important is that Bad Cat Lynx rocks, and it rocks hard.