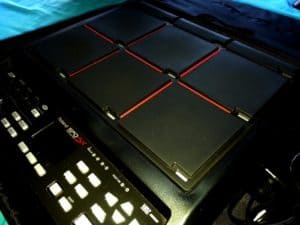 The evolution of technology has greatly impacted the world of music. Even the most conservative instruments such as drums have been touched by this new wave of improvement.
First we saw electronic drum kits and everyone said they will never be on a level that is even close to a good old acoustic set. Needless to say, that changed.
Now we are seeing introduction of different devices that are also spearheading change in the drumming world. Roland SPDSX sampling pad is just one such device that is quickly gathering momentum.
What Roland achieved with this device is to merge two different worlds. SPDSX is not just another electronic pad, it's much more than that. This is a sampling machine that is both powerful and simple at the same time.
>> Check Out Current Price On Amazon <<
It's a force multiplier for drummers who need to be on the very edge of the industry. It is meant for those who have transcended the capability of their acoustic sets, and need something that will get them through the rest of the way.
An Overview
As soon as you unwrap this thing from its packaging, you realize that it's a quality product. There's no cut corners. Engineers at Roland kept everything very simple and intuitive when they were designing this sampling pad, without cluttering it with unnecessary features or aesthetic details.[su_youtube url="https://www.youtube.com/watch?v=KrEEP6_DAjc"]
It's a spartan device in the best sense of the word, however it is also a force multiplier.

  Features
When you look at the SPDSX, you will see two main control clusters. The playing surface is dominating the view with six large pads and three shoulder pads that are located on the top edge of the device. These are divided into a grid with red bars between each of the main six pads.
This makes them very easy to recognize and play in a darker environment. Each pad has a dedicated LED light that illuminate when the pad is struck. One cool thing about these LEDs is that their intensity is directly connected to the volume of the sample you are playing.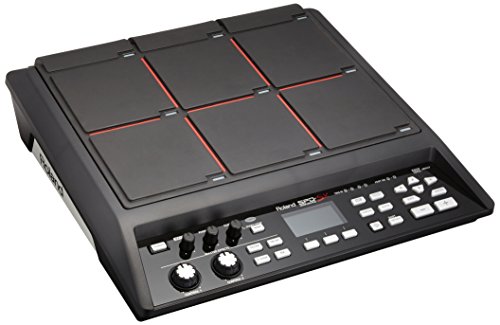 Bellow the pads you will find your main control panel. The center piece of this section is the LCD display that you use for navigation. On the left side of the display you will see three volume knobs that control master volume, headphone output, and click levels.
LCD screen uses three main soft buttons to quickly access different features of this device. Depending on which screen you are on, you can use these buttons to access different parameters that aren't easily accessible through the navigation system. On the far right you will find you main navigation controls with arrow buttons, enter/exit buttons and -/+ buttons.
Roland SPDSX comes with 100 preset slots, of which only 16 are populated. This may come across as odd, but keep in mind that the main purpose of this device is to actually record samples of your own and use them. The 16 presets are mainly loops that don't have much to do with drums.
The back panel is divided into several clusters of different I/O types. You have your USB section that allows you to connect the SPDSX with your computer or a flash drive. Right next to it is the DC in for power followed by MIDI in and out.
Audio in section has your standard audio in/out along with a subsection that allows you to push out different samples on a separate line. There's headphone out and an array of trigger inputs.

  Performance
Using the Roland SPDSX is a dream. Everything is so intuitive starting from the layout of the pads. They are easy to find even in darker environments, and those dedicated LEDs really help out.
The pads themselves are not too rigid or too soft. When you strike them, they have a pretty decent bounce. There's an impressive level of control with each pad. You can change anything from dynamics, type of triggering and more in addition to the regular volume/panning.

Sampling with this device is made so easy. Once you press the Sampling button on the control panel, you are taken to a screen which allows you to choose from six sampling modes. The basic mode allows you to record a sample just by pressing the two soft keys under the screen, one to start and one to stop the recording.
You can adjust input levels, and play with different parameters before simply assigning the sample to a specific pad. Multi sampling mode allows you to record samples to multiple pads in a quick and easy way.
All you have to do is play the source file, and once a section you want to sample starts, just hit the pad you want to assign it to. Hitting the next pad will start the sampling process for that specific pad, and so on.
You can basically sample the whole song onto different pads using this mode. It might sound confusing, but the whole process is pretty easy.

  What we like
There's so much potential in this device. The level of control is impressive even though we only went into basics. Roland SPDSX is easy to use, intuitive, and a true force multiplier for any drummer who needs more than their acoustic set can offer.

  What we don't like
There is absolutely nothing we can find to be a flaw on this sampling pad. Roland did their homework and listened to what their users wanted to see in a device like this one.
Conclusion
Roland SPDSX sampling pad is an impressive device. There is nothing quite like it on the market at this time. It gives the user so much control and so much creative freedom. We would definitely like to see more devices such as the SPDSX hit the market.
>> Check Out Current Price On Amazon <<
Purists will always find the reason to be against electronic aids when it comes to drumming, but even the most conservative users will quickly recognize the potential that a device such as Roland SPDSX brings to the table.