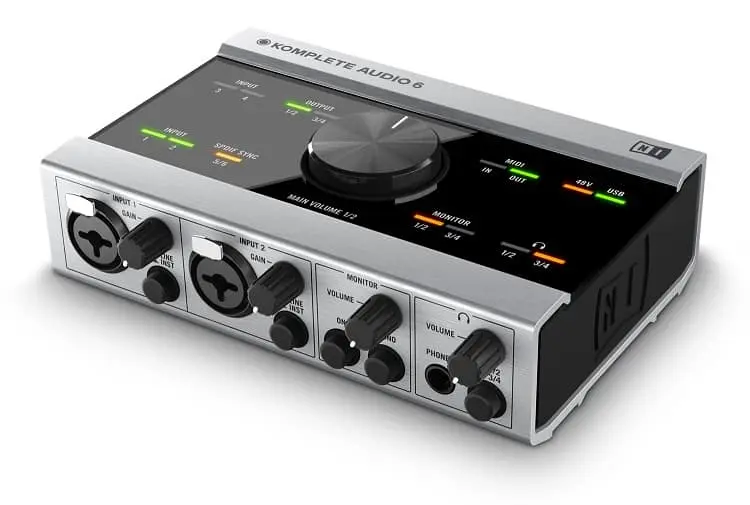 Native Instruments is one of those companies who not only deliver great products, but also know how to make those products attractive.
Komplete Audio 6 Interface seems like your regular audio interface at a first glace, however once you start looking at it closely, you will see that's not the case.
Generally, audio interface devices are mostly used in home setups. We are talking about home recording studios whose owners are in search of a reliable way to record instruments and vocals directly to their computers.
>> Check Out Current Price & Customer Reviews On Amazon <<
There are many ways this can be done. Testament to that is the abundance of various audio interface devices on the market. How good the quality of the recording will be depends on which device you go for. Some are great, others not so much.
Komplete Audio 6 Interface from Native Instruments is definitely in the top 5 products in its category. Let's take a closer look and see what this bad boy can do.
Audio interface devices – Stands out
Compared to other audio interface devices, Komplete Audio 6 Interface stands out in several aspects. The most noticeable one is its design. While it sports that standard boxy look, Komplete Audio 6 Interface actually has a whole separate control panel on the top side of the device.
This cluster is dominated by a large knob, and is surrounded by LED lights which let you know what features you have activated. If we were to judge by the looks alone, Komplete Audio 6 Interface would receive highest grades.

  Features
With that said, looks are not what makes an audio interface device good. The core features of Komplete 6 are its four analog inputs. You have two balanced XLR inputs for your microphone, and two balanced 1/4 inch TRS inputs for your instruments. So far the I/O looks pretty standard. However, there's more.
Besides the TRS/XLR inputs, you also have MIDI in/out for your keyboards or other MIDI devices, as well as S/PDIF RCA input and output. Now that's a pretty decent selection of ports.
When you look at the front panel, you will find the usual layout. There are two microphone/instrument input clusters, each with its own gain knob and a button which lets you select instrument or microphone as an input. To the right of these there is a Monitor control cluster with a volume knob, an On button and Mono button.
Finally, to the far right you have your headphones in along with its set of controls.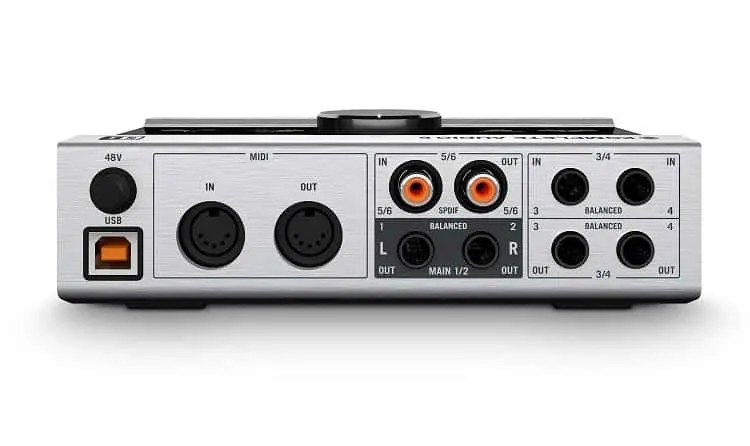 The core of Komplete Audio 6 Interface are the high quality pre-amps. Compared to the rest of the competition, these are right in the middle of the range. The top panel is where you will find your master volume knob.
The surrounding LED lights indicate which inputs are in use, and whether or not you have activated some features such as monitoring or phantom power.

  Performance
The sound quality you can expect is good, depending on what you use this audio interface for. The addition of extra inputs and outputs make the Komplete Audio 6 Interface very versatile. However, it seems that Native Instruments included this additional functionality at the cost of signal quality.
There is some distortion in the signal that shouldn't be there considering the price of the unit. Whether or not this will be a problem for you depends on what type of use you have in mind for this unit. Additionally, microphone gain available pretty much rules out the use of low sensitivity microphones.
With that said, Komplete Audio 6 Interface is great when you need to do work on the go. All of the extra inputs and outputs really give it another dimension of functionality. One which you will rarely find elsewhere.

  What we like
Additional inputs and outputs are great, and the overall slick design really make this an attractive unit.

  What we don't like
The quality of the signal, mainly the increased distortion can really turn off a lot of potential users.
Everything considered
Komplete Audio 6 Interface is a very capable unit, there's no doubt about that. The issues it has might be limiting its use in situations where the only thing you need is a perfect signal quality, however it turned out to be a very practical unit to use on the go.
>> Check Out Current Price & Customer Reviews On Amazon <<
Whether or not this model is something you might be interested in depends on what kind of applications you have in mind.